NCAA Division I Opening, First Round & Second Round
Division I finished up Conference Tournaments on Sunday, November 5. The NCAA Tournament begins on November 8 with the Opening Round. The four hosts for the preliminary rounds are North Carolina (1), Northwestern (2), Duke (3), and Maryland (4).
Opening Round: Wednesday, November 8
First Round: Friday, November 10
Second Round: Sunday, November 12
Semifinals: Friday, November 17
Championship: Sunday, November 19
Click here for the NCAA Field Hockey Division I interactive bracket.
Opening Round | Wednesday, November 8
Host: North Carolina | Chapel Hill, N.C.
WILLIAM & MARY vs SACRED HEART | 2 PM ET | ESPN+
Two underdogs who took down the No. 1 and No. 2 seeds in their respective conference tournaments to win the title will meet in the Opening Round of the NCAA Tournament on Wednesday at Karen Shelton Stadium.
William & Mary, after finishing third in the Coastal Athletic Association (CAA) with a conference record of 4-2, came up big in the conference tournament to take home their second CAA title in program history. Similarly, their upcoming opponent Sacred Heart ended the regular season with a 4-3 record in Northeast Conference (NEC) play and a No. 3 seed, only to overcome and win their first NEC title since 2005. Now, the two teams will match-up for the very first time.
William & Mary sits at a 11-8 record, while Sacred Heart attempts to make up ground with six straight wins on their 9-10 season. Against mutual opponent Monmouth, the Tribe won twice — the second time in the CAA final — by identical scores of 3-2. The Pioneers fell to the Hawks, 6-1, early this season.
FINAL: WILLIAM & MARY 4, SACRED HEART 0
Host: Northwestern | Evanston, Ill.
CALIFORNIA vs MIAMI (OH) | 3 PM ET | B1G+
California makes their triumphant return to the NCAA Tournament for the first time since 2006, earning their automatic bid by winning the America East crown for the first time in program history. The Bears will match-up with Miami (OH), who earned their spot by winning the Mid-American Conference (MAC) championship for the sixth consecutive year. One of these teams will end their season the way it started, as the duo opened their 2023 campaign with a match against each other. All the way back on August 25, Miami kicked off the season with a 2-0 win over California.
Currently, the Red Hawks are 14-7, after defeating Kent State 3-1 in the MAC final. In their 2022 NCAA postseason appearance, Miami defeated Rider 7-1 in the Opening Round, then fell to eventual runner-up Northwestern 2-1 in overtime.
California has been red-hot recently – winning eight games in a row – with the most recent three being American East conference tournament victories over teams the Bears had lost to in the regular season. Now 12-7, California is an undefeated 4-0 on neutral sites so far this season.
FINAL: MIAMI 3, CALIFORNIA 0
First Round | Friday, November 10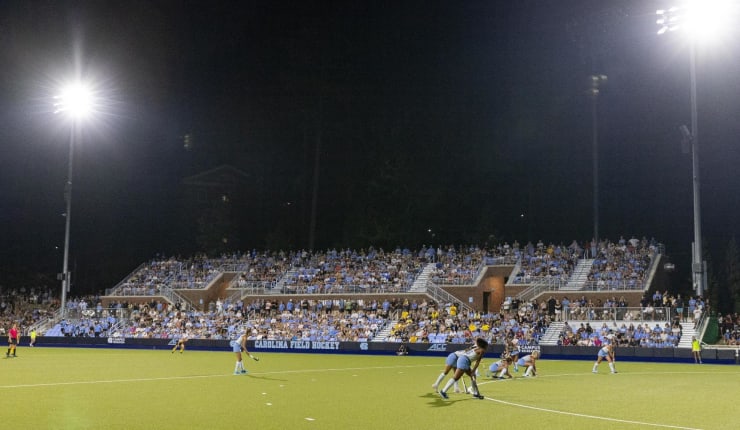 Host: North Carolina | Chapel Hill, N.C.
NO. 1 NORTH CAROLINA vs WILLIAM & MARY | 12 PM ET | ESPN+
Top-seeded North Carolina begins their title defense in the friendly confines of Karen Shelton Stadium in Chapel Hill, N.C., as they take on William & Mary — who took down Sacred Heart in the Opening Round of the NCAA Tournament.
The Tar Heels, ACC Champions for a remarkable seventh straight season, are the nation's top seed for a second year in a row and for the fifth time in six years. North Carolina is 14-3 and has won three straight — two of those wins coming against the No. 3 seed in the NCAA Tournament, Duke. Ryleigh Heck and Charly Bruder have scored 11 goals apiece for the Tar Heels, who are going for a second straight title and first under new head coach Erin Matson.
William & Mary, who earned the Coastal Athletic Association (CAA) auto-bid with a title game win over Monmouth, coasted past Sacred Heart on Wednesday. The Tribe won their NCAA opener, 4-0, with goals from four different players — Lonica McKinney, Mollie Schuma, Lauren Curran, and Pyper Friedman. Curran leads William & Mary offensively with 15 goals and three assists.
It's been a lopsided matchup historically — North Carolina leads the all-time series with a 26-3-2 record. The Tribe have lost 25 straight games against the Tar Heels, a stretch that dates back to 1980. In the last meeting, back in 2019, North Carolina won 8-0 in a game that featured a goal and an assist from Matson.
FINAL: NORTH CAROLINA 6, WILLIAM & MARY 1
No. 6 RUTGERS vs No. 9 HARVARD | 2:30 PM ET | ESPN+
For the first time in program history, No. 6 Rutgers and No. 9 Harvard will match-up. The two will be fighting to advance to the Second Round of the NCAA Tournament at Karen Shelton Stadium in Chapel Hill, N.C.
With a well-deserved at-large bid, Rugters is appearing in the NCAA Tournament for just the fifth time, after their most recent appearance in 2021. The Scarlet Knights went on an impressive run to start this season — going a perfect 15-0 until they faced No. 1 Northwestern. In the B1G tournament, Rutgers defeated Michigan, 1-0, in the quarterfinal, but fell to Maryland 2-1 in their next match. With an impressive 16-3 record that includes wins over Penn State, Maryland, Michigan, and Ohio State, the Scarlet Knights were able to secure the bid without a B1G title.
Harvard earned their spot by winning the inaugural Ivy League tournament – which they did in dramatic fashion. Tied with Princeton at 1-1 with under a minute left in regulation, Lara Beekhuis scored to give the Crimson a 2-1 win and the Ivy League trophy. Only a freshman, Beekhuis was named this week's Division I Offensive Player of the Week. Harvard picked up their 10th straight win to bring their record up to 15-3.
Both teams are stingy defensively, and boast the Defensive Player of the Year in their respective conferences – Puck Winter for the Scarlet Knights in the B1G, and Harvard's Bronte-May Brough in the Ivy League.
FINAL: RUTGERS 1, HARVARD 2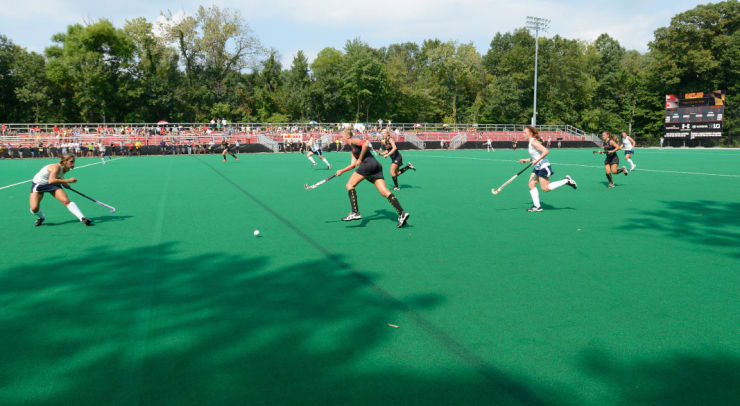 Host: Maryland | College Park, Md.
NO. 4 MARYLAND vs NO. 17 OLD DOMINION | 12 PM ET | B1G+
Longtime foes will meet again when No. 4 Maryland hosts No. 17 Old Dominion in the First Round of the NCAA Tournament.
A Big East championship had been a long time coming for Old Dominion, who finally won their first title since joining in 2013. The Monarchs took down Liberty, 3-1, to claim the title and secure their NCAA postseason berth – also their first since 2013. Graduate student Nicole Fredericks, who scored the tying goal after ODU trailed 1-0, was named the Big East Tournament MVP.
Maryland has been heating up lately. In the B1G tournament, the Terps took down Iowa, 2-0, then doubled up Rutgers in the semifinal, 2-1. The one team they can't seem to crack is No. 1 Northwestern, who they met in the B1G title game. In their past 11 games, Maryland has only suffered two losses — both attributed to the Wildcats. Overall, the Terps have been stout defensively, with players like Rayne Wright and B1G All-Tournament team selections Josie Hollamon and Alyssa Klebasko anchoring the back line.
Maryland currently sits at a 16-5 record, while ODU is at 13-8. The two are meeting again after a brief hiatus – their previous match-up in 2016 ended with a 2-1 win for the Terps. In their extensive history together, Maryland leads 32-26 overall.
FINAL: MARYLAND 3, OLD DOMINION 0
NO. 5 VIRGINIA vs NO. 13 SAINT JOSEPH'S | 2:30 PM ET | B1G+
No. 5 Virginia and No. 13 Saint Joseph's will clash in College Park, Md. on Friday in the First Round of the NCAA Tournament.
Earning the automatic bid with their third consecutive Atlantic 10 title, Saint Joseph's is entering the NCAA postseason for the fourth time in the past five years with a 16-4 record. Last season, the Hawks took down Wake Forest, 3-1, in the First Round, only to fall to eventual champions North Carolina in the second. Saint Joseph's is led by offensive powers Lily Santi and Manu Ghigliotti, the former scoring first in the Hawk's 2-1 A10 championship victory over UMass.
Virginia has had its ups and downs this season, but finished off October strong with five straight wins before falling to North Carolina, 3-2, in the ACC semifinals. The Cavaliers had defeated the Tar Heels by that same score during their five-win stretch, as well as Duke in overtime. Taryn Tkachuk tallied a goal for Virginia in both of those two wins, while junior Jans Croon scored twice in the loss to North Carolina in the ACC semifinals.
When the Hawks and Cavaliers faced off early this season, it was a narrow 2-1 win for Virginia.
FINAL: VIRGINIA 2, SAINT JOSEPH'S 1
Host: Duke | Durham, N.C.

NO. 3 DUKE vs AMERICAN | 12 PM ET | ESPN+
Patriot League champion American will travel to Durham, N.C. to take on No. 3 Duke in the NCAA Tournament First Round.
Duke returns to the NCAA postseason after their last appearance in 2019 and for the 19th time overall. It's been a stellar season so far for the Blue Devils, who are 16-4 and finished 5-1 in regular season ACC play — a remarkable turnaround after going winless in conference play in 2022. Duke recently picked up some of the ACC yearly awards – Piper Hampsch as Goalkeeper of the Year with a 0.97 goals against average and Alaina McVeigh as Co-Offensive Player of the Year.
After losing in shootouts to Lehigh in last year's Patriot League final, American got the job done this time around with a 1-0 victory over Lafayette. The Eagles are back with the automatic bid to the NCAA Tournament after not making an appearance last season. It was sophomore Agustina Roffo who tallied the game-winner against the Leopards, earning a spot on the Patriot League All-Tournament Team alongside teammates Charllene Boshoff, Bryn Underwood, and MVP Tayla-Jade Weiss.
These two teams have only faced off four times, most recently in 2016. It was the Blue Devils who won that match, 3-0, over the Eagles.
FINAL: DUKE 2, AMERICAN 1
NO. 7 LIBERTY vs NO. 11 SYRACUSE | 2:30 PM ET | ESPN+
Both earning at-large bids, No. 11 Syracuse and No. 7 Liberty will meet for just the second time in program history – and for the first time in the NCAA Tournament.
Seemingly on the edge of the tournament "bubble", Syracuse ultimately had what they needed to earn an at-large bid to the NCAA postseason. The Orange have a 10-7 record, most recently suffering a narrow defeat to Virginia in the ACC quarterfinals. Over the course of the season, Syracuse picked up big wins over Penn State, Boston College, and Louisville. Senior Eefke van den Nieuwenhof paced the offense with 14 goals and four assists on the year.
Liberty enters the NCAA postseason with an impressive 17-2 record, also earning an at-large bid. Despite the Flames' success in the regular season – which included a lone loss in overtime to Duke and an OT win over No. 1 North Carolina – they could not secure the Big East title. After defeating Villanova in the semifinal match, Liberty fell to Old Dominion in the final. The Flames boast some of the best defense in the nation, with goalkeeper Azul Iritxity Irigoyen ranking second in Division I in both goals against average (0.88) and win-loss percentage (0.895).
FINAL: LIBERTY 1, SYRACUSE 2
Host: Northwestern | Evanston, Ill.
NO. 2 NORTHWESTERN vs MIAMI (OH) | 1 PM ET | B1G+
No. 2 Northwestern will host the team that nearly knocked them out of the 2022 NCAA Tournament – Miami (OH) – in the First Round of this year's tournament on Friday afternoon.
Just as they did last season, Miami handily defeated their Opening Round opponent, moving on to face Northwestern in the First Round. This year, the Red Hawks took down California 3-0 – a win that included two goals from senior Claudia Negrete Garcia. Miami's record is now up to 15-7 after the win.
It's been another stellar year so far for Northwestern, who has an 18-1 record, a B1G championship trophy, and are a host site for the NCAA Tournament. The Wildcats' only loss this season was their very first game of the year – a 1-0 defeat to Louisville. Since then, Northwestern has taken down every opponent they have come across, including a few also appearing in the NCAA postseason – Duke, Iowa, Rutgers, and Maryland. There can't be enough said about the Wildcats defense and their goalkeeper, the Division I Defensive Player of the Week Annabel Skubisz.
In their close match-up in last season's NCAA First Round, Northwestern won 2-1 after going 3-2 in penalty shootouts. In that shootout, Skubisz turned away two attempts and called for a referral that reversed Miami's potentially tying attempt and secured the Wildcats victory.
FINAL: NORTHWESTERN 3, MIAMI 0
NO. 8 IOWA vs NO. 10 LOUISVILLE | 3:30 PM ET | B1G+
No. 8 Iowa and No. 10 Louisville will meet up in Evanston, Ill. in the First Round of the NCAA Tournament.
Iowa will be making their sixth straight NCAA postseason appearance, while Louisville makes their fifth straight. Both teams earned an at-large bid after falling in their respective conference tournaments. The Cardinals defeated Boston College in the ACC quarterfinals, only to fall 1-0 to Duke in the semifinals. The Hawkeyes did not make it out of the B1G quarterfinal round as Maryland handed them a 2-0 loss.
The pair matched up not too long ago on October 15, where Iowa defeated Louisville 2-1. B1G Freshman of the Year Dionne van Aalsum tallied both goals in the win, and is currently atop the national leaderboards in points per game (3.33) and goals per game (1.5). The Hawkeyes overall record on the season sits at 13-5, while the Cardinals are 14-6.
In their NCAA Tournament appearances last season, Iowa defeated Virginia in shootouts in the First Round, then fell in penalty shootouts to Northwestern in their next match. Louisville could not get past Penn State, falling to the Nittany Lions, 5-0, in the First Round.
FINAL: IOWA 1, LOUISVILLE 2
Second Round | Sunday, November 12
Host: North Carolina | Chapel Hill, N.C.
NO. 1 NORTH CAROLINA vs NO. 9 HARVARD | 12 PM ET | ESPN+
Top-seeded North Carolina continues its title defense with a quarterfinals draw against upset-minded No. 9 Harvard on Sunday afternoon.
The Tar Heels dispatched William & Mary, 6-1, in the first round. The Tribe made it interesting early behind the admirable efforts of goalie Maddie George (16 saves), who withstood a barrage of shots before Charly Bruder finally opened the scoring in the 19th minute. Goals came quickly after that — four unanswered and five more in total, highlighted by a pair of goals for Paityn Wirth. North Carolina outshot their visitors, 31-3, and totaled nine penalty corners. The Tar Heels are 15-3 on the year and 6-2 at home.
Harvard ran its winning streak to 11 with an impressive upset of No. 6 Rutgers. The Scarlet Knights, once ranked as high as third nationally, couldn't crack the Crimson defense until the waning minutes and a 2-1 margin held up. Bronte-May Brough and Emily Guckian tallied for Harvard while Tessa Shahbo totaled six saves. The Crimson's 11-game winning streak now features three wins over NCAA Tournament teams, including No. 13 Saint Joseph's and No. 11 Syracuse. Harvard sits at 16-3 on the season.
This is the first-ever meeting between these two sides. While North Carolina has a prolific NCAA Tournament history and is going for a fifth title in six years, Harvard's seeking to replicate their 2021 success — the Crimson took down No. 6 Louisville in the first round before upsetting third-seeded Michigan in the quarterfinals.
Host: Northwestern | Evanston, Ill.
NO. 2 NORTHWESTERN vs NO. 10 LOUISVILLE | 2 PM ET | B1G+
The central storyline in this second round matchup is a great one. No. 2 Northwestern, last year's runners-up and 2021 national champions, are on a 19-game winning streak since their season opener. The team that beat them back on August 27? No. 10 Louisville, who they host on Sunday afternoon.
The Wildcats, who won the Big Ten title in overtime against No. 4 Maryland, shut out Miami (OH) in the NCAA First Round, 3-0. Northwestern got goals from Lauren Wadas, Ilse Tromp, and Olivia Bent-Cole — a trio that now boasts 25 combined goals on the year. Annabel Skubisz backed a stout Wildcats' defense with two saves, registering her program-record 13th shutout of the season. It's been smooth sailing for Northwestern since that season opener as they've outscored opponents by a 58-9 margin and now sit at 19-1.
Louisville moved on with an upset of No. 8 Iowa, avenging a 2-1 setback to the Hawkeyes back on Oct. 15. It took double-overtime to decide it after Niamh Gowing's third-quarter goal canceled out a score from Iowa's Dionne van Aalsum in the first half. After a scoreless first overtime period, Minna Tremonti tipped in the game-winner off a penalty corner to put the Cardinals into the Quarterfinals. Louisville's defense was stifling — they allowed the one shot but otherwise protected goalkeeper Merlijn van der Vegt superbly. It was a good bounce-back win for the Cardinals after they were blanked by No. 3 Duke in the ACC semifinals. Louisville's 15-6 on the year and have gone 5-2 on the road.
The last two meetings have gone Louisville's way — this year as well as a 1-0 shutout back in 2018. It's a 9-3 advantage all-time, but they'll have to overcome a Wildcats' program that has won eight of their last nine NCAA Tournament games.
Host: Duke | Durham, N.C.
NO. 3 DUKE vs NO. 11 SYRACUSE | 1 PM ET | ESPN+
After two thrilling first-round games, a pair of familiar ACC opponents meet in the Quarterfinals: No. 3 Duke hosts No. 11 Syracuse in a rematch of an early September game that went the Blue Devils way, 4-0.
Duke, coming off of a loss in the ACC Championship game, opened its tournament against Patriot League champions American and found themselves in quite the game. Issy Carey opened the scoring for the Blue Devils in the sixth minute, but the teams played to a stalemate until after halftime. Imogen Hatton equalized for the Eagles shortly after halftime, but the draw held for just under three minutes — Carey set up Barb Civitella for the eventual game-winner. It was a pivotal three-point performance for Carey, who entered with just three points on the season. Duke is 17-4 on the year and a sterling 9-1 at home, the lone loss coming in double-overtime to No. 5 Virginia.
Syracuse's first-round draw was even more dramatic. With less than three minutes left on the clock, the Orange were staring at a 1-0 deficit to No. 7 Liberty and the potential of a quick exit. Instead, Syracuse's Lieke Leeggangers redirected a shot into the back of the cage in the 58th minute to tie it up and ultimately force overtime. Then, just under three minutes into the added period, Charlotte de Vries redirected in the game-winner to send the Orange to the Quarterfinals. It was a fantastic end to a thrilling matchup that saw 46 consecutive scoreless minutes to start the game. Syracuse sits at 11-7 and had lost four of five entering the tournament, but de Vries' goal could be the spark they need to go on a run.
Duke took this year's matchup comfortably with Alaina McVeigh scoring twice but it had been all Orange in the all-time series before then. Syracuse had won six straight, including three in a row by four-plus goals. The Orange are 13-2 historically against the Blue Devils.
Host: Maryland | College Park, Md.
NO. 4 MARYLAND vs NO. 5 VIRGINIA | 1:30 PM ET | B1G+
In a rematch of an early September matchup, No. 4 Maryland hosts No. 5 Virginia in a heavyweight battle. The Terrapins took that game on the road, 2-1, and will look to replicate the result on their home ground.
Maryland was in fine form in the First Round against Big East champion Old Dominion. The Terrapins, fresh off a narrow overtime defeat to No. 2 Northwestern in the Big Ten title game, scored in each of the first three quarters for a 3-0 win. Margot Lawn set up Sammy Popper for a pair of goals before adding one of her own. Alyssa Klebasko logged the shutout with six saves, her fifth of the season. Maryland is 17-5 with eight wins in their last nine games.
Virginia found themselves in a tighter game against No. 13 Saint Joseph's but replicated an early-season result against the Hawks, winning 2-1. Dani Mendez-Trendler scored in the first quarter, then Jans Croon added a second in the 41st minute. Croon's goal proved to be much-needed insurance as Saint Joseph's Manu Ghigliotti scored just a minute and a half later. The Cavaliers overcame an 11-8 shot disadvantage and one fewer penalty corner in the victory. One thing to keep an eye on in the rematch with Maryland: Virginia has been remarkably good on the road this year, posting an 8-1 record while going 13-6 overall.
In that matchup back on Sept. 18, the Terrapins scored the first two goals — via Lawn and Hannah Boss — then closed it out despite allowing a penalty stroke in the final minute. That's four straight wins in the series between these frequent opponents for Maryland, who holds a 46-22-2 record against the Cavaliers.
Images courtesy of UNC Athletics, Duke Athletics, Maryland Athletics, Joshua Sukoff/Northwestern Athletics