Weekend College Games: September 14 - 20
Each week, USA Field Hockey highlights upcoming college games to watch. This edition covers the week of September 14 – 20.
FRIDAY, SEPTEMBER 15
DI: NO. 13 SAINT JOESEPH'S vs VCU | 3:00 PM ET | ESPN+ ($)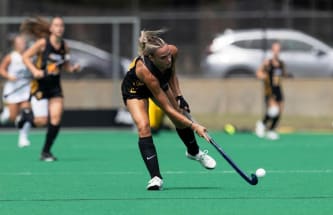 VCU will host No. 13 Saint Joseph's in an Atlantic 10 (A10) conference clash on Friday afternoon.
VCU (4-1) started out their season with four straight wins – the first three were teams they had all lost to the last time they met. The Rams' season opener against a ranked Delaware side was a thrilling 4-3 victory that included two goals from senior Skyler Padgett.
Freshman Mora Marrero has already tallied five goals in five games, with four of those goals propelling her team to victory in three matches. Her fifth goal was against No. 5 Louisville in a 2-1 loss. Marrero has claimed the A10 Rookie of the Week award for all three weeks of the season so far. On the defensive end, graduate student Sheridan Messier was named A10 Defensive Player of the Week for her performance in goal this past weekend.
Saint Joseph's (4-2) has had success so far, but has not been able to crack any top-ten opponent – losing only 2-1 to then-No. 6 Virginia and 2-0 to No. 8 Michigan. Sandwiched between those losses was a dominant 6-1 win over Yale and a 2-0 victory over Michigan State.
11-5 in overall meetings, the Hawks have defeated the Rams in 11 of their past 12 match ups, falling most recently in the shortened 2020 spring season. The duo last battled in the 2022 A10 Semifinal, which ended as a 2-1 victory for Saint Joseph's.
DI: NO. 2 NORTH CAROLINA vs NO. 4 LOUISVILLE | 3:00 PM ET | ESPN ($)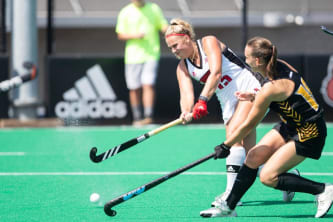 No. 2 North Carolina will look to topple undefeated No. 4 Louisville at home in Chapel Hill, N.C.
Louisville (6-0) looks to continue their perfect season by picking up an important conference win this weekend. They will need to be at the top of their game when going up against the Tar Heels – something that head coach Justine Sowry recognized they were not in their previous match against VCU. The Cardinals were able to come out with a 2-1 overtime win after trailing 1-0 at halftime. Wins so far this season for Louisville include No. 18 Ohio State, No. 10 Princeton, and No. 2 Northwestern.
Since their early season OT loss to Iowa, North Carolina (4-1) has come out with three straight wins, including most recently a 2-1 victory over Old Dominion. Freshman Charly Bruder notched the game-winner early in the fourth quarter, while sophomore Ryleigh Heck assisted on both goals.
In terms of mutual opponents, so far both teams have taken down Princeton 2-1. Although the Tar Heels needed overtime to defeat the Tigers, they handily defeated UPenn 4-0, a matchup that Louisville won only 2-1. In overall matchups between this pairing, North Carolina has 11 wins – including a 3-0 victory when the two met a year ago – while Louisville claims just six.
DI: NO. 10 RUTGERS vs NO. 12 PENN STATE | 5:00 PM ET | B1G+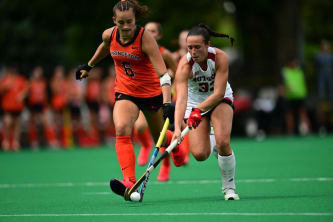 Undefeated through six games, No. 10 Rutgers heads to University Park on Friday as the Scarlet Knights square off with No. 12 Penn State, winners of three straight.
Rutgers (6-0) already boasts a pair of top-20 wins over Connecticut and Princeton. The Scarlet Knights are perfect through six games for the first time since 2008 and will look to carry that over into Big Ten play. They've only allowed five goals thus far as goaltender Sophia Howard ranks fifth in goals against average, while defender Puck Winter was the Big Ten Co-Defensive Player of the Week.
Penn State (4-2), meanwhile, dropped two games early to Virginia and California by a goal apiece but has responded with a three-game winning streak. The Nittany Lions outscored their opponents 14-2 over that stretch. Sophia Gladieux, who is fourth in the nation with 1.50 goals per game, netted a hat trick in the recent win over No. 19 Delaware.
Penn State won last year's meeting, 3-1, but the Scarlet Knights had won the previous four — including a win in the 2021 B1G Semifinals. The Nittany Lions hold a 7-4 advantage all-time.
DI: NO. 9 DUKE vs NO. 6 SYRACUSE | 6:00 PM ET | ACCNX ($)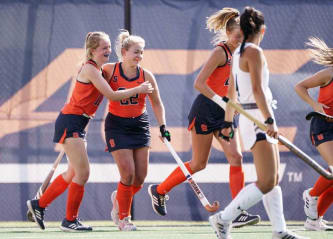 The Blue Devils will contrast against the Orange on Saturday when No. 9 Duke hosts No. 6 Syracuse at Jack Katz Stadium.
Duke (4-1) saw the biggest jump in this week's national poll, stealing the No. 9 spot from Liberty after defeating them 2-1 in overtime on Sunday. It was an extremely tight game against the Flames that included four saves from senior goalkeeper Piper Hampsch and an overtime game-winner from Alaina McVeigh, who has been having a stellar start to her sophomore season.
While a 5-0 record is an impressive open to their 2023 campaign, Syracuse (5-0) will be facing their first ranked opponent of the season in the Blue Devils. Most recently, the Orange took down UConn 3-0 – bringing their cumulative goal differential on the season up to a whopping 27-5.
Syracuse has been dominant against Duke in the past, holding a 10-2 overall record. Their last meeting was almost exactly one year ago when the Orange overtook the Blue Devils with a 5-1 victory.
SATURDAY, SEPTEMBER 16
DIII: NO. 15 BATES vs NO. 7 WILLIAMS | 11:00 AM ET | NSN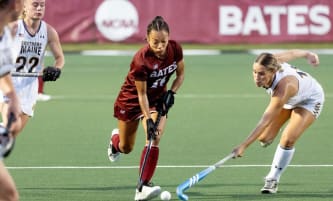 No. 7 Williams has a tough opponent in No. 15 Bates as they look to secure a victory in the first NESCAC game of their 2023 campaign.
After taking down then-No. 14 Bowdoin last Saturday, Bates (3-1, 1-0 NESCAC) jumped up seven spots in the national rankings to No. 15. It was an important conference win for the Bobcats, and their second straight season defeating the Polar Bears after falling to them 23 consecutive times since 2000. Two goals came from junior forward Maria Femia, whose impact this season for Bates has already been felt – Femia was recently honored as the NESCAC Player of the Week.
This will be the first conference test of the season for Williams (2-1), who most recently took down Smith at home in a high scoring, 6-3, match. The Ephs felt the pressure after falling in their second game of the season to then-No. 7 Babson, who has since moved up in the rankings after notching that win.
The last time these two teams met, Bates finally broke a curse after losing to Williams in 10 straight matchups. It was a tight 1-0 overtime victory for the Bobcats that Williams had been in control of for stretches of the game. In overall matchups, the Ephs lead 20-3.
DII: ADELPHI vs NO. 4 SAINT ANSELM | 12:00 PM ET | NE10 NOW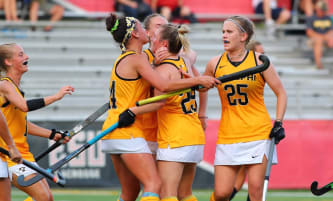 A three-game stretch against ranked opponents continues for Adelphi as they host No. 4 Saint Anselm on Saturday afternoon.
Saint Anselm (3-1) played three top-5 opponents to start the year and battled to take two of three, beating No. 3 West Chester and No. 2 Shippensburg — in overtime and double overtime, respectively. The Hawks racked in accolades this week: NFCHA Defensive Player of the Week and NE10 Goalkeeper of the Week Mackenzie McConnell, NE10 Player of the Week Chloe Kapsambelis, and NE10 Defensive Player of the Week Grace Michael.
Adelphi (1-3) has dropped three straight but the run hasn't been without its positives. On Tuesday, the Panthers battled in a narrow 2-1 loss to No. 5 West Chester. After falling behind early, Elisabeth Seyfarth equalized and it took a fourth-quarter goal for the Golden Rams to escape. Goalkeeper Amanda Montiel has stayed busy in the cage, ranking fifth in D-II with 11.3 saves per game.
While Saint Anselm may be favored, the Panthers have won the last three meetings and hold an 11-6 advantage in the all-time series. All three games were decided by a single goal and the last two went to overtime.
DIII: NO. 9 YORK vs ITHACA | 1:00 PM ET | SPARTANS ALL-ACCESS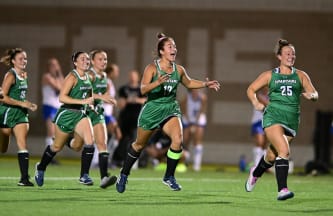 No. 9 York and Ithaca will clash for the first time on Saturday afternoon in York, Pa.
Ithaca (3-2) started off their season with a 3-0 loss to then-No. 17 Kean but then quickly turned it around with three straight wins. On Wednesday night, the Bombers suffered their second loss of the season when they dropped a 3-1 loss to SUNY Cortland.
The Spartans (4-0) made noise last week when they defeated No. 2 Johns Hopkins by a margin of 3-1 in their home opener. The win set a program record for highest victory against a ranked opponent. For her efforts in goal the past weekend, which included four saves in the win against the Blue Jays, Belle Fields was tabbed the MAC Commonwealth Defensive Player of the Week. Fields' heroics continued on Wednesday when she notched an impressive ten saves in York's 2-1 overtime win over Franklin & Marshall.
DII: NO. 5 WEST CHESTER vs NO. 10 MANSFIELD | 1:00 PM ET | PSAC SPORTS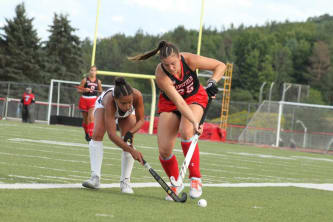 Two high-profile D-II teams meet on Saturday in Pennsylvania — No. 5 West Chester and No. 10 Mansfield. While the host Golden Rams hold a decisive 13-0 advantage in the all-time series, the Mountaineers are fresh off an upset win over No. 2 Shippensburg.
West Chester (3-1) has won back-to-back games over Bentley and Adelphi, the latter in its home opener. The Golden Rams are scoring three goals per game, paced by the dynamic duo of Claudia Jaszczak and Jasmine Miller who have scored four goals apiece.
Mansfield (4-0) brings an unblemished record into Saturday's meeting with three road wins under its belt already. The Mountaineers swept through the Dora Metrelis Field Hockey Classic before shutting out New Haven and No. 2 Shippensburg. Goalie August Lewis, who earned PSAC Defensive Athlete of the Week honors after the first shutout, matched a Mansfield school record with her 13th career shutout against the Raiders. The Mountaineers are 4-0 for the first time since 2007.
In last November's meeting, Mansfield came close to knocking off the Rams as they took a 2-0 lead — only for West Chester to score three unanswered goals in a 3-2 win.
SUNDAY, SEPTEMBER 17
DIII: NO. 1 MIDDLEBURY vs NO. 3 BABSON | 1:00 PM ET | NSN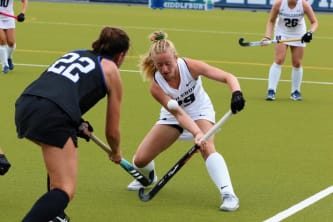 Top-ranked Middlebury will test their stamina this weekend as they take on No. 3 Babson at home on Sunday after they travel to Clinton, N.Y. to face No. 17 Hamilton on Saturday.
Middlebury (3-0, 1-0 NESCAC) picked up their first conference win last weekend against No. 10 Amherst. They dominated the Mammoths statistically in the 3-0 victory that saw goals from three separate athletes. Coming up, the Panthers will sandwich this non-conference game against Babson between NESCAC teams in No. 17 Hamilton and No. 16 Bowdoin.
Babson (5-0) entered the top three in the Division III national rankings this past week after upsetting then-No. 5 Williams last Saturday. Senior Andrea Marguerite tallied a pair of goals in the first half to help lift the Beavers to a 2-1 victory over the Ephs. In their most recent game against No. 15 Bates, Babson navigated a 3-2 win that included two goals from sophomore Caroline DiGiovanni.
The Beavers hosted the Panthers in 2022 and faced a 4-0 defeat. In their eight meetings, Babson has only won once, in 2017.
MONDAY, SEPTEMBER 18
DI: NO. 6 VIRGINIA vs NO. 5 MARYLAND | 7:00 PM ET | ACCN ($)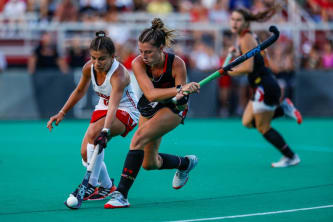 Not once, but twice — in 1998 and 2009 — Maryland denied Virginia its first ACC Championship. The Terrapins have since moved on to the Big Ten and the Cavaliers won that elusive title in 2021. Now, the pair of top-10 teams meet again in a matchup that always brings excitement.
Maryland (6-1), who faces Princeton on Thursday, is 3-0 on the road this season after an early trip to California. The Terrapins rank fifth in D-I in scoring margin (2.48) and fourth in goals against average (0.73) having outscored their opponents 22-5. Hope Rose has been dynamic, totaling nine goals and an assist in her first seven games.
Virginia (5-1) brings a four-game winning streak into Friday's ACC opener against No. 14 Boston College. The Cavaliers bounced back from a loss to No. 10 Liberty by dispatching No. 13 Saint Joseph's, Temple, William & Mary, and No. 15 Harvard. Tyler Kennedy earned ACC Defensive Player of the Week and NFCHA National Defensive Player of the Week honors after shutting out Harvard and picking up four saves in the prior win.
TUESDAY, SEPTEMBER 19
DII: WINGATE vs NO. 9 NEWBERRY | 6:00 PM ET | FLOSPORTS ($)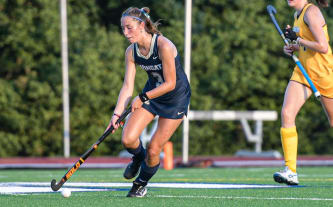 Previously unranked No. 9 Newberry travels to North Carolina to play SAC foe Wingate on Tuesday evening.
Newberry (4-0, 2-0 SAC) entered the national rankings this past week after making an impressive 4-0 start on the season. After defeating Adelphi and Pace on the road, the Wolves took two home conference wins against Limestone and Belmont Abbey – both by a scoreline of 2-1.
Wingate (2-2, 2-1 SAC), a newer program, has already matched their wins from their inaugural 2022 season at two and is on the hunt for more. The Wingate defense in general has showed up this year – registering their first shutout in program history with a 5-0 win over Coker. Some Sophomore goalkeeper Hannah Colavita-Jones picked up the SAC Defensive Player of the Week award,
When the Bulldogs and the Wolves met in the 2022 season, Newberry took a big 5-0 victory.
DIII: VASSAR vs NO. 14 KEAN | 7:00 PM ET | BOXCAST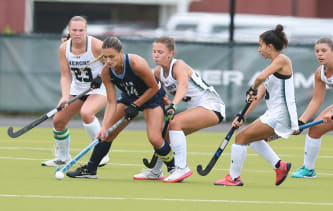 A Northeast matchup steeped in close games as of late comes to Poughkeepsie on Tuesday as No. 14 Kean travels to face Vassar. While the visiting Cougars have won five straight in the all-time series, the last seven games have been decided by a single goal and three of the last four have gone to overtime.
Kean (4-0) takes on Franklin and Marshall on Sunday and will look to continue its unbeaten start. The Cougars opened the year with a pair of 3-0 shutouts of Ithaca and Arcadia, then swept the William Smith Classic. They've given up just two goals in four games and on the other side, have racked up a nation-leading 14.3 penalty corners per game. Goalkeeper Jenna Fleming has 19 saves and two shutouts thus far.
Vassar (3-1), who reached the Liberty League semifinals a season ago, went 9-1 at home in 2022 and are off to a perfect 3-0 start this year. The Brewers lone loss came to No. 11 Christopher Newport while they've beaten Marywood, Muhlenberg, and Montclair State. Sophomore Sophia Beseth scored a lone goal in 16 games last season but has broken out in 2023, piling up five in four games — including three game-winners.