Weekend College Games: September 21 - 27
Each week, USA Field Hockey highlights upcoming college games to watch. This edition covers the week of September 21 – 27.
FRIDAY, SEPTEMBER 22
DI: NO. 12 OHIO STATE vs NO. 3 NORTHWESTERN | 3 PM ET | B1G NETWORK ($)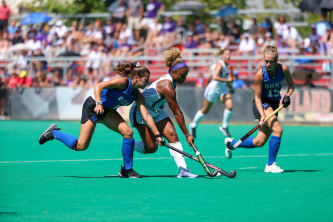 No. 12 Ohio State looks to pull off another upset this Friday afternoon when they host No. 3 Northwestern.
Ohio State (8-1, 2-0 B1G) has been steadily climbing in the ranks after debuting at No. 18 in the Week 1 National Coaches Poll. They were up to No. 17 after a 7-1 start to the season, but cranked it up to No. 12 this week after a Big 10 (B1G) weekend sweep that included a loud win over rival Michigan. Not only was it the Buckeyes first win over the Wolverines since 2011, but it was their first ranked win of the season – and by a 5-1 margin. In the major team effort, Brenna Bough tallied two of the five goals, earning her a spot as B1G Co-Freshman of the Week alongside Michigan State goalkeeper Cecily Charles.
It has also been a successful season so far for last year's runners-up in Northwestern (7-1, 1-0 B1G), who picked up six straight wins after falling to Louisville in their season opener. The Wildcats have three ranked wins and only four goals against — senior goalkeeper Annabel Skubisz ranks top-five in the nation for save percentage (0.846) and goals against average (0.49).
Those two long-time foes have been playing each other since 1981, with the Wildcats leading 38-29 overall. Last season, Ohio State took Northwestern to overtime only to fall 2-1.
DI: NO. 14 MICHIGAN vs NO. 1 IOWA | 5 PM ET | B1G+ ($)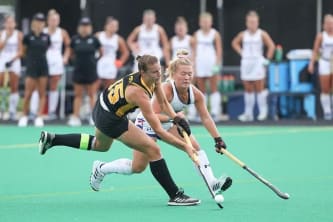 Holding the No. 1 spot in Division I, undefeated Iowa will travel to Ann Arbor on Friday in their first B1G conference test against No. 14 Michigan.
It has been a dream 8-0 start for the Hawkeyes, whose wins include the ever-so elusive victory over then-No. 1 North Carolina. This past weekend, Iowa blanked Vermont and Merrimack by a combined score of 13-0. Freshman Dionne van Aalsum, who had five goals and four assists over those two matches and leads Division I in goals with 21, was named B1G Offensive Player of the Week for the second consecutive week – on top of a NFHCA Division I Offensive Player of the Week award. Meanwhile, goalkeeper Mia Magnotta leads the nation in goals against average at 0.38.
Michigan (5-3, 0-1 B1G) will be looking to even out their conference record after taking a blow this past weekend when they were defeated by Ohio State. The Wolverines were coming off a four-win stretch when it happened, which featured a 2-0 shutout over then-No. 10 Saint Joseph's and 1-0 OT win against then-No. 18 Old Dominion.
Out of an impressive 76 total matchups, Iowa has 44 wins while Michigan holds 32. In 2022, the Wolverines shutout the Hawkeyes 2-0 in the regular season, then followed it up with a 3-0 win in the B1G tournament quarterfinal.
DI: NO. 11 BOSTON COLLEGE vs NO. 5 DUKE | 5 PM ET | ACCNX ($)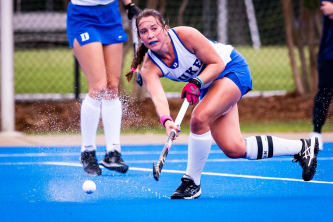 Two high-flying Atlantic Coast Conference (ACC) sides meet in Newton, Mass., on Friday night: No. 11 Boston College hosts No. 5 Duke. The teams have combined to win seven straight games by a combined 27 goals, and each won their conference opener.
Visiting Duke (6-1, 1-0 ACC) rebounded from a tight one-goal loss to then-No. 2 Northwestern by rattling off four straight wins — including victories over No. 9 Liberty and then-No. 6 Syracuse. Senior goaltender Piper Hampsch earned ACC Field Hockey Defensive Player of the Week and NFHCA Division I Defensive Player of the Week honors with shutouts of the Orange and Old Dominion.
The Eagles (5-2, 1-0 ACC) dropped a pair of 1-0 overtime decisions to top-three sides in Northwestern and Maryland and rebounded by beating Boston University, No. 6 Virginia, and James Madison. BC was paced by the ACC Offensive Player of the Week in Margo Carlin as she scored in the win over the Cavaliers before a hat trick against JMU. Carlin now ranks third all-time in program history in career goals scored with 43.
Carlin scored the game-winner in last year's meeting between these two sides in Durham — her second quarter goal was the difference in a 1-0 win for BC in September.
SATURDAY, SEPTEMBER 23
DIII: SUNY BROCKPORT vs SUNY NEW PALTZ | 11 AM ET | GO BROCKPORT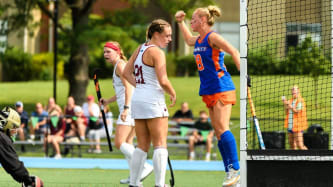 New Paltz (5-1) suffered its first setback last week against then-No. 21 Rochester in shootouts, but have won five of six after a 3-0 midweek win over Ramapo. The Hawks are in the midst of a six-game road stretch that includes a top-15 battle with Kean. Ayden Fleming has six goals to pace the offense, while Miranda Britton has five goals and one assist.
Last year, New Paltz coasted to a 7-0 shutout of Brockport. That's been the trend as of late: The Hawks hold a 17-5 advantage historically and have won 13 straight in the series.
DIII: NO. 17 BRYN MAWR vs NO. 9 CHRISTOPHER NEWPORT | 11:30 AM ET | CENTENNIAL DIGITAL NETWORK
Two top-25 teams meet at Applebee Field in Pennsylvania on Saturday — No. 9 Christopher Newport travels to No. 17 Bryn Mawr.
Bryn Mawr (5-1) enters the weekend fresh off its first loss of the year: A 5-2 setback to No. 7 Williams College. The Owls led twice in the first half before allowing four unanswered second-half goals. Still, it's been a sterling start: Bryn Mawr started 5-0 with three shutouts. Sophie Vagts has scored in back-to-back games and has 13 points (five goals, three assists) on the year.
Christopher Newport (6-0), meanwhile, is unbeaten and has allowed just four goals after Wednesday's matchup with No. 20 Catholic University. Abby Asuncion set the program's all-time goals record over the weekend against St. Mary's (Md.), tallying her fourth of the year to bring her career total to 42. Asuncion is one of several key offensive contributors as the Captains are outscoring opponents 23-4 on the year.
This is just the second all-time meeting between the two, with Bryn Mawr winning last year's game at Christopher Newport by a 3-2 margin.
DIII: NO. 19 URSINUS vs NO. 3 JOHNS HOPKINS | 1 PM ET | CENTENNIAL DIGITAL NETWORK
Centennial Conference play opens up this Saturday with five matchups — highlighted by No. 19 Ursinus hosting No. 3 Johns Hopkins at 1 p.m.
Johns Hopkins (5-1) registered an uncharacteristic 3-1 loss to then-No. 13 York a few weeks ago, but bounced right back with a pair of wins over top-five ranked opponents Rowan, Salisbury, and Messiah. Senior Mikayla Schoff was tabbed Centennial Conference Defensive Player of the Week after helping the Blue Jays to victory against the Gulls – a match so tight it had to be won in penalty shootouts.
Ursinus (4-2) has been holding their own, going 4-2 with five of the six matches coming against ranked opponents. The Bears started off their season with a close 1-0 loss to then-No. 3 Rowan, then picked up 3-1 wins over then-No. 20 William Smith and then-No. 23 Lynchburg. Most recently they took on No. 18 TCNJ and came out on top with a 2-1 victory – powered by two goals from junior Mary Lauren Franz.
Last season, the Blue Jays ended the season for the Bears after defeating them 3-2 in the conference semifinal. Hopkins has now won the past six meetings, as they try to catch up to Ursinus who holds a 22-8 advantage.
DII: NO. 9 NEWBERRY vs MOUNT OLIVE | 2 PM ET | FLOSPORTS ($)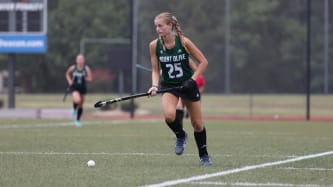 South Atlantic Conference play continues as Mount Olive travels to face undefeated No. 9 Newberry on Saturday afternoon.
Newberry (7-0, 4-0 SAC) has been cruising so far as they look to remain undefeated in conference play. Junior Tasmin Bangert has already picked up eight goals and four assists on the season, while teammate Emma Westbrook has tallied nine goals.
Mount Olive (5-1, 4-0 SAC) is also undefeated in conference, and their only loss overall was to reigning Division II champion Shippensburg in their season opener. Since then the Trojans have taken down every opponent they faced, including Lincoln Memorial by a staggering score of 14-0.
The Wolves will be looking for revenge after their 2022 season ended with a heartbreaking 2-1 double overtime loss to the Trojans. Newberry was just minutes away from appearing in the SAC final when Mount Olive tied it in the 52nd minute, sending the match to overtime. In overall meetings, Newberry has a slight edge of 5-3.
DII: NO. 4 SAINT ANSELM vs NO. 10 PACE | 4 PM ET | NE10 NOW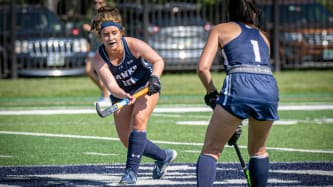 Northeast 10 conference play is off and running and continues with a ranked matchup between No. 4 Saint Anselm and No. 10 Pace on Saturday morning in Manchester, N.H.
Previously unranked Pace (4-3, 1-1 NE10) turned heads last Wednesday after they defeated No. 1 East Stroudsburg in overtime. In the 4-3 upset, four different players scored while freshman goalkeeper Celeste Pagliaroli made a career high 15 saves. Pagliaroli was honored as both the NE10 Goalkeeper and Rookie of the Week for her heroics in goal. They split their next two games against Southern New Hampshire and Adelphi.
Saint Anslem (5-1, 2-0 NE10) continued their momentum with a fifth consecutive win after defeating Bentley 1-0 in overtime on Wednesday. After scoring gamewinners in the Hawks' victories over Saint Michael's and Adelphi, senior forward Maddie Davis was tabbed the NE10 Player of the Week and NFHCA Division II Offensive Player of the Week.
In overall meetings between the two, the Hawks lead with six wins to the Setters' three. When the pair played in 2022, it was a tight game that ended 1-0 in favor of Saint Anslem.
SUNDAY, SEPTEMBER 24
DI: UMASS LOWELL vs BROWN | 3 PM | AE TV ($)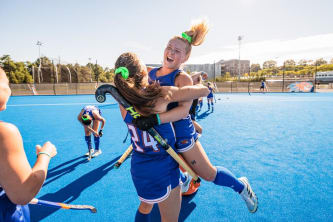 With momentum from their second ever win over a ranked team, UMass Lowell will welcome Brown to Wicked Blue Field on Sunday afternoon.
In their recent battle for the state of Massachusetts, UMass Lowell (5-2) defeated nationally ranked UMass for the first time. The 2-1 victory was led offensively by sophomore Meike Vishcer, who tallied both goals, while goalkeeper Marie Oliemans anchored the defense. Oliemans was honored as the America East (AE) Defensive Player of the Week after posting a shutout against Northeastern and making a pair of saves in the win over the Minutewomen.
Brown (4-1) has had a solid start to their 2023 campaign, losing only to Northeastern in a tight 3-2 match. Most recently, the Bears picked up a 2-1 OT win against Miami (OH) – notching their first goal in the fourth quarter from sophomore Lexi Pellegrino to tie it up. Brown will begin conference play on Friday when they travel to No. 15 Harvard.
The River Hawks and Bears have split their two previous matchups, which took place back in 2014 and 2015. Both teams have a 2-1 victory over the other.
TUESDAY, SEPTEMBER 26
DII: NO. 1 EAST STROUDSBURG vs NO. 2 KUTZTOWN | 3 PM ET | WATCH THE WARRIORS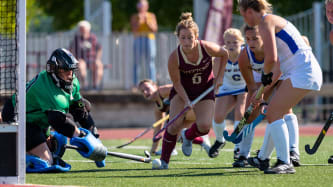 A rematch of last November's PSAC semifinals is in store in Pennsylvania on Tuesday as No. 1 East Stroudsburg hosts No. 2 Kutztown.
East Stroudsburg (5-1), who faces Roberts Wesleyan on Saturday as part of a six-game homestand, is coming off a surprise overtime loss to Pace last Wednesday. Before that, the Warriors had allowed just four goals in five comfortable wins. The reigning champions have a trio of players with five goals already — Madison Kline, Jady van Gils, and Hanna Lewis.
It's been smooth sailing for Kutztown (5-0) — the Golden Bears are the only Division II teams that have yet to allow a single goal. Remarkably, Kutztown boasts a 136-3 shot advantage and are averaging over four goals per game. They'll look to hold off a high-flying East Stroudsburg offense with goalie Mia Kepler, who already boasts three shutouts on the young season and has a combined shutout as well.
The pair split two meetings last year, with Kutztown winning a 1-0 thriller in the regular season before East Stroudsburg avenged the loss with a 2-0 blanking in the semifinals. The Warriors hold a 17-10 advantage historically.
DIII: NO. 2 BABSON vs NO. 5 TUFTS | 6 PM ET | BABSON SPORTS NETWORK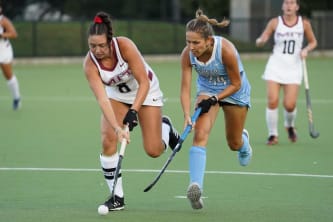 It's a top-five match-up on Tuesday as No. 2 Babson hosts No. 6 Tufts in Babson Park, Mass.
Babson (7-1, 1-0 NEWMAC) has asserted themselves as a team to fear this season after tallying seven wins and nearly knocking No. 1 Middlebury off their undefeated pedestal. The 3-2 loss to the Panthers saw 13 saves from junior goalkeeper Bayla Furmanek and an assist from midfielder Sinead Walsh. Walsh, who earned NEWMAC Offensive Athlete of the Week, now leads in assists for the Beavers after tallying a goal and an assist in the 3-2 victory over then-No. 15 Bates. First, Babson faces Wheaton on Saturday in NEWMAC action.
Tufts (4-0, 2-0 NESCAC) is slowly making their way through the season – the Jumbos picked up two NESCAC wins, including a 2-1 overtime victory over then-No. 10 Amherst, and have only played four matches so far. Tufts has a pair of challenging NESCAC games to contend with over the weekend: No. 15 Hamilton College and No. 14 Trinity College.
Just a half hour drive away, the two teams are frequent opponents. The Jumbos hold a large 22-6 advantage in overall match-ups, but it was Babson who won in the 2022 season when they handed Tufts a 2-1 loss.
WEDNESDAY, SEPTEMBER 27
DIII: NO. 4 MESSIAH vs NO. 10 ROWAN | 6 PM ET | GO MAC SPORTS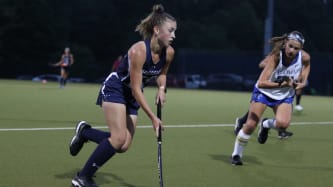 After two road games, No. 4 Messiah hosts No. 10 Rowan at Anderson Field in Grantham, Pa.
Messiah (5-1), who already has ranked wins over Salisbury, Ursinus, and TCNJ, faced No. 2 Johns Hopkins on Wednesday – where they conceded their first loss of the season. It was a battle of two strong defensive lines that ended 2-1 in OT. Aubrey Clark, who earned a Middle Atlantic Conference (MAC) Offensive Player of the Week nod a week ago, has four goals and two assists on the young season. Clark scored in each of the first four games, then four other Messiah players found the back of the cage in a 5-0 shutout of TCNJ.
Rowan (4-3), the preseason No. 3 team, has traded wins and losses in the early going. Two losses were to ranked opponents — Catholic and Johns Hopkins — and the third to unranked Haverford on Wednesday night. Amber Powell earned NJAC Defensive Player of the Week honors, serving as a sweeper while also piling up three goals and serving as the inserter on penalty corners.
It's been a remarkably even historical series: Messiah holds a slight 9-8 edge, benefitting from a six-game winning streak that ended last November when Rowan came away with a 3-1 win.
Images courtesy of: Tufts Athletics, Northwestern Athletics, Jerod Ringwald / Iowa Athletics, Duke Athletics, Natasia Plunkett / New Paltz Athletics, Erin Farina / Christopher Newport Athletics, James T Vanrensselaer / Johns Hopkins Athletics, McKenzie Yi / Mount Olive Athletics, Saint Anselm Athletics, Nick Grace / Umass Lowell Athletics, Chris Sponagle / Kutztown Athletics, Messiah Athletics