USA Field Hockey Renews Partnership with YOLO Sportswear as Presenting Sponsor of NIT & NCC Events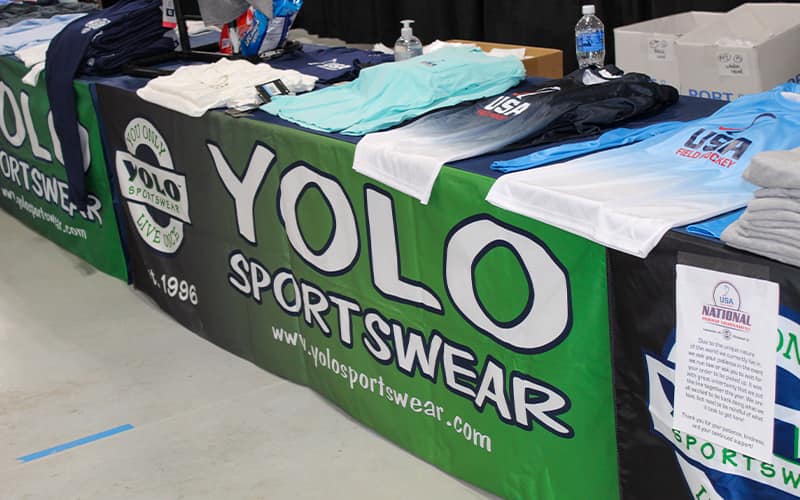 COLORADO SPRINGS, Colo. – USA Field Hockey is excited to announce that YOLO Sportswear has renewed their contract as the official presenting sponsor and exclusive licensee of the National Indoor Tournament Qualifiers (NITQ), National Indoor Tournament (NIT), Regional Club Championships (RCC) and National Club Championship (NCC) through 2024.
"We are so proud of our long-standing commitment to and support of USA Field Hockey," said Chris Fechter, YOLO Sportswear Owner. "We're truly humbled by the many opportunities and experiences we've shared over the years. As we continue to celebrate our 25th year in business, it is fitting to end the year announcing that we will continue our partnership with the National Indoor Tournament and are very pleased to announce our sponsorship of the National Club Championship. We are excited that our next 25 years will begin with such awesome events on our calendar!"
YOLO Sportswear has been an important partner to USA Field Hockey and the presenting sponsor of the National Indoor Tournament since 2012 and Summer Bash Series since X. YOLO Sportswear also supports and regularly attends the Disney/Sunshine Showcase and National Hockey Festival. They continue to be an official USA Field Hockey licensee selling a variety of USA Field Hockey branded apparel.
"Since we opened in 1996, on some level, we have been a sponsor of USA Field Hockey," added Fechter. "It is gratifying to have maintained such an important relationship for so long. We are very proud of the quiet, but significant, impact we continue to have on our sport. While the sport, faces, opportunities, equipment and apparel have all changed over our 25 years, our commitment to USA Field Hockey, the sport, and those who play this great game never will. We are thankful to have served the sport for so long and look forward to the many great days ahead."
"We greatly appreciate YOLO Sportswear's ongoing sponsorship and partnership," said Simon Hoskins, USA Field Hockey's Executive Director. "YOLO does a fantastic job for our members and events, at tournaments and throughout the year. They have been a valued partner for a long time, supporting USA Field Hockey's mission to Grow the Game, Serve Members and Succeed Internationally."
YOLO Sportswear was established in 1996. From inception, they have been focused on supporting the growth of field hockey and lacrosse. YOLO Sportswear is always on the cutting edge of field hockey and athletic fashion, specializing in women's sports. Located in suburban Philadelphia, YOLO Sportswear offers brand name apparel, uniforms, spirit wear, outerwear and corporate wear. They also offer on-site event vending and a consignment program.