NCAA Division III First, Second & Third Round
First Round |
Wednesday, November 8
Note: The team listed first will be the host.
NO. 14 KEAN vs ST. MARY'S | 3:30 PM ET | KEAN ALL-ACCESS
Kean will host St. Mary's at Alumni Stadium in the First Round of the NCAA Tournament. The Cougars earned an at-large bid after falling 3-1 to TCNJ in the NJAC semifinal round, putting them at an 11-5 overall record. Kean's last NCAA postseason appearance was in 2021, where they fell to Trinity in the First Round.
St. Mary's made program history by winning the Atlantic East Conference (AEC) title for the first time, thus earning the automatic bid to the NCAA postseason where they will make their team debut. The Seahawks are currently 13-5 after defeating rival Marywood 1-0 in the AEC championship match.
There are high stakes for the two teams' first ever meeting. Against mutual opponent Rowan, St. Mary's picked up a 3-1 win back in October while Kean had a narrow 3-2 loss.
FINAL: KEAN 4, ST. MARY'S 2


NO. 11 LYNCHBURG vs KEYSTONE | 2 PM ET | YOUTUBE
United East champion Keystone will take a trip south to compete against ODAC champion Lynchburg in the First Round of the NCAA Tournament.
No stranger to the NCAA Tournament, Lynchburg is making their 23rd all-time appearance after winning the fourth ODAC championship in the past six seasons. Now 19-2 overall and on a seven game win streak, the Hornets return to the NCAA postseason after falling in the First Round in 2021, and previously going all the way to the Quarterfinal in 2019. Lynchburg is paced offensively by a sophomore defender, Marlou Wendriks, with 18 goals and nine assists.
Keystone earned the title in the first-ever United East field hockey championship. The Giants took down their two conference tournament opponents 10-0 and 3-0, securing the trophy and the automatic NCAA postseason spot. Maria Tomada was recognized as the tournament MVP after tallying five goals and two assists. 11-5 Keystone had their last NCAA Tournament appearance back in 2018. This will be the first meeting between these two opponents.
FINAL: LYNCHBURG 6, KEYSTONE 1


NO. 9 YORK vs DENISON | 4 PM ET | SPARTANS ALL-ACCESS
York will host Denison when these two match-up for the first time on Wednesday evening in the First Round of the NCAA Tournament.
Currently sitting at a record of 15-4, York has had a stellar season so far. To no surprise, the Spartans earned an at-large bid, with their chief conference competitor Messiah taking the MAC Commonwealth crown for the 16th straight season. Two of York's four losses this season have been to the Falcons – a narrow 1-0 defeat in the conference final, and 2-0 in the regular season. This will be the Spartans' second NCAA Tournament appearance after their debut last year.
The 13-5 Denison Big Red garnered an automatic bid after defeating previously unbeaten Ohio Wesleyan in the NCAC championship. Freshman and NCAC All-Tournament team selection Emma Gebhart tallied the game winning goal in overtime, while Katherine Flanagan picked up the MVP title with a goal and an assist in the semifinal victory over DePauw.
FINAL: YORK 3, DENISON 0
NO. 7 BATES vs JOHNSON & WALES | 6 PM ET | NSN
Chosen as one of the coveted at-large bids, Bates will host Johnson & Wales (JWU) in the First Round of the NCAA Tournament on Wednesday.
Sitting at a 12-5 record and 7-3 in NESCAC play, the Bobcats did enough this season to propel them to their first ever NCAA Tournament berth. It was also Bates' first appearance in the NESCAC semifinal, getting there with a 2-1 overtime win over Bowdoin, then falling to Williams 2-1. During the regular season, the Bobcats had downed the Ephs by that same score, in addition to defeating other tough NESCAC opponents like Bowdoin, Trinity, and Wesleyan.
JWU spent a large portion of their 2023 season unbeaten – they were 11-0 when they suffered their first loss of the season to New England College in overtime. The Wildcats made up for that defeat in the GNAC tournament where they shut out the Pilgrims 1-0 in the semifinal. Freshman Rayne Millett tallied the lone goal, then netted another game-winner in the Wildcats' 4-1 championship victory over Colby-Sawyer. Graduate student and tournament MVP Margaret Johnson tallied a goal and an assist in the win. The GNAC title was JWU's third consecutive, and earned them the automatic bid to the NCAA Tournament.
Like most of the other First Round match-ups this year, the Bobcats and Wildcats will be meeting for the first time.
FINAL: BATES 7, JOHSON & WALES 0
NO. 10 TUFTS vs SOUTHERN MAINE | 6 PM ET | PACK NETWORK
For the fifth straight year, Tufts is in the NCAA Tournament and they'll host a side that is back in the bracket for the first time in 20 years, Southern Maine.
The Jumbos exited in the first round of the New England Small College Athletic Conference (NESCAC) tournament, but after going 8-2 in conference play with a plethora of ranked wins, a bid was never in doubt. Tufts finished 11-5 with four of the defeats to Top-25 opponents.
Southern Maine, meanwhile, went 15-7 and finished the job in the Little East Conference (LEC) tournament after a heartbreaking one-goal loss in last year's final. The Huskies won their first LEC crown since 2003 with a 1-0 shutout thanks to a Hannah Banks goal.
The teams are meeting for just the second time historically and the first since 1997, when Tufts handed Southern Maine a 1-0 overtime loss in the ECAC Tournament.
FINAL: TUFTS 5, SOUTHERN MAINE 0
NO. 16 ROWAN vs HARTWICK | 2 PM ET | YOUTUBE
It's a battle of conference champions as the Empire 8's Hartwick travels to face three-time defending New Jersey Athletic Conference (NJAC) champion Rowan.
The Owls, who cruised to a three-peat with a 3-0 shutout of TCNJ, have been nearly unbeatable at their home Coach Richard Wackar Stadium with a 9-1 mark. Rowan has won three straight and sits at 11-7 on the year after a 4-1 NJAC record. After winning 21 games a season ago and falling just short of the final — losing to eventual champion Middlebury in the semifinals — the Owls will be hungry to make another run.
Hartwick, on the other hand, are back-to-back Empire 8 champions after upsetting top-seeded St. John Fisher in the final. The Hawks have a trio of double-digit goal scorers and were paced by Julie Ruzzi (17 goals, nine assists) en route to a 12-5 record. Hartwick exited in last year's opening round of the NCAA Tournament against William Smith.
This will be the first-ever meeting between these sides. They didn't play any common opponents during the regular season.
FINAL: ROWAN 5, HARTWICK 0
NO. 25 ENDICOTT vs NO. 24 ITHACA | 4 PM ET | STRETCH
After upsetting second-seeded Roger Williams in the Commonwealth Coast Conference (CCC) title game, Endicott earned the right to host a first-round game and will welcome in one of the tournament's eight at-large bids: No. 25 Ithaca.
The Gulls got hot at the right time — winning seven of their final eight games — a stretch that included four one-goal wins and a pair of CCC Tournament victories. Endicott is back in the NCAA Tournament for the fourth time in five years. Tori Swanson has led the offense, piling up 21 goals and five assists in just 19 games.
Ithaca tasted heartbreak in the Liberty League final, losing 1-0 to William Smith after allowing a fifth-minute goal. The disappointment was brief, though, as the Bombers earned an at-large bid and will return to the postseason for the first time since 2000. Ithaca finished with a plus-21 goal differential in no small part due to Alex Clough's efforts in the cage — she has seven shutouts and a 0.93 goals against average on the year.
This will be the first-ever meeting between Ithaca and Endicott.
FINAL: ENDICOTT 2, ITHACA 3
NO. 8 WILLIAMS vs WORCESTER STATE | 6 PM ET | NSN
These two teams may be just a two-plus hour drive from each other, but the Massachusetts State Collegiate Athletic Conference (MASCAC) champions in Worcester State will travel to face at-large Williams for the first time in program history.
The host Ephs battled in the always-difficult NESCAC and reached the conference finals where they fell to top-seeded Middlebury. Williams is 11-7 on the year with a 6-4 conference record and has wins over the likes of No. 19 Wesleyan (twice) and No. 7 Bates. Six different Ephs have tallied six or more goals this year, making their balanced offense difficult to contain — they average three goals per game.
Worcester State became the MASCAC's first champion in the inaugural tournament with wins over Salem State and Framingham State. The Lancers boast a six-game winning streak and have a win over another tournament team, Southern Maine. Keep an eye on senior forward Grace Adams — she has 19 goals in 19 games, including four game-winners alongside seven assists.
FINAL: WILLIAMS 6, WORCESTER STATE 0
WILLIAM SMITH vs SUSQUEHANNA | 5 PM ET | HWS ATHLETICS
William Smith and Susquehanna will clash for the first time since 2007 in the First Round of the NCAA postseason.
Both teams enter the Tournament with automatic bids from winning their respective conference tournaments. William Smith defended their Liberty League title by defeating Ithaca – who went on to receive an at-large bid – 1-0. Susquehanna claimed the Landmark Conference title after taking down Scranton in an intense match that had to be decided by penalty shootouts.
The 13-7 Herons won their first NCAA Tournament match in 2022, then fell 1-0 to Johns Hopkins in the Second Round. The River Hawks, currently holding a 15-5 record, are appearing in the NCAA postseason for the first time since 2018.
In their 13 all-time match-ups, William Smith has won 11, including the most recent in 2007.
FINAL: WILLIAM SMITH 1, SUSQUEHANNA 0
NO. 13 CORTLAND vs STEVENS | 2 PM ET | CORTLAND ATHLETICS
MAC Freedom champion Stevens and SUNYAC champion Cortland will meet for the first time in Cortland, N.Y. to battle for a spot in the NCAA Second Round.
Both teams boast conference crowns impressive records so far this season – Stevens at 17-2 and Cortland at 17-1. Cortland's lone loss was a 3-2 overtime heartbreaker to Rochester earlier this season. The Red Dragons have since gone on to win nine straight matches, their most recent a close 2-1 victory over New Paltz in the SUNYAC title game.
Stevens, on the highest win streak in program history, defeated reigning MAC Freedom champion DeSales 1-0 in the final to earn their sixth NCAA postseason berth. First-year Sophia Cozza tallied the game-winner, while sophomore goalkeeper Lily Wierzbicki earned the tournament MVP award after making seven saves against the Bulldogs.
FINAL: CORTLAND 3, STEVENS 1
Second Round | Saturday, November 11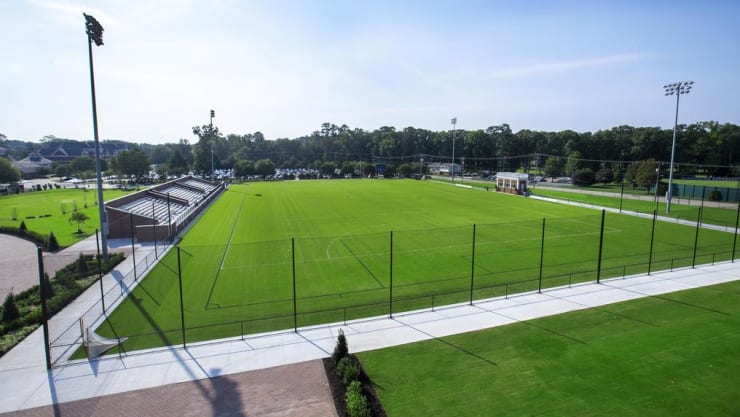 Host: Christopher Newport | Newport News, Va.
NO. 3 CHRISTOPHER NEWPORT vs. NO. 14 KEAN | 11 AM ET | YOUTUBE
No. 3 Christopher Newport will host No. 14 Kean in Newport News, Va. for the Second Round of the NCAA Tournament.
Alongside No. 1 Middlebury, Christopher Newport is the only other team in NCAA field hockey who remains undefeated. The Captains are a perfect 17-0 after defeating Salisbury for the second time this season in the Coast-to-Coast championship, and were selected as a host site for the Second Round. This is the third consecutive NCAA postseason appearance for Christopher Newport, who fell to another NJAC opponent – Rowan – in last season's Second Round.
After trailing 2-1 at halftime, Kean had an offensive burst in the second half to secure a 4-2 victory in their First Round match against St. Mary's. It was the 38th minute when Laura Stump found the equalizer, and the 53rd when Morgan Stump notched the game-winner. Fellow fifth-year Peyton Mann tallied two assists in the victory, which brought the Cougars to a 12-5 overall record.
Kean and Christopher Newport matched up earlier this season, with the Captains finishing with a 3-2 victory in a tightly contested game.
FINAL: CHRISTOPHER NEWPORT 0, KEAN 1
NO. 11 LYNCHBURG vs. NO. 9 YORK | 2 PM ET | YOUTUBE
After winning their respective First Round matches, No. 11 Lynchburg and No. 9 York will clash in the Second Round of the NCAA Tournament on Saturday.
20-2 Lynchburg has been cruising with eight consecutive wins on their 20 win season. After defeating Shenandoah 2-1 to claim the ODAC crown in head coach Enza Steele's 45th and final season, the Hornets went on to defeat NCAA First Round opponent Keystone by a hefty score of 6-1. Senior Aaryn Boatwright tallied a pair of goals in the victory, while sophomore Marlou Wendriks got the scoring started and assisted Boatwright's game-winner.
York received an at-large bid after conceding just one goal to No. 5 Messiah in the MAC Commonwealth championship. In their First Round match-up, the Spartans took down NCAC champion Denison in a 3-0 shutout. The defense held the Big Red to just a single shot on goal, while Olivia Miller, Riley Bushert, and Hannah Huffman all tallied offensively.
Back in September of this year, the then-No. 25 Hornets upset then-No. 7 York in a 2-0 shutout. Wendriks and Anna Dorrestijn each tallied a goal, while Kayla Brady made four saves between the posts. Lynchburg leads 9-6 in overall match-ups against York.
FINAL: LYNCHBURG 1, YORK 0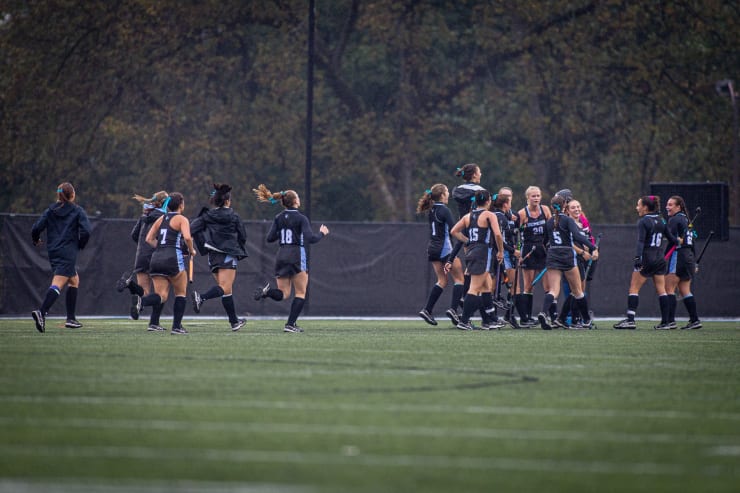 Host: Johns Hopkins | Baltimore, Md.
NO. 4 JOHNS HOPKINS vs. NO. 24 ITHACA | 10 AM ET | CENTENNIAL TV
2022 NCAA runner-up Johns Hopkins will host No. 24 Ithaca at Homewood Field after garnering the number four spot in the NCAA postseason.
18-1 Johns Hopkins earned a bye in the First Round and automatic entry after defeating Swarthmore to win their fifth consecutive Centennial Conference title. The Blue Jays are having another dominant season, recently picking up several Centennial Conference honors with Siena Urbanski as Offensive Player of the Year, Liz Falterer as Defensive Player of the Year, and the coaching staff under the leadership of head coach Jane Wells named Coaching Staff of the Year. John Hopkins' 3-0 win over the Garnet in the final was their 500th in program history.
Despite losing 1-0 to William Smith in the Liberty League final, Ithaca was awarded an at-large bid, entering the NCAA Tournament for the first time since 2000, where they faced Endicott in the First Round. In a back and forth match, the Bombers found themselves tied 2-2 after regulation, with goals from Emma Garver and Catherine Papa. It was seven minutes into overtime when junior Natalie Descalo deflected in the golden goal on a penalty corner to send Ithaca to the Second Round. Senior goalkeeper Alex Clough made seven saves that night, including a big spot in a one-on-one overtime situation.
This will be the first ever match-up between the Bombers and the Blue Jays.
FINAL: JOHNS HOPKINS 3, ITHACA 1
NO. 6 SALISBURY vs. NO. 8 WILLIAMS | 1 PM ET | CENTENNIAL TV
No. 6 Salisbury has a chance at redemption this Saturday as they take on the team that cut their dream season short in the 2022 NCAA Second Round – No. 8 Williams.
2022 was shaping up to be perfect for the Sea Gulls, who entered the NCAA Second Round as the top-seed with an 18-0 record. Instead it turned out to be one for Willams' history books, who defeated Salisbury 2-0 to make their first NCAA Semifinal appearance in program history. Now, the Sea Gulls and the Ephs will meet again to fight for a spot in the Semifinal on Sunday.
Unable to shake Chirstopher Newport in the Coast-to-Coast Conference final, Salisbury earned their spot in the NCAA postseason with an at-large bid, as well as a bye in the First Round. 13-4 so far this season, the Sea Gulls have only lost to top-ranked teams – Messiah in overtime, Johns Hopkins in penalty shootouts, and twice to Christopher Newport. Salisbury is appearing in the NCAA Tournament for the 38th time, and for an impressive 29th consecutive season.
The conference trophy again eluded Williams when they fell to No. 1 Middlebury, 4-0, in the NESCAC final. It was overall an impressive season for the Ephs, who are currently 12-7 and finished 6-4 in NESCAC play. Williams took down Wesleyan 3-2 in overtime in the NESCAC quarterfinal, then defeated Bates 2-1 in the semifinal. Senior Molly Hellman tallied a goal in each win, while Ephs offensive leader Kiki Higgins notched the game-winner against Bates. Hellman and Higgins were also the goal scorers in the 2022 NCAA Second Round victory over the Sea Gulls.
FINAL: SALISBURY 1, WILLIAMS 0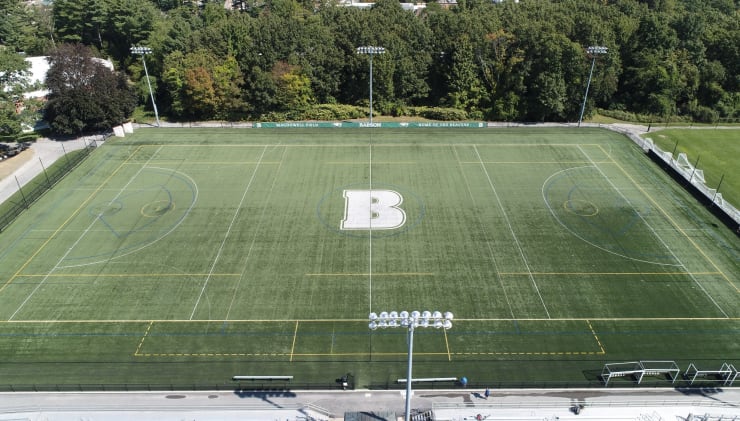 Host: Babson | Babson Park, Mass.
NO. 2 BABSON vs. NO. 7 BATES | 11 AM ET | BABSON SPORTS NETWORK
In a rematch of a regular season game back on September 13, No. 2 Babson hosts No. 7 Bates in the NCAA First Round. The Beavers won that matchup, 3-2, and will look to repeat the feat a their friendly confines of MacDowell Field.
Babson, making its eight NCAA Tournament appearance and fourth in a row, posted a sterling 20-1 record in the regular season with the lone loss against No. 1 Middlebury and won the NEWMAC title. The Beavers have built into a consistent contender under head coach Julie Ryan and are looking to improve on back-to-back finishes in the quarterfinals. Babson ranks fourth nationally in goals per game (4.57) as they boast five players with double-digit goals, headlined by Sinead Walsh (18 goals), Brianne McGrath (16), and Camille Marsh (16).
Bates, an at-large bid after a NESCAC semifinal loss to No. 8 Williams, took care of business in the opening round. The Bobcats rolled past Johnson & Wales, 7-0, as sisters Paige and Anna Cote both scored two goals in the win. Bates is 13-5 with a resume that includes ranked wins over Bowdoin, Trinity, Hamilton, Wesleyan, and Williams. The Bobcats' coaching staff — head coach Dani Kogut and assistants Morgan DeMann and Ian Wagge — were honored with the inaugural NESCAC Coaching Staff of the Year award.
The first meeting between these two sides was tied at a goal apiece until Walsh and Caroline DiGiovanni scored in a seven-minute span in the second quarter. DiGiovanni's goal held up as the winner as Babson has now taken the last four meetings against Bates. The Beavers lead the all-time series, 11-8.
FINAL: BABSON 1, BATES 0
NO. 10 TUFTS vs. NO. 16 ROWAN | 2 PM ET | BABSON SPORTS NETWORK
A pair of NCAA Tournament regulars square off in Babson Park, Mass., on Saturday afternoon as No. 10 Tufts battles No. 16 Rowan after both sides easily advanced from the Opening Round.
Rowan, the NJAC champions for a third year in a row, opened its NCAA Tournament with a 5-0 shutout of Hartwick. Sidney Pavlishin scored twice for the Profs, who took the lead in the eighth minute and didn't look back. Vanessa DiDonato also found the back of the cage, continuing a strong week after earning NFHCA Division III Offensive Player of the Week honors. Rowan — who won its only NCAA title back in 2002 — has reached the semifinals in three of the last four years and will look to make a similar run in 2023.
Tufts earned an at-large bid after a 12-5 campaign in which they fell in the NESCAC semifinals to No. 15 Amherst, 3-2, in overtime. The Jumbos are in the tournament for a 14th time and for the fifth season in a row as they look for a first title since 2012 — with a pair of runner-up finishes since then. Tufts made quick work of the opening round, dispatching Southern Maine by a 5-0 margin. The Jumbos got two goals apiece from Kylie Rosenquest and Andrea DelGiudice as they moved to 23-12 all-time in NCAA action.
This is just the second time these two programs have met — the previous meeting, coincidentally, was back in the First Round of the 1998 NCAA Tournament. Rowan got the better of Tufts, winning 1-0 in overtime.
FINAL: TUFTS 2, ROWAN 1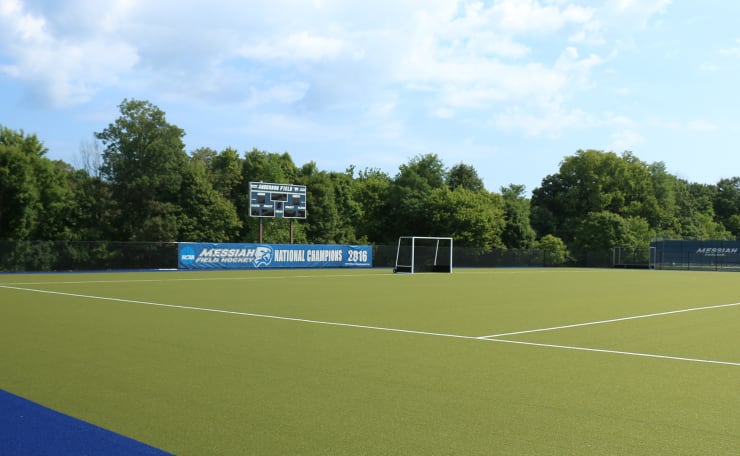 Host: Messiah | Grantham, Pa.
NO. 1 MIDDLEBURY vs. WILLIAM SMITH | 11 AM ET | GOMACSPORTS TV
The potential for a historic run to continue begins on Saturday morning as top-ranked Middlebury takes on William Smith in Grantham, Pa., in the First Round.
Top-seeded Middlebury already made history last season — they became the only field hockey team across all three divisions to win five straight national championships. Now, after winning the always-difficult NESCAC crown for a sixth year in a row, the Panthers will look to continue their winning NCAA ways. Middlebury has won its last 27 games, dating back to October 2022, and has a 123-5 record since their run began in 2017. The Panthers were especially dominant last year, winning all four tournament games by a 16-0 margin. They landed NESCAC honors this week — Katie George was the Offensive Player of the Year, while Amy Griffin was the Defensive Player of the Year.
William Smith gets the chance to take on the defending title winners after a dramatic opening round game against Susquehanna. After 60 scoreless minutes, Cora Nagle sent the Herons through to the first round just a minute into overtime. Nagle's strike came off of a rebound following a penalty corner. The two team's goalies combined for 22 saves, but it was William Smith's Kristen McCormick that earned the 10-save shutout. The Herons, who won the Liberty League tournament with a pair of impressive wins over Rochester and No. 24 Ithaca, have made back-to-back NCAA Tournament appearances. The Liberty League honored Nagle, Kate Barilla, and Rebecca Mantione with All-Conference First Team selections.
These two teams have met just three times, despite having their share of NCAA postseason success — William Smith has three titles to Middlebury' seven. The Panthers have a 2-1 edge in the historical series, most recently beating the Herons, 3-0, in the 2015 NCAA Quarterfinals.
FINAL: MIDDLEBURY 7, WILLIAM SMITH 0
NO. 5 MESSIAH vs. NO. 13 CORTLAND | 2 PM ET | GOMACSPORTS TV
With a pair of double-digit winning streaks — Messiah's at 12 games, Cortland's at 10 — on the line, Saturday afternoon's First Round matchup in Grantham, Pa., figures to be an exciting one.
Messiah, in the NCAA Tournament for the 36th time — and having appeared in every bracket since 2001 — will be looking to make another deep run. The Falcons, the 2017 National Champions and runners-up in 2018, have exited in the second or third round in the last four tournaments. Messiah is 17-1 on the year, the lone loss coming to No. 4 Johns Hopkins in overtime. It's been smooth sailing since then as the Falcons won the MAC Commonwealth for the 16th year in a row and saw three players earn conference awards: Co-Defensive Player of the Year Nicole Shank, Rookie of the Year Aubrey Clark, and Coach of the Year Brooke Good.
Cortland extended its winning streak to 10 games in the opening round, erasing a 1-0 halftime deficit to Stevens with a trio of second-half goals for a 3-1 win. The Red Dragons — whose only loss on the year came in overtime back in early October — tied the game up five minutes after the break on a Jamie Snyder goal. Then, in the fourth quarter, Gianna Trunfio tucked away a rebound for the go-ahead goal and Snyder added another in the final minutes. The SUNYAC champions, Cortland is 18-1 on the year — a .947 winning percentage that is fourth nationally.
Before the 11th conference championship under her watch, Good's first-ever win came against Cortland back in 2012 — a 5-1 season-opening victory. That was the second of two historical meetings between these sides, both going the Falcons' way.
FINAL: MESSIAH 3, CORTLAND 1
Third Round | Sunday, November
12
Host: Christopher Newport | Newport News, Va.
NO. 14 KEAN vs. NO. 11 LYNCHBURG | 1 PM ET | YOUTUBE
A pair of upsets characterized the second round in Newport News, Va. Host and No. 3 Christopher Newport went down to No. 14 Kean while No. 11 Lynchburg knocked off No. 9 York to set up a surprising matchup for a spot in the semifinals.
Kean did what no other team has managed to do this season: Beat Christopher Newport. The Captains entered a perfect 17-0, but the Cougars' goalie Jenna Flemings turned in a remarkable performance. The three-time NJAC Goalkeeper of the Year piled up a career-high 17 saves — including a remarkable three on penalty strokes, the latter two in sudden-death overtime. Her efforts kept Christopher Newport off the board until teammate Madison Brege tallied the game-winner in the ninth minute of overtime. In the previous round, Kean erased a 2-1 halftime deficit to St. Mary's with three second-half goals in a 4-2 win.
Lynchburg's win streak hit nine with a dramatic double-overtime win over York. The Hornets, now 20-2 on the year, held a decisive 18-5 advantage in shots and it was Khanyisile Mzizi that finally broke through with the winner in the 72nd minute. Lynchburg had moved on to the Second Round with a 6-1 win over Keystone. The final postseason for head coach Enza Steele — in her 45th season and the winningest coach in D3 history — has been a storybook ride so far for the Hornets.
To continue their run, Lynchburg — while ranked higher — will have to beat Kean for the first time. The Hornets are 0-5 against the Cougars, most recently falling 3-2 back in October of this year. That game went to overtime deadlocked at two and it was Kean's Peyton Mann that found the game-winner just three minutes into the extra period.
FINAL: KEAN 2, LYNCHBURG 1
Host: Johns Hopkins | Baltimore, Md.
NO. 4 JOHNS HOPKINS vs. NO. 6 SALISBURY | 1 PM ET | CENTENNIAL TV
Back in mid-September, a thrilling matchup in Baltimore, Md., between No. 4 Johns Hopkins and No. 6 Salisbury went to shootouts with the Blue Jays coming out on top. Exactly 60 days later, those two sides will meet again on the same field — with a spot in the NCAA semifinals on the line.
The win streak hit 17 for the host Blue Jays as they beat No. 24 Ithaca, 3-1, behind two unanswered third quarter goals. Gen Mehra, Siena Urbanski, and Zoey Bennett scored for Johns Hopkins, who outshot the Bombers by a decisive 15-2 margin. Not only are the Blue Jays a sterling 19-1 on the year, but they've gone a perfect 11-0 at Homewood Field. Johns Hopkins is looking to make a return to the Semifinals for the fifth year in a row — and potentially finally clear the last hurdle after back-to-back NCAA title game defeats.
Salisbury moved on with an overtime win against No. 8 Williams thanks to a penalty stroke conversion from freshman Ramsey Coffman in the 67th minute. Coffman — who had yet to score in a Gulls' uniform — confidently stepped up and slotted it to the goalie's left, punching her team's ticket to the Quarterfinals. The victory came one year after the Ephs knocked top-ranked Salisbury out of the 2022 NCAA Tournament Quarterfinals.
While the Gulls hold a decisive 21-6 edge in the all-time series, Johns Hopkins has won three of the last four, including a 1-0 win in the second round of the 2021 NCAA Tournament. This year's matchup remained tied at 1-1 through two overtimes until the Blue Jays took the shootout, 3-1, with Mehra scoring the winner.
FINAL: JOHNS HOPKINS 1, SALISBURY 0
Host: Babson | Babson Park, Mass.
NO. 2 BABSON vs. NO. 10 TUFTS | 1 PM ET | BABSON SPORTS NETWORK
Another rematch of a regular season matchup is the quarterfinal in Babson Park, Mass., with host and second-ranked Babson looking to win its second game against No. 10 Tufts this season.
Like many other teams moving on, Babson extended its winning streak to double-digits — reaching 15 straight — but it wasn't without drama. Facing off against No. 7 Bates, both teams played stifling defense and went into overtime without a score. While the Beavers had a 12-4 edge in penalty corners, quality shots were hard to come by. Finally, in the 67th minute, Jackie Hill broke the stalemate with a goal off of an assist from Berit Sharrow. Now 21-1 on the year, Babson is a win away from its second-ever Semifinals appearance, and will count on its impressive 13-0 mark at MacDowell Field to power them through.
Tufts, rebounding nicely after an overtime loss to Amherst in the NESCAC quarterfinals, has won back-to-back games to start the NCAA Tournament. After comfortably dispatching Southern Maine, 5-0, the Jumbos took care of business against No. 16 Rowan. In the first-ever meeting between the two sides, Tufts answered a first-quarter goal with two of their own in the second from Mia D'Angelo and Rachel Scrivanich. Those held up in a scoreless second half as they moved on with a 2-1 win. The Jumbos are 13-5 on the year and are going for their first Semifinals appearance since 2018.
Tufts holds a 13-5 edge in the all-time series, but it's been all Babson the last three years. The Beavers have won three straight, albeit in close matchups with 1-0, 2-1, and 2-0 scorelines. In September's win, Babson got goals from Caroline DiGiovanni and Meara Hanyon while Bayla Furmanek had a four-save shutout.
FINAL: BABSON 1, TUFTS 0
Host: Messiah | Grantham, Pa.
NO. 1 MIDDLEBURY vs. NO. 5 MESSIAH | 1 PM ET | GO MAC SPORTS
In a rematch of the 2017 National Championship, top-seeded Middlebury faces Messiah on the road as they continue their quest for yet another title. The Falcons — the last team other than the Panthers to win it all — will look to avenge that 4-0 loss and move on to the Semifinals.
The win streak extended to 28 games for top-seeded Middlebury on Saturday as the Panthers rolled to a 7-0 shutout of William Smith in the Second Round. The Panthers, aiming for a sixth straight national championship, saw seven different players log points in the shutout. Amy Griffin and Katie George both contributed two goals and an assist in the win while Middlebury totaled a decisive 34-1 advantage in shots. The Panthers are a perfect 19-0 — the last unbeaten team in the country — and have outscored opponents 99-10.
Messiah had a similarly strong second round debut, taking down SUNYAC champion Cortland by a 3-1 margin. The Falcons — whose most recent defeat was back in late September to No. 4 Johns Hopkins — bring in a 13-game winning streak and an unbeaten (11-0) record at Anderson Field. Messiah came a minute short of a shutout against the Red Dragons, but still enjoyed a comfortable win with goals from Leah Bryner, Allie Mast, and Kelsey Heltzel.
Before the 2017 win for Middlebury, it was Messiah that knocked the Panthers out of the postseason the year prior. The Falcons beat the defending champions, 4-2, to move on to the Semifinals and ultimately, win the title game. Overall, Middlebury holds a 3-1 edge with the two previous wins coming in the 2004 and 2007 NCAA Tournaments, respectively.
FINAL: MIDDLEBURY 3, MESSIAH 0
Images courtesy of JHU Athletics, CNU Athletics, Babson Athletics, Messiah Athletics