Weekend College Games: September 28 - October 4
Each week, USA Field Hockey highlights upcoming college games to watch. This edition covers the week of September 28 to October 4.
THURSDAY, SEPTEMBER 28
DI: NO. 6 RUTGERS vs NO. 8 MARYLAND | 3:00 PM ET | B1G+ ($)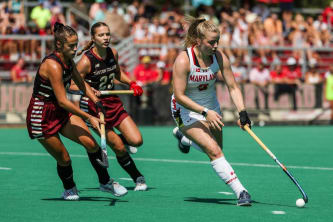 No. 8 Maryland opens up their Big Ten (B1G) play with a road game against undefeated No. 6 Rutgers on Thursday afternoon.
This will be a big initial conference test for Maryland (7-2), who will follow it up with a match against Penn State on Sunday. The Terps are returning from a brief hiatus, with their previous game taking place 10 days prior. Maryland had recovered from a 3-2 loss to Princeton with a tight 2-1 victory over then-No. 6 Virginia.
Rutgers (9-0, 1-0) will enter this matchup as the only Division I team other than No. 1 Iowa left without a loss. The Scarlet Knights are already in the green for conference play after defeating then-No. 12 Penn State in double overtime two weeks ago. Guillermina Causarano, who scored the lone overtime goal to give Rutgers the 1-0 victory over the Nittany Lions, stepped up in a big way again this past weekend when she scored a hat trick in a 4-2 win over No. 18 Massachusetts. Causarano was honored as the B1G Offensive Player of the Week, becoming the first Scarlet Knight to win the award since 2019.
The Terps have 35 wins in overall matchups to the Scarlet Knights' four. Last season, when the pair faced off, Maryland secured a 4-3 win.
FRIDAY, SEPTEMBER 29
DI: NO. 12 BOSTON COLLEGE vs NO. 10 SYRACUSE | 1:00 PM ET | ACCNX ($)
A pair of Northeast ACC foes battle in Newton on Friday afternoon as No. 10 Syracuse travels to No. 12 Boston College.
Syracuse (7-2, 0-2 ACC) is looking for its first conference win after setbacks against No. 4 Duke and No. 7 Virginia, the latter in double overtime. The Orange are unbeaten in non-conference play — including a recent 2-1 win over No. 16 Penn State. Syracuse boasts a prolific offense, ranking second in the nation in goals per game with four, and it'll be put to the test this weekend. The Eagles and Syracuse's Sunday opponent, No. 14 Harvard, both rank in the Top 15 in goals against average.
The Boston College (6-3, 1-1) defense has kept them in every game as they've allowed just seven goals in nine games. The Eagles recently rolled past New Hampshire, 5-1, rebounding well after a 2-1 overtime loss to No. 4 Duke. All three of BC's losses have come in overtime — and against ranked opponents — with the other two decided by 1-0 margins against No. 3 Northwestern and No. 8 Maryland.
Syracuse holds a 27-10 advantage in the all-time series, including three straight wins. Two of those came last season with the Orange winning 3-0 at the end of September before following it up with a decisive 6-2 victory in the ACC Quarterfinals.
DI: NO. 5 LOUISVILLE vs NO. 7 VIRGINIA | 3:00 PM ET | ACC NETWORK ($)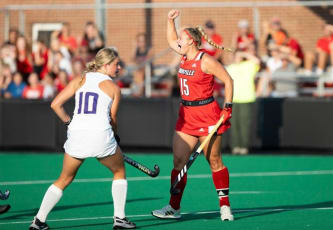 Trager Stadium in Louisville, Ky., will host quite the conference matchup on Friday afternoon — No. 5 Louisville welcomes No. 7 Virginia in what should be a thrilling ACC showdown.
Louisville (8-1, 0-1 ACC) is unbeaten in non-conference play, having recently beaten James Madison and Miami (OH), but are still looking for their first ACC win. The Cardinals came up short against No. 2 North Carolina back on September 15th but boast a perfect 4-0 record at home. Sasha Elliott has been a rock in the cage, leading the conference in saves per game (9) and save percentage (.775).
Virginia (6-3, 1-1) entered last Friday's bout against No. 10 Syracuse having lost back-to-back one-goal games to ranked opponents but rebounded with a dramatic double-overtime victory. Adele Iacobucci scored the game-winner in the 80th minute, opening her goals account in style for 2023.
The Cavaliers hold an 11-8 advantage in the all-time series — including three straight wins — but two of those came at neutral sites in the ACC Championship and another in Charlottesville. Louisville has won the last two times they've hosted Virginia in 2021 and 2020.
DI: NO. 1 IOWA vs NO. 11 OHIO STATE | 4:00 PM ET | B1G+ ($)
Ohio State has another B1G test this weekend as they take on undefeated No. 1 Iowa.
After back-to-back conference wins over Michigan and Michigan State, Ohio State (9-2, 2-1 B1G) found themselves unable to make it three after a 4-3 loss to No. 3 Northwestern. Despite the setback the Buckeyes find themselves in a good position for being able to tally three goals against the Northwestern defense, which has only allowed four other goals from competitors this season. A big part of their offense is senior Makenna Webster, who is top-three in the B1G in goals and assists.
Iowa (9-0, 1-0) continues to be an unstoppable force in Division I, most recently defeating Merrimack and Michigan by a combined score of 10-0 and giving the Hawkeye defense their sixth and seventh shutouts of the season. Three-time B1G Freshman of the Week Dionne van Aalsum continues to lead Division I offensively with 2.33 goals per game, while goalkeeper Mia Magnotta leads in goals against average (0.33).
Iowa is 20-5 overall against Ohio State and has won nine out of the last 10 matchups. Last season, the Buckeyes pulled off a big upset when they shutout the Hawkeyes, 2-0.
SATURDAY, SEPTEMBER 30
DIII: NO. 20 TRINITY vs NO. 14 BATES | 11:00 AM ET | NSN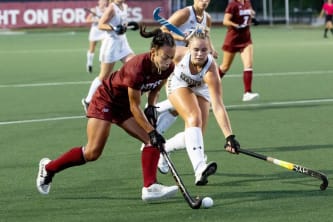 Two teams in pursuit of a NESCAC victory will battle this Saturday as Trinity hosts Bates at Robin L. Sheppard Field.
Bates (3-3, 1-2 NESCAC) is looking to bounce back after three straight losses to top-tier teams. It was a narrow 3-2 non-conference defeat to then-No. 3 Babson, followed by a pair of NESCAC losses to then-No. 11 Amherst and No. 1 Middlebury. The Bobcats picked up their lone conference win against then-No. 14 Bowdoin earlier in the season.
Similarly, Trinity (5-3, 1-3 NESCAC) is also coming off of two NESCAC defeats after picking up a victory early in the season. It was a surprising 4-1 loss to Wesleyan followed by a 2-0 shutout by No. 5 Tufts that set the Bantams back this past weekend.
In all their meetings, Trinity holds a 15-7 advantage. Last season, the Bantams just barely bested the Bobcats with a 3-2 overtime victory.
DIII: SIMMONS vs LASELL | 11:00 AM ET | STRETCH
Saturday morning will see last year's Great Northeast Athletic Conference (GNAC) Tournament runner-up Simmons host Lasell, the team they eliminated in the conference semifinals.
Lasell (8-0, 5-0 GNAC) remains one of seven teams to stay undefeated in Division III – outscoring their opponents 55-7. The Lasers have already picked up five conference wins in their large 13-team conference, and are tied in conference record with Johnson & Wales – another undefeated team. Senior Lily Stark and graduate student Abbey Playle lead the GNAC in points.
Simmons (7-1, 4-1 GNAC) would also be 5-0 in conference if it weren't for a tough 3-1 loss to Colby-Sawyer from earlier this season. The Sharks have turned it around with four straight wins, most recently defeating Wheaton 2-0 this past Wednesday. Anna Tedeschi was honored as GNAC Player of the Week after the junior scored a career high four goals in a 4-0 victory over Clark last week, and now leads the GNAC in goals (10).
The Sharks have defeated the Lasers in their past four matchups, and lead overall, 13-11.
DIII: NO. 19 SHENANDOAH vs NO. 17 LYNCHBURG | 1:00 PM ET | SU HORNETS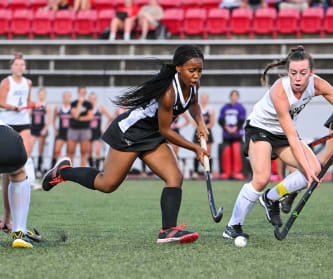 Aikens Stadium will be a Hornets' nest on Saturday when No. 19 Shenandoah and No. 17 Lynchburg meet in an Old Dominion Athletic Conference (ODAC) clash.
Lynchburg (7-1, 1-0 ODAC) took a big leap in the national rankings this week with their impressive 6-1 record and recent weekend win over Top-10 ranked York. The Hornets shutout the Spartans, 2-0, then defeated Centre comfortably the next day. Sophomore Marlou Wendriks tallied an impressive 10 points over the past three matches — including the game-winner in a 2-1 victory over Randolph Macon — and earned the ODAC Player of the Week award. Wendriks leads the ODAC in points (19), goals scored (7), and assists (5).
Shenandoah (7-1) grabbed a midweek victory over St Mary's after defeating Mary Washington last weekend in a tight 1-0 match. Goalkeeper Taylor Swann, who had earned ODAC Player of the Week last week after shutting out FDU-Florham and Montclair State, made six saves in the win against the Eagles. Swann entered the midweek ranked first in the ODAC and seventh nationally in save percentage (.875).
The pair has played each other both in the regular season and in the ODAC tournament for the past five seasons. In each of the past two years, Lynchburg has defeated Shenandoah in the ODAC semifinals, 3-1, after losing in the regular season matchup.
DII: NO. 6 MANSFIELD vs NO. 1 EAST STROUDSBURG | 1:00 PM ET | PSAC DIGITAL NETWORK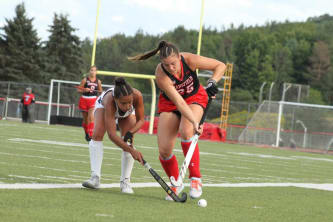 It's a top-10 matchup on Saturday afternoon for the PSAC as No. 1 East Stroudsburg travels to No. 6 Mansfield.
Mansfield (6-3, 1-0 PSAC) started out conference play with a 4-0 shutout over Mercyhurst after falling to Frostburg State 2-1 in a non-conference match over the weekend. The Mountaineers have been tested against other PSAC opponents in a non-conference setting, and split the results with a huge 2-0 win over No. 2 Shippensburg and a close overtime loss to No. 5 West Chester.
It was nearly another loss for East Stroudsburg (7-1, 1-0 PSAC) when they took on No. 3 Kutztown this week. Trailing 1-0 with three minutes left to play, Maddy Barbush buried a penalty stroke to send the Warriors to OT. It was Nicole Kroser who notched the game-winner just three minutes into overtime.
The Warriors have won the last 18 times they faced the Mountaineers, most recently by a 4-0 scoreline in 2022. Mansfield has only defeated East Stroudsburg three times – the first three times they matched up.
DII: LANDER vs NO. 7 MOUNT OLIVE | 1:00 PM ET | FLOLIVE ($)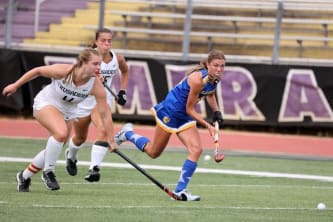 Lander will host seventh ranked Mount Olive on Saturday after facing Lincoln Memorial on Thursday evening in the start of a three-game homestand.
Mount Olive (8-1, 7-0 SAC) was back up to seventh in the national rankings this week, their highest in program history, after defeating No. 9 Newberry last weekend and securing their seventh straight win - all in South Atlantic Conference (SAC) play. Senior Avery Congleton tallied a gamewinning goal and assist in wins over Limestone and Newberry, respectively. Congleton received the SAC Offensive Player of the Week award for her impact.
A few games behind, Lander (4-1, 4-1 SAC) started off their season with five SAC matches – falling in only one to the Converse Valkyries. Now in just their second season, the Bearcats have already established themselves as a team to be reckoned with in the SAC.
In their inaugural season, Lander fell to Mount Olive twice – 4-2 and 2-0.
DIII: NO. 21 CATHOLIC vs SCRANTON | 3:00 PM ET | FLOLIVE ($)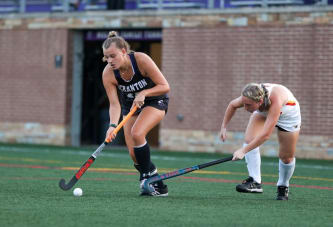 Undefeated in conference play, No. 21 Catholic and Scranton will clash on Saturday at noon in the nation's capital.
Catholic (5-3, 2-0 Landmark) started off the season strong with two 2-1 wins over ranked NJAC teams – then-No. 11 TCNJ and then-No. 3 Rowan. The Cardinals ran into trouble down the road against other ranked opponents, most recently falling in a mid-week matchup against No. 6 Salisbury.
After going on a six game win streak, Scranton (7-2, 2-0 Landmark) was handed a 1-0 overtime loss by Ithaca on Wednesday. The defeat followed two big wins last week that included a 4-2 victory over Vassar. After trailing 2-0, senior Katie Redding got to work scoring two goals to erase the deficit, while sophomore Annie Shaw tallied the gamewinner. Redding then went on to assist two goals from Bridget Abraldes in the next match – a 4-1 victory over Elizabethtown – and was named Landmark Offensive Athlete of the Week.
These two Landmark teams hold a close overall record against each other, with Catholic leading 8-7, although the Royals have claimed victory in the past five meetings.
SUNDAY, OCTOBER 1
DI: NO. 20 CORNELL vs LEHIGH | 2:00 PM ET | ESPN+ ($)
The Lehigh Mountain Hawks will look to defeat No. 20 Cornell for the first time since 1993 in a non-conference match-up on Sunday.
Off to a 2-0 start in Ivy League play, Cornell (5-2) will take on conference foe Princeton on Friday before meeting Lehigh on Sunday. The Big Red are coming off a four game win streak that was capitalized by two large margin victories last weekend. Senior Caroline Ramsey made Cornell program history after scoring seven goals across the two games, setting the record for most career goals at 44. Ramsey, who is well on her way to holding more than a few records for the Red, was honored as both the Ivy League and NFHCA Division I Offensive Player of the Week.
Lehigh (7-2, 1-0 Patriot) will also face a conference opponent this weekend – Colgate on Saturday – before facing the Big Red. Within the Mountain Hawks seven wins so far this season, three have been against teams that they lost to the last time they matched up.
WEDNESDAY, OCTOBER 4
DIII: NO. 5 TUFTS vs NO. 25 WESLEYAN | 12:00 PM ET | PACK NETWORK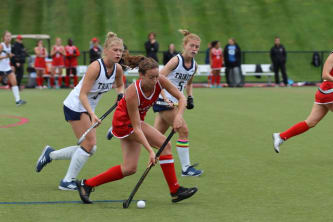 No. 5 Tufts and No. 25 Wesleyan will clash on Wednesday as two teams off to strong starts in NESCAC play. Tufts, who faces No. 1 Middlebury on Saturday, hosts Wesleyan — who has a road trip to Colby College over the weekend.
Both Tufts (6-1, 4-0 NESCAC) and Wesleyan (6-1, 3-0) are having a great start to their season – the two are both undefeated in conference play while sitting with a 6-1 overall record. The Jumbos' singular loss came at the hands of No. 2 Babson this past week, while the Cardinals suffered a 3-1 loss to Bryn Mawr earlier in the season. Prior to their loss to Babson, Tufts had four straight ranked victories.
Wesleyan entered the rankings after a successful weekend that included two wins over ranked NESCAC opponents, bringing them to their best conference start in program history at 3-0. Sophomore Georgina Adams, who leads the NESCAC in points (20), tallied a goal in the Cardinals' 4-1 win over Trinity and two in their 2-1 victory over Hamilton. Adams earned the honor of NESCAC Player of the Week – an award that Wesleyan had not seen since 2010.
Last season, the Jumbos took home a 2-1 victory over the Cardinals. Tufts holds a 36-17 advantage in overall matchups.
DII: NO. 2 SHIPPENSBURG vs NO. 5 WEST CHESTER | 3:00 PM ET | PSAC DIGITAL NETWORK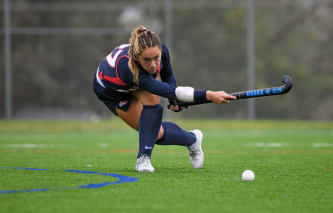 No. 2 Shippensburg and No. 5 West Chester will play for the second time this season – this time with PSAC implications – on Wednesday afternoon.
West Chester (6-2, 2-0 PSAC) will be looking for revenge after being blanked by Shippensburg (7-2, 2-0 PSAC) on their home turf just one week ago. The Raiders saw a goal from Yasmin De Meyer within the first four minutes of play, and another from Agus Garibaldi in the second frame. Shippensburg followed up that performance with back-to-back PSAC wins against top-10 ranked Millersville and Bloomsburg, where De Meyer netted two goals against the Huskies.
Integral to the success of the Raiders has been goalkeeper Emma Albee, who has stopped 23 of the 24 shots she has faced in the past five games. Shippensburg not only swept the PSAC weekly honors this week, but De Meyer and Albee were also named the NFHCA Division II Offensive and Defensive Players of the Week, respectively.
The Golden Rams picked up their own pair of PSAC victories after their spat with the Raiders — a 3-0 shutout of Slippery Rock and a 3-2 overtime win over Bloomsburg. Junior Jasmine Miller tallied two goals in both of the wins.
Images courtesy of: Mackenzie Miles / Maryland Athletics, Syracuse Athletics, Rachel Klotz / Louisville Athletics, Jerod Ringwald / Iowa Athletics, Phyllis Graber Jensen / Bates Athletics, Joe Sullivan / Lasell Athletics, Bob Stoner / Lander Athletics, Lynchburg Athletics, Emma Palmer / Mansfield Athletics, Scranton Athletics, Lexi Woodcock / Cornell Athletics, Andrew Miller / Shippensburg Athletics