USWNT Wraps Up 2020-21 FIH Hockey Pro League in England
mages Taken by FIH & WorldSportsPics/Will
Palmer
LONDON, England – The No. 15 U.S. Women's National Team met No. 5 Great Britain for their second game in less than 24 hours to finish out their 2020-21 FIH Hockey Pro League season. A wet and windy day at the Lee Valley Hockey and Tennis Centre in London, England saw a game that was mostly possessed by Team GB as they capitalized on three penalty corners and two field goals to defeat USA, 0-5.
Early and late penalty corner goals for Great Britain set the pace for the first quarter. Almost starting identical to yesterday's game, the home team got into their attacking circle within the first minute of play to earn three penalty corners. Off the third attempt, a high drag by Grace Balsdon went into the upper right of the net for Great Britain to take the lead. Two minutes following Great Britain looked to double the score when Sarah Jones received a ball deep in the right corner and passed it to Fiona Crackles who struck it out of the air only for USA goalkeeper Kelsey Bing (Houston, Texas) to make a brilliant stick save. The middle portion of the frame was more eventually possessed although Great Britain tallied three more penalty corner chances and produced a handful of shots. With second remaining, Great Britain did double the lead to make it 0-2 off a low penalty corner drag from Giselle Ainsley.
At the start of the second quarter, Nicole Woods (Beverly, Mass.) was issued a green card and Great Britain capitalized on the player-up advantage by increasing their lead to 0-3. Anna Toman's initial penalty corner strike was stopped by Bing but Laura Unsworth got on the rebound and lifted it over where Sarah Evans finished on the post. Bing and the defensive unit continued to endure the high pressure, fending off more shots. USA struggled to earn a circle entry as their forward momentum kept getting shutdown by Great Britain.
Coming out of the break, USA produced their best defensive effort by limiting Great Britain on the number of circle entries while allowing zero goals. Although they were under a lot of offensive pressure, USA now behind the leadership of goalkeeper Kealsie Robles (Yorktown, Va.), maintained composure to deny the seven attempts on goal.
The defensive proficiency continued for USA in the fourth quarter and the red, white and blue even produced their first shot of the game. In the 48th minute, Danielle Grega (Kingston, Pa.) found space in the circle and fired off a backhand shot that was saved by Great Britain goalkeeper Maddie Hinch. The home team's continued to knock and eventually broke down USA as they responded on the following play through a counter attack goal. A sweeping cross from Toman found Sarah Robertson who sent a hard backhand strike through the legs of Robles. Four minutes later, Great Britain sealed the win on a turning deflection goal by Jones to make it 0-5.
Following the game, Great Britain's midfielder Sarah Jones was named Player of the Match.
"[Great Britain] is a very experienced team and we're kind of in the bit of a rebuilding stage so it's important to take these games and learn a lot from them," said Amanda Magadan (Randolph, N.J.), USWNT Captain. "The energy is a bit down right now, but we'll learn and take some good lessons from this game."
"The tour was a great learning piece," said Anthony Farry, USWNT Head Coach. "it was fantastic for us to see where we sit against some of the best teams in the world and to learn what we need to do to bridge the gap both short and long term. Whilst the results didn't fall our way this time we know we've made improvements around some key areas and that augers well for the future. From a selection standpoint, we've now got a few more athletes to look at as we head into the upcoming series which is another positive as we look to make the final selections for the 2021 USWNT."
Today's contest marked career milestones for USA athlete Alyssa Parker (Woodbine, Md.) who played in her 50th international cap for Team USA.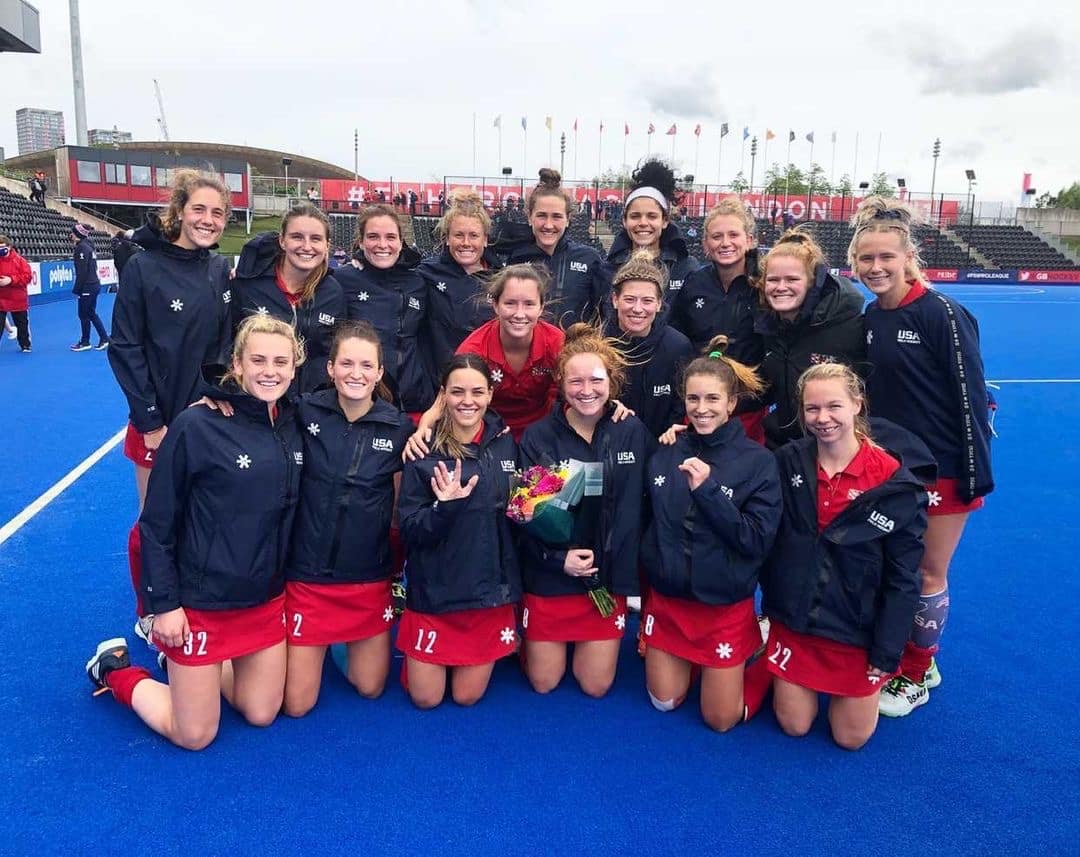 The 2020-21 FIH Hockey Pro League season was full of unprecedent obstacles for the USWNT. This included the death of team manager Larry Amar just prior to their first matches, a 14-month pause due to the coronavirus pandemic and the hiring of a completely new coaching staff in Anthony Farry and Greg Drake. The USWNT will head back home and start preparing for a series set to take place this summer in the United States. More information will be shared soon.
#FIHProLeague | #HockeyAtItsBest