USWNT Battles Hard but Falls to Argentina FIH Hockey Pro League
Images Taken by World Sport
Pics
BUENOS AIRES, Argentina – In their second meeting of the 2021-22 FIH Hockey Pro League, the No. 15 U.S. Women's National Team took on No. 2 Argentina at Cenard in Buenos Aires. A scoreless first quarter, Las Leonas converted on three field goals in each of the resuming periods for the 3-0 victory.
Argentina looked to put their authority on the game early, gathering, multiple circle entries in the first 5 minutes. USA's defensive unit was tested, and goalkeeper Kelsey Bing (Houston, Texas) was forced to make four saves. In the 6th minute, USA survived back-to-back Argentina penalty corners but struggled to make a positive outlet as Las Leonas continued to press. Another penalty corner came for Argentina in the 12th minute but a great run by flyer and captain Amanda Magadan (Randolph, N.J.) blocked the chance. USA's only good look came seconds before the end of the frame when Karlie Kisha (Hamburg, Pa.) send a ball into Megan Rodgers (San Diego, Calif.) open in front of Argentina goalkeeper Cristina Cosentio but was unable to get it around her.
Scoreless heading into the second quarter, Argentina kept up their high press making it tough for USA to outlet. Las Leonas' persistence paid off just 4 minutes in when Victoria Granatto got it in front of Bing, spun and scored a reverse sweep goal to give Argentina a 1-0 lead. The host nation continued to maintain control, producing two more penalty corners and two more shots, both stopped by Bing. USA broke into their attacking end with 30 seconds remaining before half but were unable to gather an outcome as they trailed 1-0 at the break.
Thirty-seconds into the third quarter Danielle Grega (Kingston, Pa.) was issued a green card for a 5-yard call. This sparked momentum for Argentina as Agustina Albertarrio used the right baseline to enter the circle and then cut back and get a shot toward goal that was blocked by Sanne Caarls (Nieuw-Vennep, Netherlands). In the 35th minute, Caarls was issued a green card for an undisciplined play and in that same minute Argentina extended their lead when V. Granatto tipped in her second of the game to make it 2-0. Las Leonas remained on the front foot, earning another penalty corner and four more shots as the period closed.
Las Leonas continued to threaten and added to their lead 2 minutes into the final quarter. The play started with Julieta Jankunas on the left baseline and she flicked it into traffic as captain Rocio Sanchez got a touched it up and into the goal to make it 3-0. Still hunting, Bing make consecutive saves denying Agostina Alonso and V. Granatto. In the 50th minute, Argentina's Victoria Sauze was issued a green card which gave USA momentum, but they were unable to positively break into their circle. Argentina produced a few more looks on frame and one more penalty corner chance but didn't add to their 3-0 lead for the win.
Following the game, Argentina's Victoria Granatto was named Player of the Match.
"I think Argentina came out today and put us under a lot more pressure," said Magadan, following the game. "We struggled outletting the ball and keeping possession a bit. They are a good team, they are scrappy in the circle as well so that was a little bit of the difference maker and we just couldn't adjust to that."
"We learned that we need to adapt a little bit and vary out our outlet and put teams under pressure."
Today's contest marked career milestone for USA athlete Danielle Grega (Kingston, Pa.) who played in her 50th international cap for Team USA.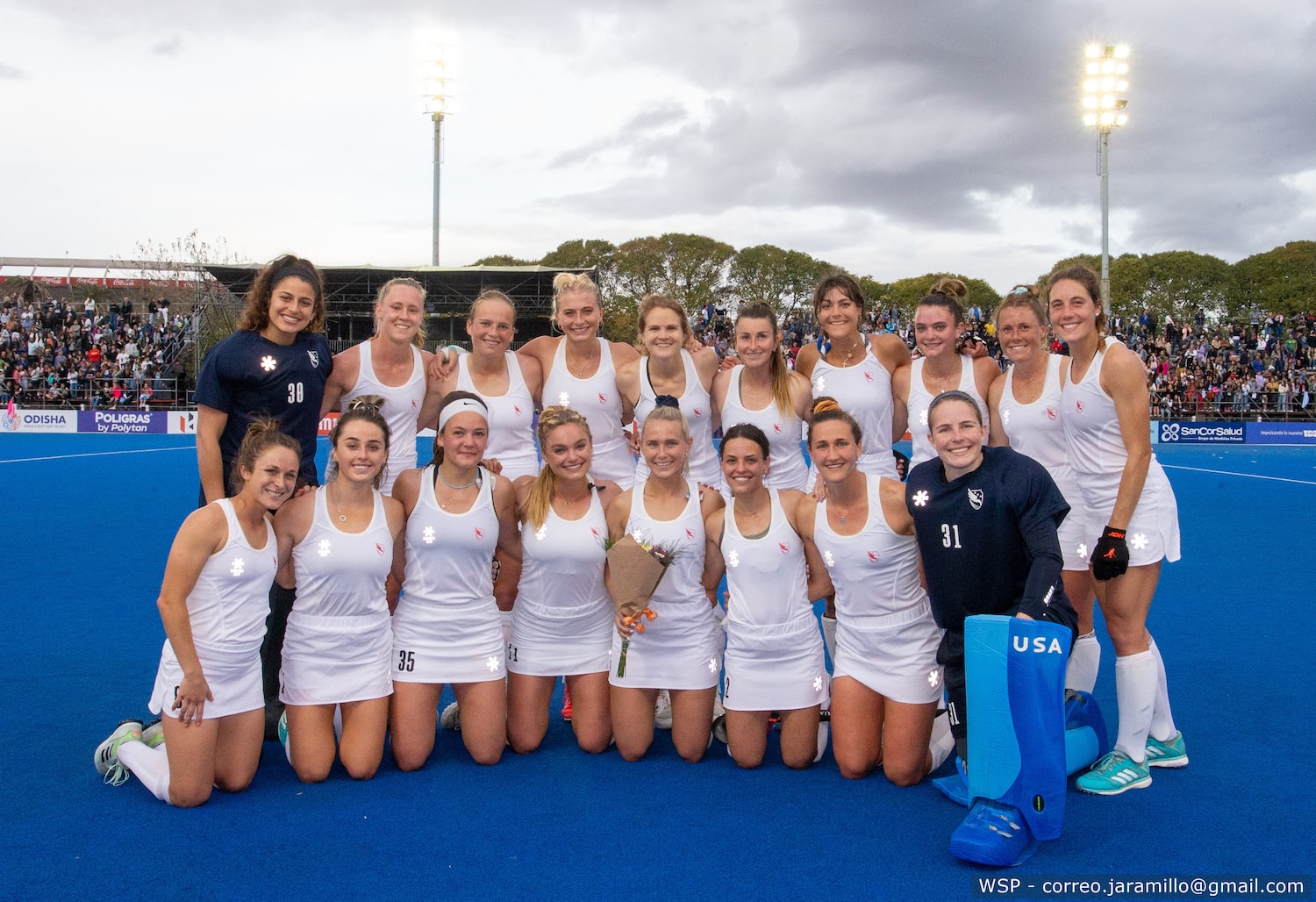 Next, the U.S. women's National Team will return to the United States and host No. 4 England at Karen Shelton Stadium on the campus of the University of North Carolina at Chapel Hill for another two-game series on Saturday, April 23 and Sunday, April 24, both at 2:00 p.m. ET. Tickets can be purchased by clicking here. For more information, visit the FIH Hockey Pro League Event Page.
#FIHProLeague | #HockeyAtItsBest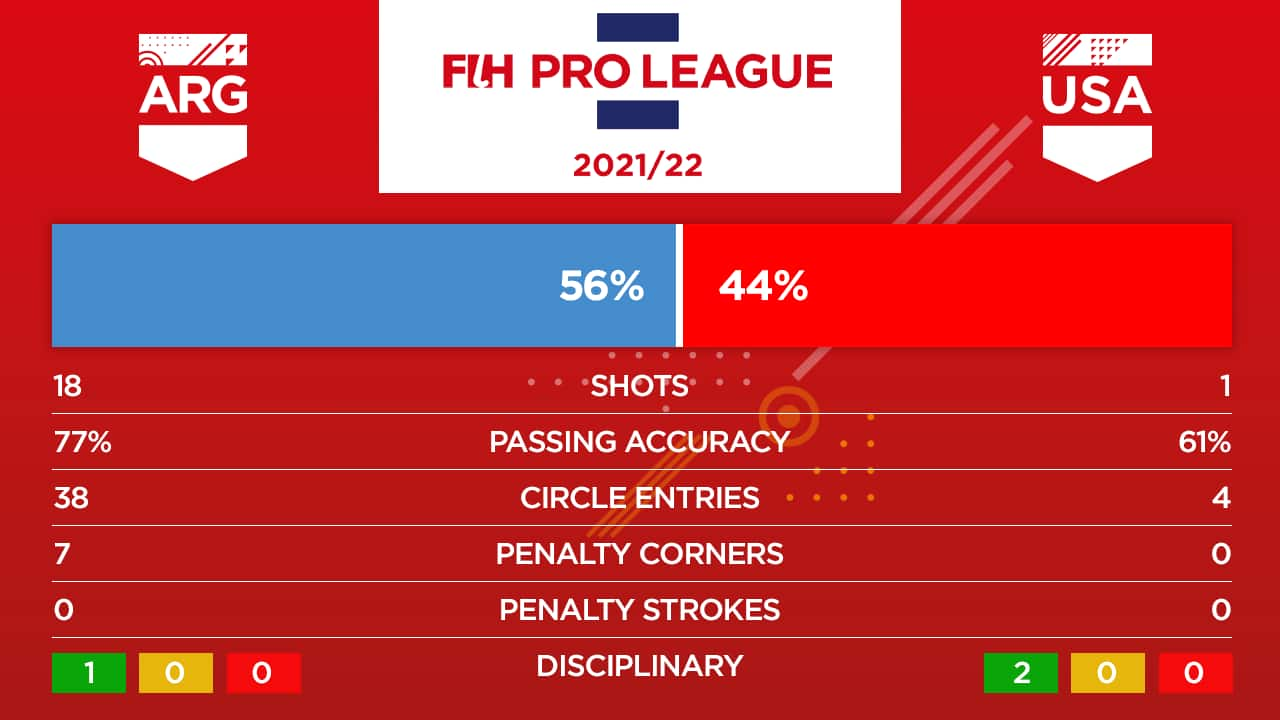 All photographs appearing on this site are property of USA Field Hockey/World Sport Pics or the FIH. They are protected by U.S. Copyright Laws, and are not to be downloaded, reproduced or used in any way without the written permission of USA Field Hockey/World Sport Pics or the FIH.
If you are college SID, club coach, sponsor or media outlet, email communications@usafieldhockey.com.