2022 USA Field Hockey National Umpire Award Winner: Terri Sawyer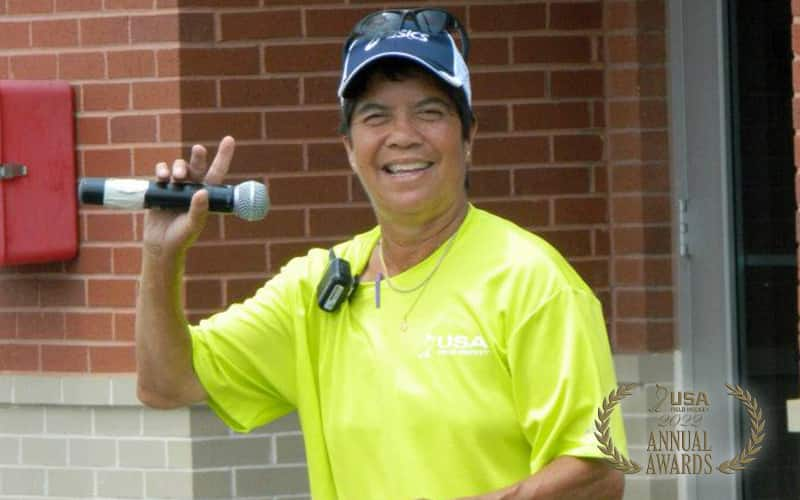 COLORADO SPRINGS, Colo. – Following the announcement of all winners, USA Field Hockey is individually highlighting each recipient of USA Field Hockey's 2022 Annual Awards. This week, USA Field Hockey is honored to feature the 2022 National Umpire Award winner, Terri Sawyer.
Born in Philadelphia, Pa., Sawyer grew up in Virginia Beach, Va. and attended Floyd E. Kellam High School where she played varsity field hockey for four years. She went on to play collegiately at Longwood College (now University) from 1972 to 1976, where she captained the team that finished sixth in the Association for Intercollegiate Athletics for Women-USA Field Hockey National Championship.
Sawyer began her umpiring journey in 1975 at Longwood College after taking a required course as a Health and Physical Education major. This was followed by a long career in officiating on the high school scene from 1976 to 2022, where she was often seen running the sidelines at district, regional and state championships. For many years, Sawyer also officiated at the Division I level but her college stint was cut short after she suffered a severe Achilles injury.
From 2017 to 2022, Sawyer served as the Tournament Director, Technical Delegate, Technical Officer and Assistant Technical Delegate for the Junior Premier Outdoor League (JPOL) in Region 8. For her continued dedication and commitment to the sport and league, the JPOL Region 8 Sportsmanship Award was named in her honor.
Seven years after finishing her college career, Sawyer started coaching and led the freshman team at the College of William and Mary in 1983. She was at the helm of Virginia Wesleyan College (now University) from 1992 to 1995, where she was named Old Dominion Athletic Conference Coach of the Year in 1994.
A long-time staple at many USA Field Hockey Regional, National and Sanctioned Events, Sawyer also held other hats within the organization. She was the director and coach for the Region 8 Futures Program for many years. She served as the team manager for the U.S. Women's National team from 2006 to 2007, when the team was based in Virginia Beach, Va.
Active in many other sports, Sawyer coached girls' soccer at Cox High School for 19 years, where she won Region and State Coach of the Year. She also competed and won all medal categories at the National Senior Games Association in horseshoes and took home bronze in women's volleyball. She is currently an avid pickleball player and has won gold, silver and bronze in various competitive tournaments. She is also currently pursuing a referee certification in pickleball.
Sawyer taught Health and Physical Education for 30 years and retired in 2006 from Frank W. Cox High School.
"It was a surprise to be nominated and to be selected as the winner of this award," commented Sawyer. "Thank you USA Field Hockey, friends, and colleagues for your support."
Congratulations once again to Terri Sawyer for winning the 2022 USA Field Hockey National Umpire Award.