Weekend College Games: September 1 - 6
Each week, USA Field Hockey highlights upcoming college games to watch. This edition covers Division I for the week of September 1 to 6.
FRIDAY, SEPTEMBER 1
NO. 10 PRINCETON vs NO. 9 LOUISVILLE | 11:00 AM ET | ESPN+ ($)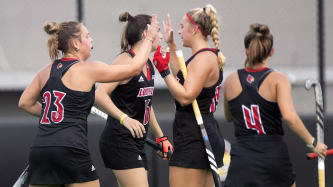 The ACC/Ivy League Conference Crossover will kick off with a match between No. 10 Princeton (0-0) and No. 9 Louisville (2-0) on Friday at University of Pennsylvania's Ellen Vagelos Field. Following that game, UPenn will host No. 1 North Carolina at 2:00 p.m.
Louisville pulled out a big win over No. 2 Northwestern this past Sunday via an impressive defensive performance. The Cardinals defense braved 21 shots and eight corners, while Emilia Kaczmarczyk's lone shot on goal scored to seal the win. Graduate-transfer Merlijn van der Vegt tallied nine saves in goal, a performance that earned them the first ACC Defensive Player of the Week award of 2023.
2022 de facto Ivy League champion Princeton opens their season this weekend. The Tigers were selected to finish on top again in the Ivy League preseason poll, and are hopeful to secure another appearance in the NCAA postseason.
In last year's iteration of the ACC/Ivy League Crossover, Louisville defeated Princeton 2-1. In just three meetings all-time between the two, the Cardinals lead 2-1 over the Tigers.
NO. 6 VIRGINIA vs NO. 11 SAINT JOSEPH'S | 1:00 PM ET | ESPN+ ($)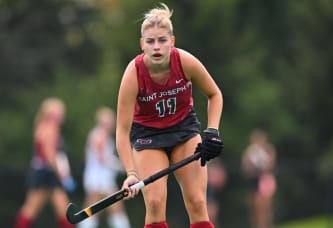 A four-game homestand at Ellen Ryan Field to start the year continues for No. 11 Saint Joseph's (2-0) as the Hawks welcome in a second top-10 opponent: No. 6 Virginia (1-1). Last year's matchup brought plenty of drama — Saint Joseph's led, 2-0, only to see the Cavaliers score three unanswered goals in mid-September.
The Hawks have two shutouts in two games, beating No. 15 UConn, 2-0, before rolling past UMass Lowell by a 4-0 margin. Goalkeeper Janelle Ward has been fantastic in her first two starts for the Hawks, logging eight saves and keeping two clean sheets while earning Atlantic 10 (A10) Defensive Player of the Week honors. On the other side of the ball, Lily Santi — the reigning A10 Offensive Player of the Year — picked up right where she left off. Santi, the A10 Offensive Player of the Week, scored a goal in each game.
Virginia arrives in Philadelphia on the heels of a setback to No. 14 Liberty. The Cavaliers beat No. 5 Penn State, 2-1, to open their season before dropping a 3-1 decision to the host Flames. It'll be a third straight game against a ranked opponent for Virginia, who faces quite a few of them during Atlantic Coast Conference (ACC) play. Laura Janssen was named ACC Offensive Player of the Week for her efforts against the Nittany Lions — she scored the game-tying goal, then set up the game-winner for a three-point game.
NEW HAMPSHIRE vs OHIO STATE | 1:00 PM ET | BTN+ ($)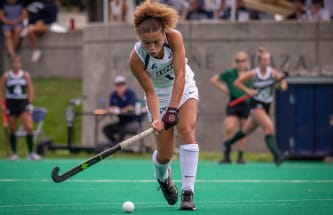 Ohio State (2-0) and New Hampshire (2-0) meet in the Buckeye Invitational — a four-school, four-game event held at Buckeye Varsity Field in Columbus. Both teams have already snagged two wins on the young season and are facing off for the first time since 2013.
Ohio State piled up the goals last weekend, totaling nine in a pair of road victories over Lehigh and Lafayette. Makenna Webster and Leanne Bough — both named to the preseason Big Ten Players to Watch list — tallied two goals apiece. They were two of seven different Buckeyes to find the back of the cage.
New Hampshire, meanwhile, needed overtime heroics from Tasmin Cookman to knock off Quinnipiac, 4-3. The Wildcats followed that win with a comfortable 4-0 victory over Michigan State. Cookman — who already had quite the list of accolades that included the 2022 America East (AE) Rookie of the Year honor — only added to it with the AE Offensive Player of the Week and NFHCA Division I Offensive Player of the Week honors. She tallied three goals and an assist in two games.
SUNDAY, SEPTEMBER 3
NO. 14 LIBERTY vs AMERICAN | 1:00 PM ET | ESPN+ ($)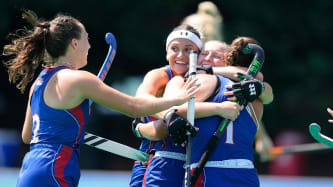 Two heavyweights meet on Sunday in Lynchburg, Va., with the preseason favorites to win the Patriot League — American (1-1) — traveling to take on back-to-back Big East champions No. 14 Liberty (3-0).
Liberty is off to a fantastic start: The Flames are 3-0 with wins over Kent State, Indiana, and No. 6 Virginia. They needed overtime to dispatch the Big Ten's Hoosiers, then impressed with a 3-1 road win over the Cavaliers in which Bethany Dykema tallied twice. Jodie Conolly earned Big East Defensive Player of the Week honors, while Reagan Underwood was on the conference's honor roll after a game-winning penalty stroke against Indiana.
American split its first two games: The Eagles scored three goals in the first quarter against Ohio en route to a 5-1 win, then dropped an overtime heartbreaker to No. 5 Penn State, 3-2. American held a two-goal lead in the third quarter before the Nittany Lions rallied to force overtime and eventually win. Emilia Winkler earned Patriot League Rookie of the Week honors after an assist against Ohio and a goal against Penn State.
It's just the second-ever meeting between these two programs, with Liberty springing an upset on then-No. 20 American, 2-1, back in 2016.
NO. 3 MARYLAND vs NO. 17 BOSTON COLLEGE | 2:30 PM ET | B1G+ ($)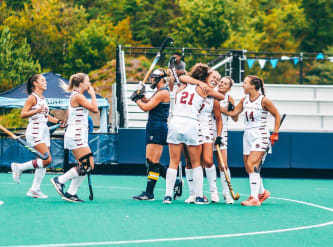 Back from their extended weekend trip to the west coast, No. 3 Maryland (3-0) will host No. 17 Boston College (2-0) in the ACC/B1G Challenge.
While out in California, Maryland picked up three wins that totaled a cumalative score of 14-1. Showing promise with new and old talent alike, the Terrapins already boast seven unique goal scorers.
It was a successful weekend for the Eagles as well, who notched a pair of wins during their trip up north over Maine and Providence. Senior Peyton Hale picked up a goal and an assist in each game.
In all the times the Terps and the Eagles have clashed, Maryland leads 15-3 overall. The two have played each other in the ACC/B1G Challenge for the past seven seasons with a more even split — the Terps have four wins including 2022 when they clinched a 3-1 victory.
NO. 12 WAKE FOREST vs JAMES MADISON | 4:00 PM ET | (ACCN) ($)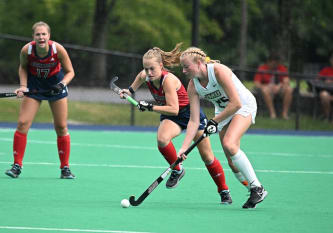 Last year, James Madison's senior day was punctuated by a 2-0 win over then-No. 12 Wake Forest. A year later, the Dukes will seek to repeat the upset as they travel to face the No. 12 Demon Deacons on Sunday.
James Madison (1-1) — who faces Columbia on Friday — split their first two games, both on the road. Goalkeeper Brandelynn Heinbaugh carried the Dukes past William & Mary, stopping a career-high 17 shots in a 4-2 victory. Heinbaugh logged the shutout against the Demon Deacons in 2022, too. The Dukes were then blanked by Richmond last Sunday, 3-0.
Wake Forest (1-1) was in Chapel Hill last weekend, competing in the ACC/B1G Challenge. The Deacons, who face William & Mary on Friday, split a pair of top-10 games. They lost to No. 7 Iowa, 4-0, in their season opener before rebounding and securing an impressive 1-0 win over No. 4 Michigan. Ava Moore scored the game-winner on a penalty stroke, while Ellie Todd — a preseason All-ACC selection — had six saves and a clean sheet in the cage.
WEDNESDAY, SEPTEMBER 6
NO. 8 SYRACUSE VS CORNELL | 6:00 PM ET | ACCNX ($)
Familiar foes Cornell (0-0) and No. 8 Syracuse (2-0) will clash in a mid-week match-up on Wednesday night.
The Orange opened up their season with two dominant offensive performances – a 6-1 victory over Sacred Heart followed by a 9-1 win over Vermont. Head coach Lynn Farquhar picked up her first win leading Syracuse, and will look to get her first home win this weekend.
Cornell will be looking to capitalize on the success of their unprecedented 2022 season. The Big Red spent the last three weeks of the season nationally ranked – their first time garnering a national ranking. Cornell also picked up their first victory over a top-5 opponent last Ocotober when they blanked then-No. 4 Louisville, 2-0.
The Orange and the Big Red are no strangers – in their 31 meetings since 1979, Syracuse has dominated with 27 wins. Last season, the Orange took a big 5-0 victory.
Photos courtesy of: Katie Peverada/BC Athletics, Louisville Athletics, Greg Carroccio/Sideline Photos, Stu Horne/UNH Athletics, American Athletics, Sideline Media/JMU Athletics, Eldon Lindsay/Cornell Athletics