2021 Nexus Championship Gets Underway Tomorrow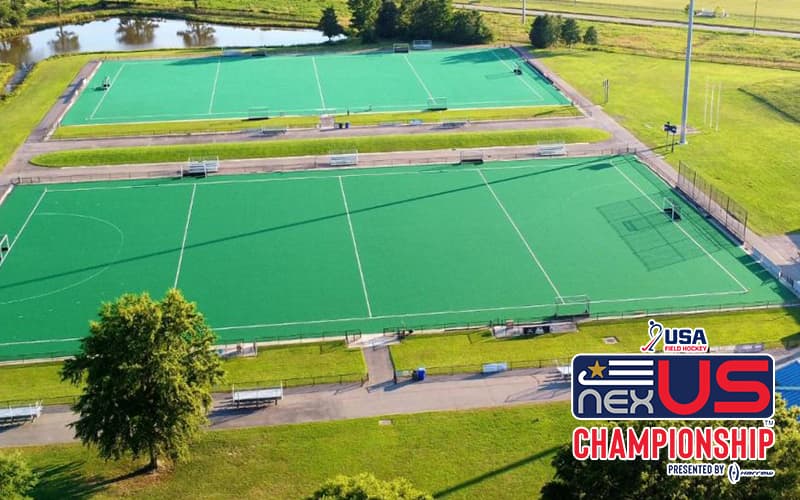 VIRGINIA BEACH, Va. – The Nexus Championship, presented by Harrow Sports, gets underway tomorrow as the top 684 female athletes from three-age divisions will compete from Tuesday, July 6 through Wednesday, July 14 at the Virginia Beach Regional Training Center in Virginia Beach, Va. As the premier women's Olympic Development Pathway championship event, approximately 216 athletes in the U-14 division, 288 athletes in the U-16 division and 216 athletes in the U-19 division will work with USA Field Hockey's Coaching Staff and compete in a five-game tournament with various Junior High Performance opportunities.
Stay up to date with all things taking place at the 2021 Nexus Championship!
Everything you need to know about the NXC can be found in the Event Program.
Schedule, results, rosters or list of colleges in attendance, you can find all that information in the official 2021 Nexus Championship Event Program.
During the 2021 NXC, games will be running concurrently on both fields daily, ranging from 7:00 a.m. through 6:30 p.m.
Touchline Video provides game, highlight and recruiting video packages available for purchase prior to the start of the NXC. There are options to purchase everything from just the game footage, all the way through to games and a 30-play highlight video. Take advantage of these professionally recorded and edited deal.
USA Field Hockey is pleased to announce that the bronze and gold medal games of each age division will be livestream free on USA Field Hockey's YouTube, courtesy of Hometown Sports Production.
U-16 Girls NXC: Friday, July 9, 2021 | 12:00 p.m. & 1:15 p.m. ET
U-19 Girls NXC: Monday, July 12, 2021 | 7:00 a.m. & 8:05 a.m. ET
U-14 Girls NXC: Wednesday, Jul 14, 2021 | 10:15 a.m. & 11:20 a.m. ET
Show off your NXC experience on social media! All NXC participants, coaches, umpires and fans are encouraged to share tournament pictures on their social media accounts. Be sure to tag @USAFieldHockey and use the hashtag #NXC2021 for a chance to be featured.
Stop by the USA Field Hockey
Tent!
Have questions about accessing the event program or about the tournament in general? Stop by the USA Field Hockey Tent for the answers.
Congratulations and best of luck to all the teams and athletes participating at the 2021 Nexus Championship, presented by Harrow Sports!
#NXC2021