Division I: 2022 Season Predictions
by Paige Powell, USA Field Hockey's College Content Intern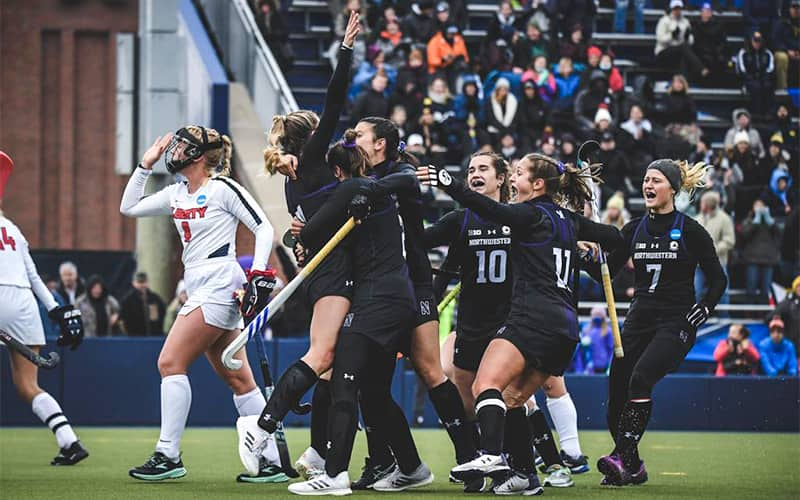 It's finally August, which means the start of the 2022 college field hockey season.
Despite coming off the high of watching local national events like the Nexus Championship, National Club Championship and Senior Nexus Championship, there is nothing quite like the official start to the fall college season. To prepare for the thrill of the upcoming games, below is a recap of last season's Division I as well as a prediction on who will finish at the top this upcoming year.
Division I
First is the team that is the epitome of consistency: North Carolina. Last season, after three straight Division I titles, the Tar Heels lost in the first round of the NCAA tournament to Northwestern - who went on to win it all for the first time in program history. UNC had an unusually high seven losses throughout the season, compared to previous perfect records of 23-0 in both 2018 and 2019. In fact, the Tar Heels' first loss of the year snapped a 62-game winning streak.
This is no reason to see them as any less capable this fall. They continue to be under the tutelage of decorated head coach Karen Shelton, who is in her fourth decade of coaching at North Carolina. Another key indicator of UNC's continued prowess comes with the recent announcement of the 2022-23 U.S. Women's National Team roster, which includes five Tar Heels. The biggest name in college field hockey and three-time national player of the year - Erin Matson - will return to Karen Shelton Stadium to use her final year of eligibility. Matson is an offensive machine, having scored the eighth-most goals in NCAA history and still has a whole season left to play.
In addition to Matson, Meredith Sholder (Sr.), Paityn Worth (Sr.), Ryleigh Heck (Fr.) and Ashley Sessa (Fr.) were named to the 2022-23 USWNT. Sessa was just 17 years old when she was selected to the national team and already has a few international caps under her belt as she enters her first collegiate season.
Not to be overshadowed is reigning champion, Northwestern. The Wildcats were understated in the regular season having spent most of the season ranked in the middle of the Top 10 in the Penn Monto/NFHCA Division I Coaches Poll and lost to Michigan in the Big Ten Tournament. Despite that, they performed perfectly in the NCAA Tournament, showing off their strong defensive line by allowing just one goal across their four games.
From the USWNT, are junior Maddie Zimmer and senior Alia Marshall, who both helped lead the Wildcats to their title last season. Zimmer is highly impactful in the midfield and was named the 2021 NCAA Tournament MVP. Key striker, senior Bente Baekers, will return for her fifth year after scoring 18 goals in the 2021 season. The Wildcats are predicted to have another solid team this season, especially with goalkeeper and brick wall Annabel Skubisz returning to the cage.
Liberty fell in the National Championship to Northwestern, after going an impressive 20-3 with its only losses coming against Louisville and Northwestern. The Flames were undefeated in Big East play and claimed big non-conference wins over ranked foes in Stanford, Duke and North Carolina. In the 2021 season, the three Dykema sisters -Bethany, Emily and Ashley - anchored the defensive line. While the eldest Ashley has graduated, Bethany Dykema (Sr.) and Emily Dykema (Jr.) will continue the legacy. Although losing a few key players, the Flames bring back All-American goalkeeper Azul Irigoyen (Jr.) and forward Daniella Rhodes (Sr.).
The Big Ten was the conference to watch last season, showing dominance by having a team compete in each of the four NCAA Tournament Quarterfinals. However, out of Rutgers, Michigan, Maryland and Iowa, only the Terrapins made it to the Final Four where they fell to Liberty in a close 3-2 double overtime match. Maryland is always a good bet to enjoy success, having made the NCAA Tournament every season since 1994 and claiming five championships in that stretch.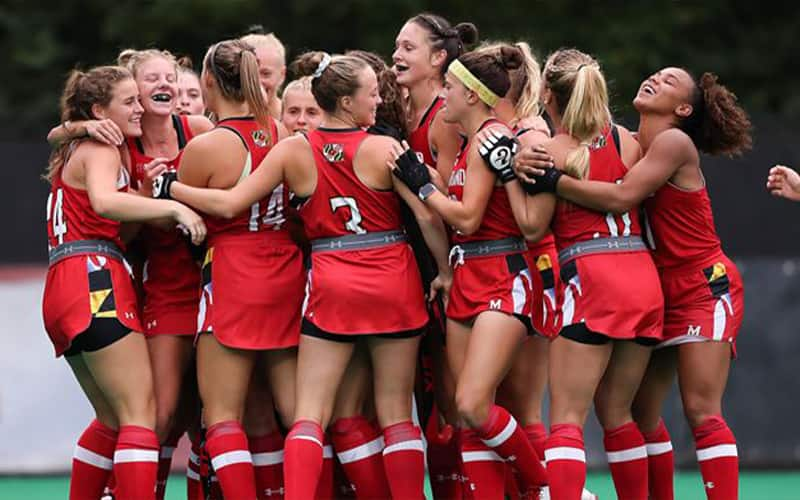 Meanwhile, Rutgers was the team to watch last season. The Scarlet Knights were on a seven-game win streak before they bowed out against Liberty in the NCAA Tournament, and had previously beaten Northwestern in the regular season. While the hope is to see them go far again this season, a large portion of their starting lineup consisted of seniors. But with returning talent such as sophomore Lucy Bannatyne and junior Briddy Molyneaux, they might be able to retain their momentum. Rutgers set a program record for wins (19) and have three straight seasons with double-digit wins (excluding the COVID-shortened 2020) after hitting that mark once in the previous 18 years.
Over in the Atlantic 10 (A-10), Saint Joseph's also had a strong run in the 2021 season. They were 16-5 overall with an A-10 Championship trophy to show for it. They won some big games against ranked opponents, including North Carolina and Rutgers. After leading the team to another successful season, head coach Lynn Farquhar stepped down and former Louisville associate head coach Hannah Prince was appointed to fill her spot. The 2014 University of Massachusetts alumna is expected to bring energy and experience to the program, so combining that with a slew of senior leaders in Freke VanTilburg, Anna Miller, and Robin Bleekemolen, the Hawks will be strong contender again this year.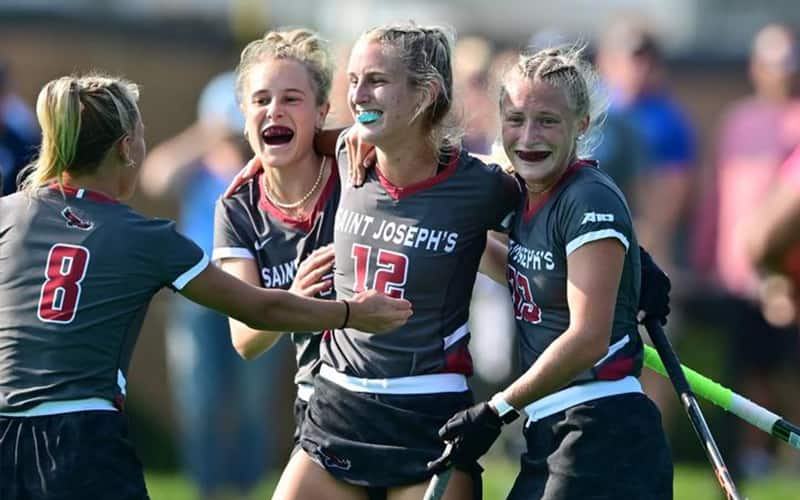 The Atlantic Coast Conference (ACC) is a tough conference to compete in and is one to always keeping an eye on, in teams like Duke and Virginia. But it was Syracuse who caught the nation's attention after beating North Carolina, 5-0, last year in the regular season. The Orange also went on to beat No. 4 Penn State to enter the NCAA Tournament Quarterfinal. So with some fresh talent coming in to work alongside veterans such as USWNT athlete Charlotte De Vries, they are expected to make another run this season.
We cannot count out the upsets and shake ups in college field hockey. Some additional high performing teams to watch out for are Harvard, who almost knocked Northwestern out of the NCAA Tournament when the two teams went into overtime. Returning goalkeeper Ellie Shahbo (Sr.) won Ivy League Rookie of the Year in 2018, and had the best goals against average (.440) and save percentage (.860) in the nation in 2021 -although she attributes her success in the net to the hard work of her teammates.
The international pull is prevalent with the Crimson, with half their squad coming from overseas and several with experience competing at the international level, including Bronte-May Brough (Fr.), Siofra Murdoch (Jr.), and Emily Guckian (So.). Harvard has been steadily improving over the past decade, culminating in a program record for wins and farthest NCAA Tournament debut last season.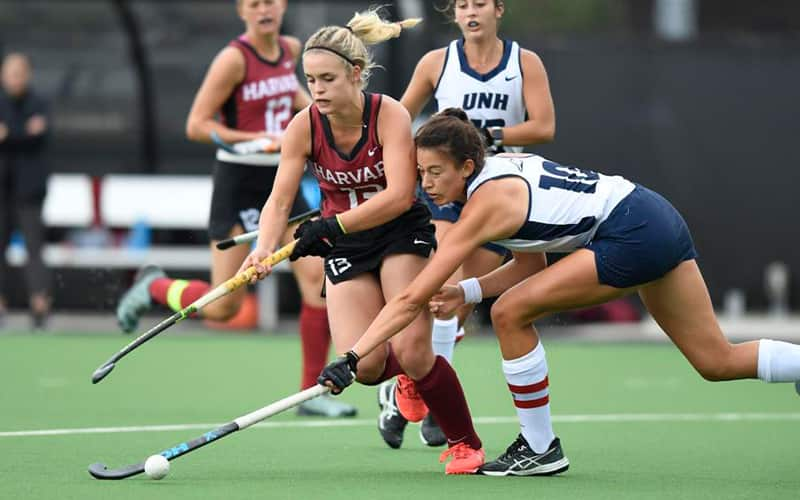 Iowa was on a 16-game win streak before playing Northwestern in the last game of the regular season, downing ranked opponents like North Carolina, Rutgers and Michigan. They were another team with a strong defensive base that allowed just nine goals in their 17 regular season games. This season, All-Americans Anthe Nijziel and Grace McGuire will be back for their fifth year to hold down the Hawkeye defensive line once again.
This recap and season preview could go on forever highlighting all the competitive field hockey that takes place in Division I. But let's wait and see who comes out on top this season.
---
Stay tuned as the Division II and III 2022 Season Predictions will be released this week.
---
Photos courtesy of
Greg Carroccio/Sideline Photos, Ryan Kuttler/Northwestern Athletics, Zach Bland/Maryland Terrapins and

Gil Talbot