USFHL Adult National Club Championship to Get Underway Next Week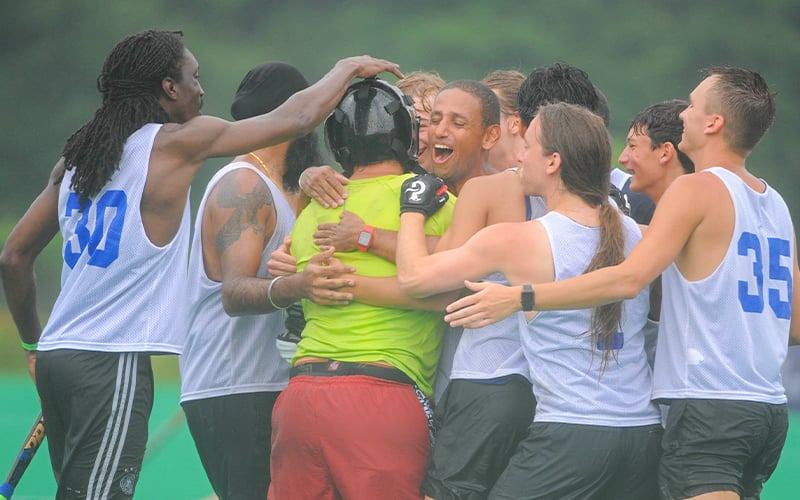 NEWARK, Del. - The top adult club teams from all over the United States will compete next week from July 15 to 17 at the United States Field Hockey League (USFHL) Adult National Club Championship, a USA Field Hockey Sanctioned Event, at the Rullo Stadium on the campus of the University of Delaware. Teams will be facing off against the reigning champions, dcDragons (men and women).
View the official game schedule and rosters by clicking here. Games will take place Friday evening from 3:30 p.m. to 10:00 p.m. ET, Saturday from 8:00 a.m. to 7:30 p.m ET and Sunday from 8:30 a.m to 4:00 p.m. ET. Fans are welcome to come and support at Rullo Stadium or cheer for your local team by watching the livestream of every game on USA Field Hockey's YouTube.
The schedule and rosters have been released and the below teams qualified locally through USFHL endorsed competition:
| | | |
| --- | --- | --- |
| MEN | | WOMEN |
| dcDragons (DC Metro) | | Atlanta FHC (Atlanta, Ga.) |
| Greenwich FHC (New York, N.Y.) | | Baltimore FHA (Baltimore, Md.) |
| Islanders (New York, N.Y.) | | Big Apple (New York, N.Y.) |
| Lone Star FHC (Austin, Texas) | | Boston Blackouts (Boston, Mass.) |
| Miami Surf FHC (Miami, Fla.) | | dcDragons (DC Metro) |
| NE Blackouts (Boston, Mass.) | | Delaware FHA (Newark, Del.) |
| North East Frontier (New York, N.Y.) | | Lone Star FHC (Austin, Texas) |
| Philly Premier FHA (Philadelphia, Pa.) | | Miami Surf FHC (Miami, Fla.0 |
| | | Olympic Club (San Francisco, Calif.) |
| | | Running on Empty (Philadelphia, Pa.) |
| | | Strikers (Lancaster, Pa.) |
| | | Washington FHA (DC Metro) |
The 2022 USFHL National Championship headline sponsor is YOLO Sportswear, who will have a stand at the Rullo Stadium and provide the USFHL Online Store.
For game recaps and tournament information, follow USFHL on Facebook and Instagram. The photographer will be Jim Beaver of Flat Tail Photography, LLC.
USFHL is officially recognized by USA Field Hockey as the adult league structure and sanctions the adult National Club Championship to name the best adult club teams in the United States in 2022. Starting in 2023, the USFHL Adult National Club Championship will have regional qualifiers through Regional Club Championships. The mission of USFHL is to grow participation and engagement for more local options for adults by encouraging and supporting local organized field hockey team competition and is led by local field hockey leaders. USFHL piloted College Summer Series this summer for college aged athletes to play through fun, organized competitive local adult organizations. This program is designed to prevent the drop-off in participation after graduating and build a bridge from college to lifetime engagement through local adult field hockey after they graduate.
For questions email info@usfhl.com to find out how you or your adult club, league, or organization can get certified or plugged in for 2023.