Raffle Donations for USA Field Hockey High Performance Summit Well Received
CHARLOTTE, N.C. – USA Field Hockey recently hosted the 2023 High Performance Summit, an event which offered participants several days of in-person learning both in the classroom and on the field, as well as networking opportunities between college, club and high school coaches. The summit was preceded by the 2023 Coach Educator Training, which provided training for coaches going out to teach others and grow the sport across the United States.
Attending coaches were invited to participate in a free raffle as a way to bring fun to the summit, as well as awareness to a number of companies that donated valuable and desirable gifts for the event.
USA Field Hockey wishes to extend gratitude and thanks to the following donor companies: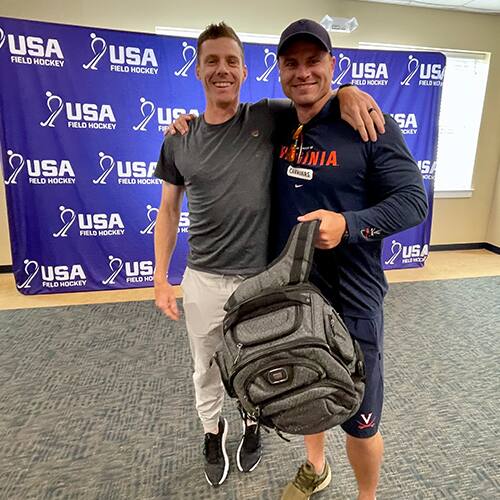 AstroTurf - AstroTurf is the leader in field hockey turf. They have shown dedication in transforming the landscape of sports by providing innovative, eco-friendly hockey turf solutions that exceed expectations in performance, durability and sustainability. The AstroTurf hockey systems have been the gold standard for field hockey since the Montreal 1976 Olympic Games and continue into present-day, including at the new home of USA Field Hockey in Charlotte, N.C. AstroTurf's donation to the High Performance Summit was an Ogio backpack filled with everything a coach might need for a great day of sports including a Yeti cup, Nike visor, golf balls and towel, field hockey t-shirt, bucket hat, lunch cooler and leather patch cap. The AstroTurf gift basket was won by University of Virginia Assistant Coach Ole Keusgen.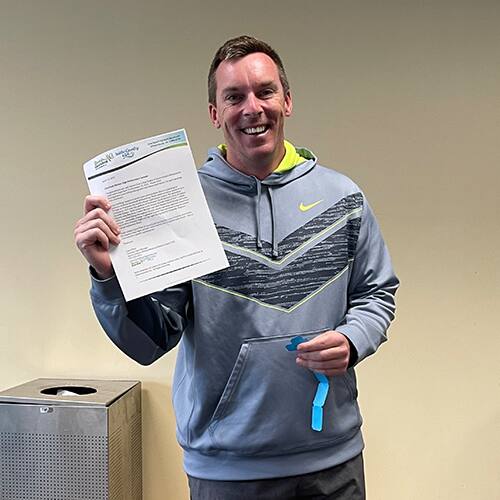 Busch Gardens Williamsburg and Water Country USA - Fun is always in season at Busch Gardens Williamsburg. From thrilling coasters to world-class entertainment, there is something for everyone. Busch Gardens Williamsburg and Water Country USA are currently inviting athletes and their families participating in the National Club Championship and Nexus Championship, as well as Summer Bash at the Beach, to enjoy discounted, extended tickets to make their stay in the Virginia Beach area even more fun this summer. Busch Gardens Williamsburg donated four one-day tickets which were won by The Ohio State University Head Coach Jarred Martin.
Dita Field Hockey - Since 1982, DitaUSA has been the exclusive distributor of Dita Field Hockey Products in the United States, and continues to work with the original family to produce sticks that allow athletes both power and performance. Interested in a new stick? Take the Dita StickMatcher Quiz to pair you to your stick soulmate. Use the USA Field Hockey Member Benefit to get a free pair of socks. (Log into the member benefits section at usafieldhockey.com to access this member benefit). DitaUSA donated a Gift Certificate for a stick selected through Dita's StickMatcher Quiz. The winner was Texas Pride club coach Anna Unger.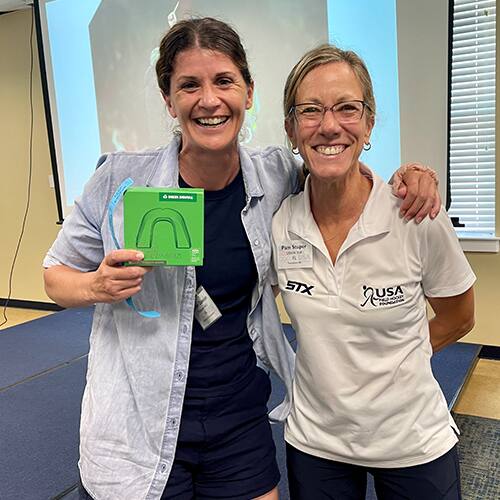 Game On Mouthguards - The Game On Athletic Mouthguard provides two times the impact absorption of traditional mouth guards. With both adult and youth sizes available, the mouthguard is the first to be accepted by the American Dental Association, and includes a $10,000 dental warranty. The patented fitting material makes speaking, drinking and breathing easier, and it is fitted with a microwave in three easy steps. Game On Mouthguards donated a mouthguard that was won by Freedom HKY Director of Development Rachel Dawson.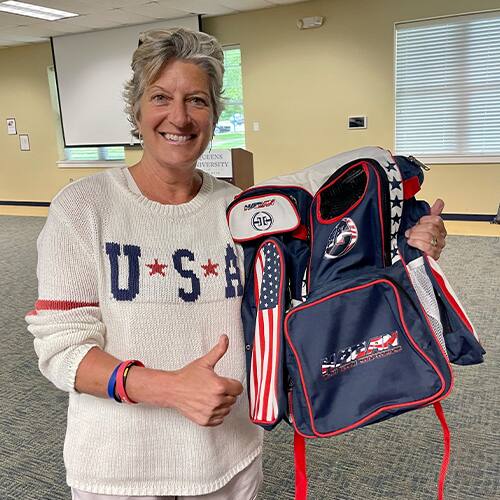 Hagan Hockey - Hagan Hockey is based out of Pittsburgh, Pa., and makes custom uniforms, fan/team gear and equipment. Hagan Hockey is the current USA Field Hockey umpire apparel sponsor and serves the NCAA and High School Associations as well. Hagan Hockey is looking forward to getting its name out in the hockey community and their uniforms and gear into the hands of young athletes. Hagan Hockey donated several prizes including a one-of a kind Be11ieve backpack that was won by University of Maryland Head Coach Missy Meharg. Other prizes were won by Wake Forest University Head Coach Jen Averill, Michigan State University Assistant Coach Tamara Durante, and Miami University Head Coach Inako Puzo.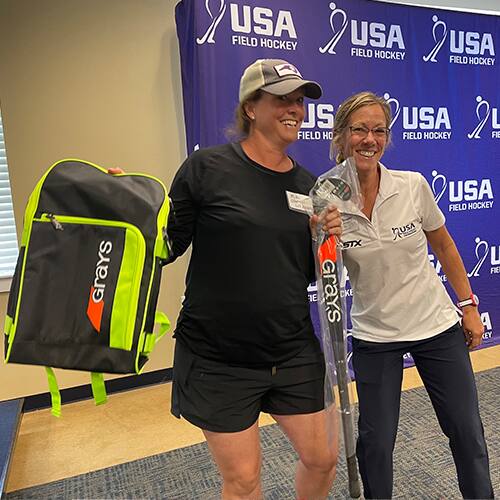 Longstreth - Longstreth Sporting Goods, founded by Barbara Longstreth, has been working with field hockey athletes of all ages since 1977. For over 40 years, the Longstreth team has dedicated itself to offering your team the widest selection of the finest quality products available for the game of field hockey. Longstreth is truly a one-stop shop – carrying an extensive line of field hockey equipment, apparel, goalkeeper gear and turf shoes to support athletes at every level of the game. When you shop with Longstreth, be sure to use your USA Field Hockey Member Discount. Longstreth donated a Grays AC9 Field Hockey Stick and Grays Backpack, which was won by Charlotte Ambush Director and Coach Miki Osherow.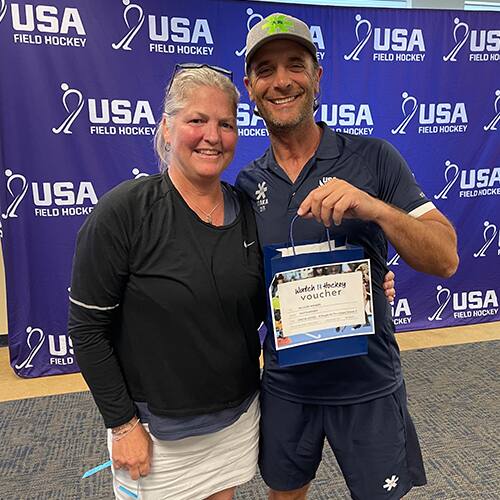 Watch.Hockey -The NAGRA KUDELSKI media company, in collaboration with the International Hockey Federation (FIH), delivers a direct-to-consumer streaming solution, with the launch of the app Watch.Hockey in 2020. Despite the pandemic, they continued to develop the platform and expanded it to include the FIH Hockey Pro League and other FIH competitions, expanding to continental and national federations with the launch of Watch.Hockey 2.0 in December. Explore their website Watch.Hockey for more information. Watch.Hockey donated ten digital passes to 2023-24 FIH Hockey Pro League Season 5 on the Watch.Hockey app/website. The gift was won by Penn State University Head Coach Lisa Bervinchak Love.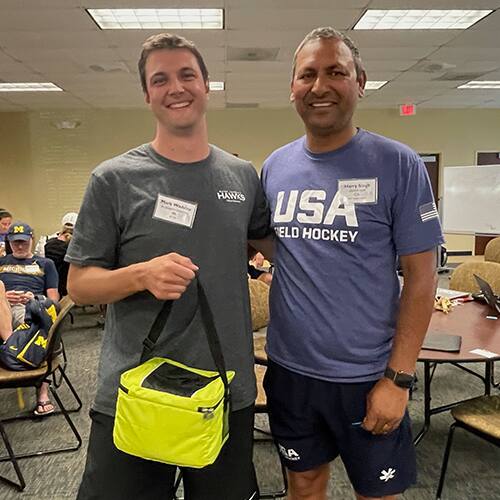 NEXGEL/TurfGuard - NEXGEL Inc. is an FDA-registered ISO-certified hydrogel manufacturing facility. With its unique hydrogel manufacturing process, NEXGEL has developed wound care products, including TurfGuard. TurfGuard offers athletes a layer of clinically proven protection from multiple pathogens including staph, MRSA and strep. Occasionally, these abrasions occur when an athlete is in rough contact with artificial turf. Protect your field hockey players from turf burn infections with TurfGuard. TurfGuard donated a cooler bag, coffee mug, workout shirt and TurfGuard samples. The gift was won by Saint Joseph's University Assistant Coach Mark Wadsley.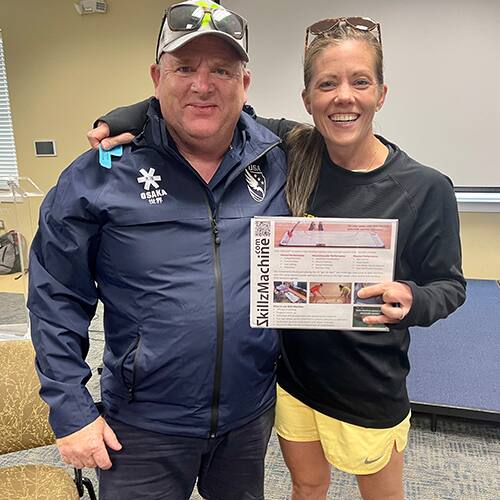 Skillz Machine - Field hockey influencer Cris Maloney is a decades long supporter of USA Field Hockey. He is a player, coach, umpire, event organizer, author, publisher and product developer. In 2021, he worked with a German-based equipment company to develop Skillz Machine, an electronic neuroadaptive training system that helps field hockey athletes rapidly develop the high-speed, close-control ball handling skills needed in outdoor and indoor field hockey. Skillz Machine comes with 18 skill challenges, including five, two-player games; three-digit scoreboard; two SkillzBALLs, SkillzTURF overlay, and a two-year warranty. Skillz Machine is available for purchase on their website. Skillz Machine donated an actual Skills Machine, which was won by University of Vermont Head Coach Kate Pfeifer.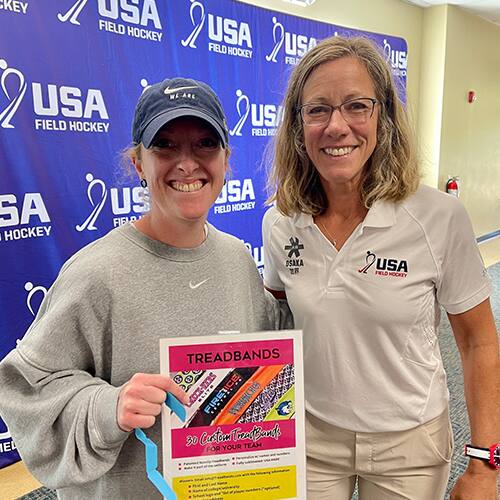 Treadbands - TreadBands are the only patented non-slip headbands. It's so frustrating to see athletes messing with distracting headbands or pre-wrap during games when they are supposed to be focused with two hands on their sticks. TreadBands offers up to 30 fully sublimated custom TreadBands complete with a custom logo and player numbers. Developed by a former field hockey coach and worn by national team athletes, TreadBands are the perfect addition to your team's uniform this fall. Find more information on their website or email info@treadbands.com. The TreadBands donation was won by Penn State University Assistant Coach Laura Gebhart.
USA Field Hockey is grateful to all these companies who stepped up and donated a gift for the High Performance Summit. Their donation and participation in the free raffle fostered camaraderie, fun and excitement as each winner was eagerly anticipated and subsequently congratulated. USA Field Hockey thanks each and every one of these supporting companies that have aided in the organization's mission to Grow the Game, Serve and Inspire Membership and Succeed Internationally.