USA Field Hockey Launches Strategic Plan 2023-2028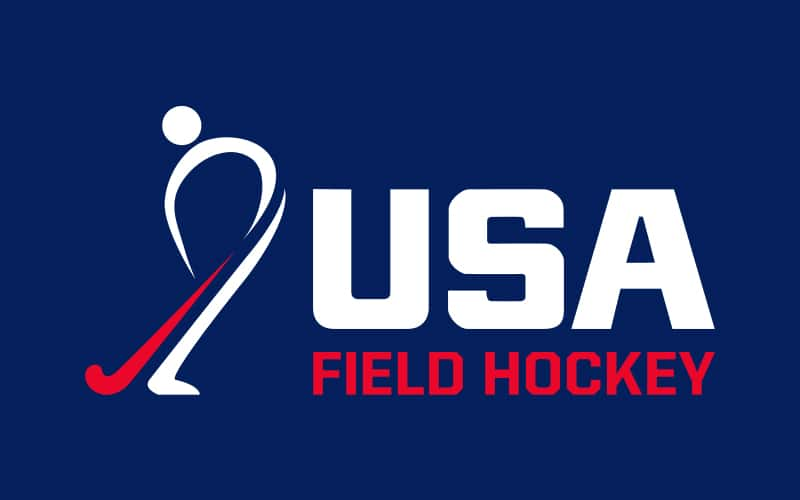 COLORADO SPRINGS, Colo. – Today, USA Field Hockey shares the evolved Strategic Plan, which will help guide the sport and organization during the next five years. The USA Field Hockey Strategic Plan 2023-2028 has been unanimously approved by USA Field Hockey's Board of Directors. This plan identifies the core purpose, mission and vision, identifying the four key strands and strategic initiatives that will receive focus.
Over the course of the past eight months, USA Field Hockey's Management Team and Staff along with assistance from the United States Olympic and Paralympic Committee's National Governing Body Governance Advisor revised the previous Strategic Plan and included opinions and input from various key stakeholders. There was strong support to evolve the organization's mission statement to have the main purpose being an Effective Sport Leader by generating and allocating resources to Grow the Game, Serve and Inspire Membership and Succeed Internationally.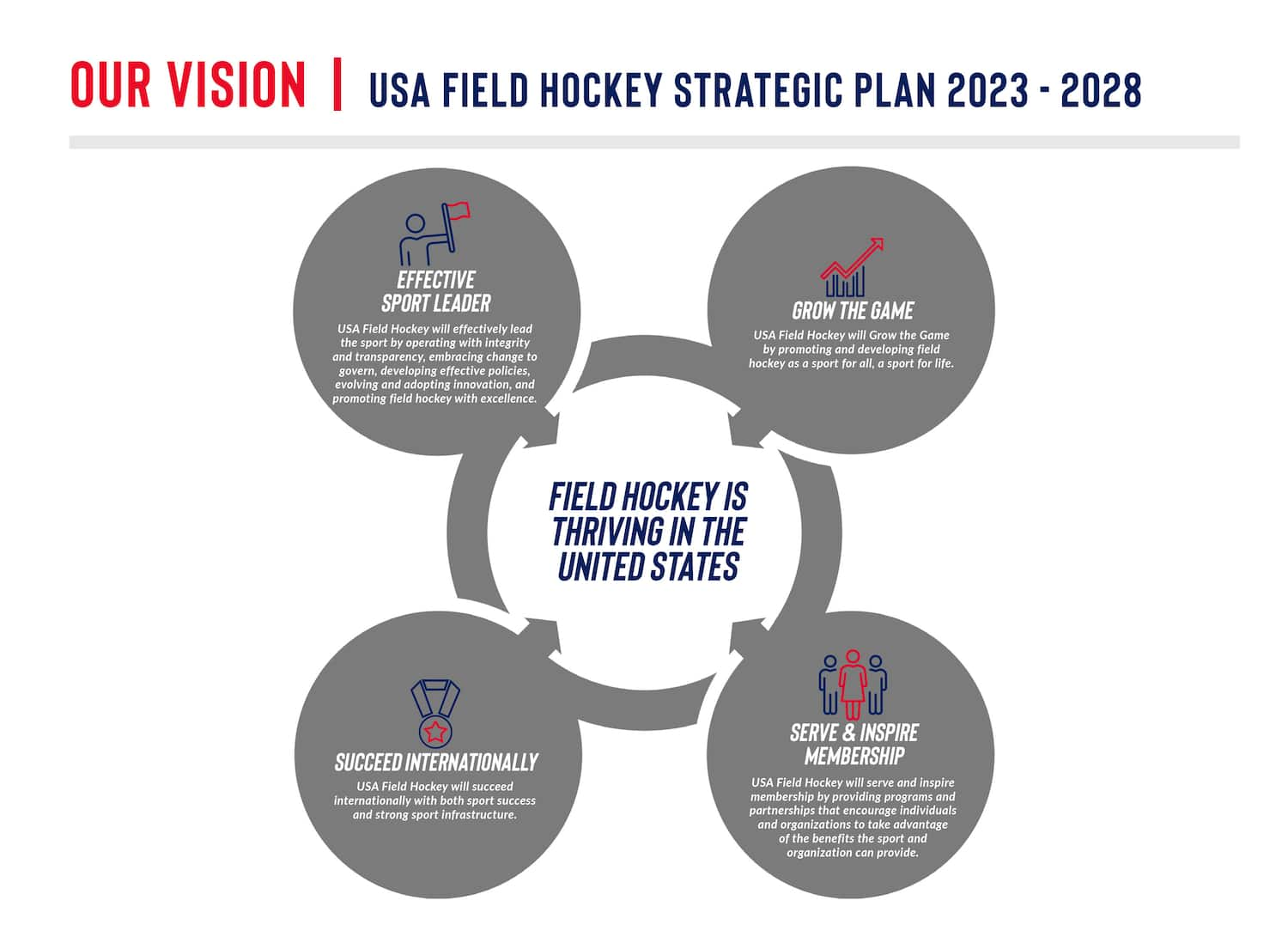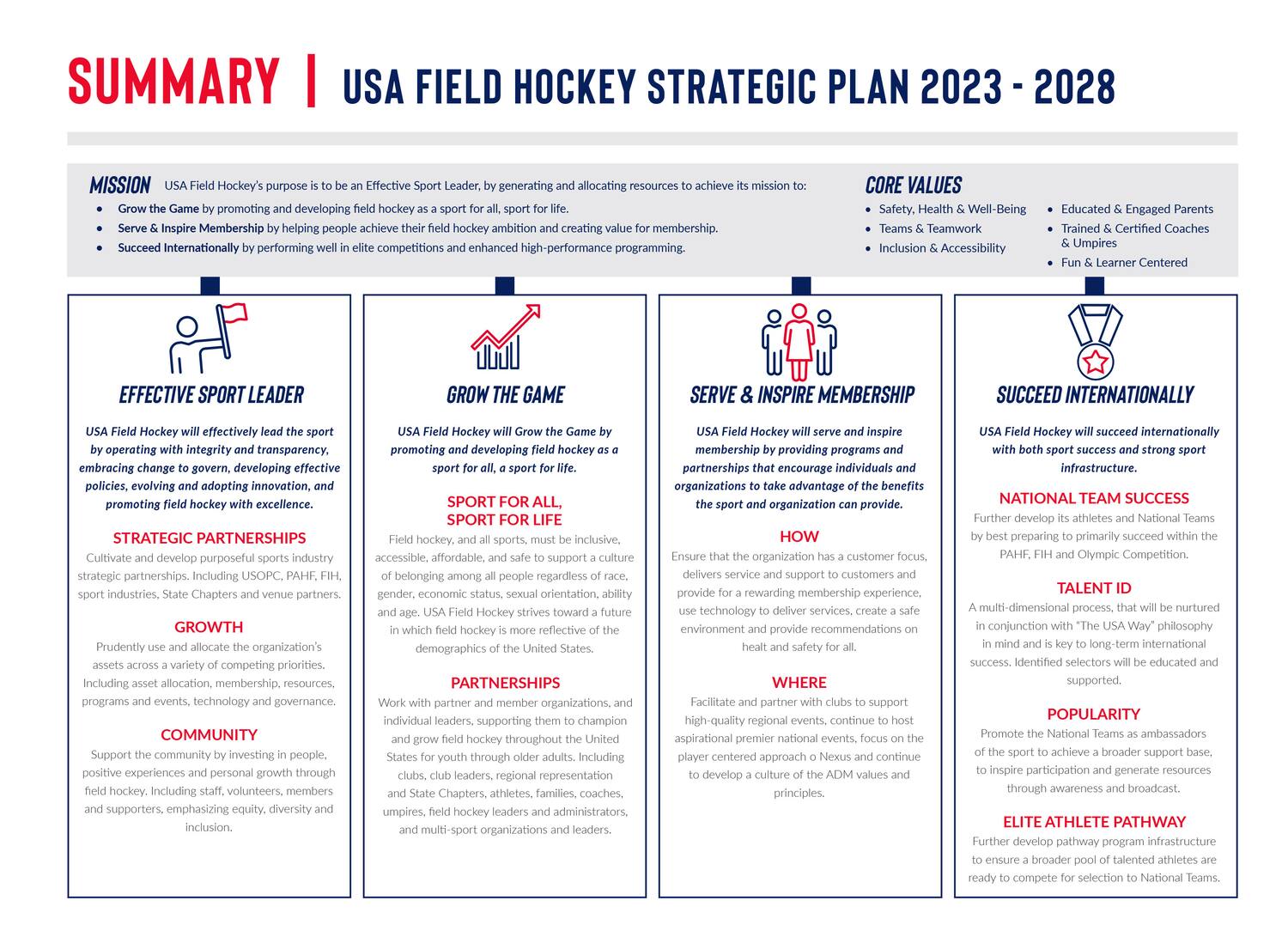 Effective Sport Leader
USA Field Hockey will effectively lead the sport by operating with integrity and transparency, embracing change to govern, developing effective policies, evolving and adopting innovation, and promoting field hockey with excellence.
Grow the Game
USA Field Hockey will Grow the Game by promoting and developing field hockey as a sport for all, sport for life.
Serve & Inspire Membership
USA Field Hockey will serve and inspire membership by providing programs and partnerships that encourage individuals and organizations to take advantage of the benefits the sport and and organization can provide.
Succeed Internationally
USA Field Hockey will succeed internationally with both sport success and strong sport infrastructure.
"Effective strategic planning is both good non-profit best practice and also a requirement by the United States Olympic and Paralympic Committee," commented Cathy Bessant, USA Field Hockey's Board of Director's Chair. "This process has been robust and thoughtful, driven by experts, and I am excited for the future for USA Field Hockey."
"As we look forward core themes include partnerships, regionalization, inspiration and volunteerism," said Simon Hoskins, USA Field Hockey's Executive Director. "Together with key sport partners we can magnify our efforts. We will focus further on supporting and empowering State Chapters to develop the game in their communities, we will not only serve members we will be more intentional on inspiring current and new members to be ever more active in promoting our sport, and we will lean ever closer to volunteers, who are the bedrock of the game, across the globe, recognizing and supporting those make field hockey happen."
USA Field Hockey would like to thank those who contributed to the development of this new plan and who continue to work to make the organization an effective sport leader.