2022 USA Field Hockey National Coach Award Winner: Christine Mitchell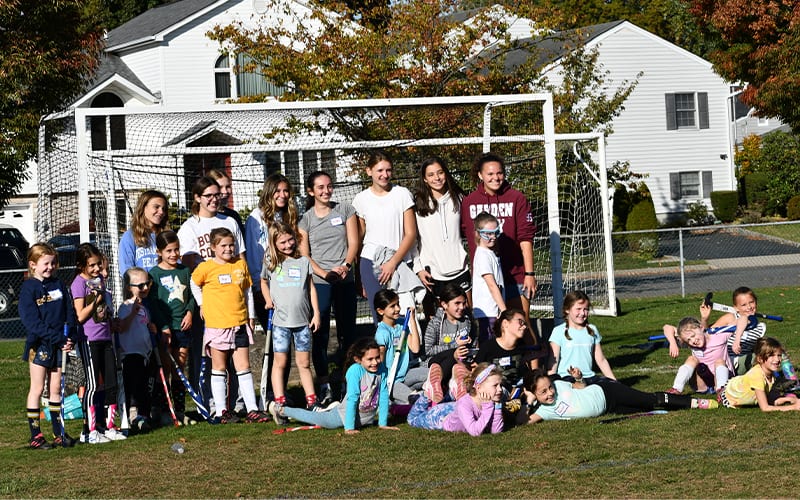 COLORADO SPRINGS, Colo. – Following the announcement of all winners, USA Field Hockey is individually highlighting each recipient of USA Field Hockey's 2022 Annual Awards. This week, USA Field Hockey is honored to feature the 2022 National Coach Award winner, Christine Mitchell.
Mitchell's love of coaching is fueled from the joy and experiences she was fortunate to have as an athlete. She was a standout for the University of Maryland from 1994 to 1997 and as a Terrapin, she was a four-time First Team All-Atlantic Coast Conference player, three-time captain, three-time First Team All-American and was inducted into the University of Maryland Athletic Hall of Fame in 2010.
Following her collegiate playing career, she continued to play for the U.S. Women's National Team for four years, participating in the 1997 Champions Trophy, 1998 World Cup, 1999 Pan American Games and 2000 Olympic Qualifying event. Unfortunately, the 2000 Team USA was the last team out and while not qualifying for the Sydney Olympics Games was a huge disappointment for Mitchell, she decided to continue her playing career and subsequently got married in 2001. Moving from Pennsylvania to Florida while her husband went through flight school, she was offered an opportunity to become an assistant coach at Drexel University, where she fortunate to be able to coach her sister, Patty, for two years.
In 2004, Mitchell took a pause from field hockey for several years while she pursued her career as a Physical Therapist, supported her husband's Navy career and became a mom to two wonderful daughters. The Navy eventually brought her to Maryland eight years ago when her daughters were just 3 and 6. Knowing that Maryland was a hotbed of high caliber field hockey, Mitchell was astonished when she arrived to learn that most young players in the tri-county area were not being introduced to the sport at a young age, in fact, many were picking up a stick for the first time as high school freshman. To remedy that deficit in age-appropriate skill development, she created the "Little Stickler's" program which was a series of clinics throughout the year focused on bringing the sport to younger players to grow the game in the area.
Two years, later she met Alexis Gray and Beth Woodburn, newly appointed co-directors of the Southern Maryland (SOMD) Eliminators Field Hockey Club. Mitchell joined the SOMD Eliminators coaching staff and because of the local field hockey interest generated from the Little Sticklers program, she, along with her co-directors, created an extremely successful recreation league for individuals in first through ninth grades. The recreation league recently completed its fifth season this past fall and participation in the league has grown exponentially.
Since arriving in Maryland eight years ago, Mitchell has enjoyed coaching every age group from U-10 to U-19 at both the club and recreational levels and has helped usher in the explosive growth of field hockey in southern Maryland. As a result, the SOMD Eliminators club is now able to compete at higher levels against other clubs that draw from a significantly larger pool of athletes. Over the past four years, she has coached National Indoor Tournament pool winners at the U-12 and U-14 levels, won numerous regional and local tournaments and most recently during the 2022 fall outdoor season, the U-16 team won their pool in the Shooting Star tournament held in Richmond, Va.
In May 2022, Mitchell was named the head coach at Leonardtown High School and in her first season, led the Raiders to be undefeated in conference play, allowing no goals and winning the conference championship for the first time in eight years. Six of her players were named to the All-Southern Maryland Athletic Conference team, including the Player of the Year, and one player was named to the All-Met team. Making the season even more special was being able to coach her daughter, Lily, during her freshman year.
"I am truly humbled to receive this award," commented Mitchell. "Just to be nominated was an amazing honor itself considering the caliber and impressive coaching backgrounds of the other exceptional nominees. Receiving this award serves as added motivation to continue to serve this great sport that has brought me so much joy and positively shaped my life. While I am being awarded with this recognition, it is a collaborative award that also honors all the other coaches that I work with in both organizations. Thank you to USA Field Hockey for this recognition, and to all to those who supported me along the way."
Congratulations once again to Christine Mitchell for winning the 2022 USA Field Hockey National Coach Award.