Squaw Valley Takes Home Gold at the 2023 U-16 Girls Nexus Championship
Images Taken by Dan
Trevino
VIRGINIA BEACH, Va. – The 2023 Junior Nexus Championship (NXC), presented by Osaka Hockey, continued this week with the U-16 Girls division at the Virginia Beach Regional Training Center in Virginia Beach, Va. Twelve teams comprised of players from across the country battled for the title over three days of tough competition.
The young athletes from around the country showed off their skills in front of selectors, coaches and fans as they competed for evaluation to further opportunities. Congratulations to all the athletes for their hard work and dedication the last few days.
New to this year, the 2023 Nexus Championship now encompasses the entire junior and senior pathway. The Junior NXC runs from July 6-16, continuing this week with the U-18 Girls division, while the Senior NXC takes place from July 11-16.
The gold medal match took place on Tuesday morning between Squaw Valley and Barcelona. The goals got rolling in the first quarter, when Squaw Valley earned a penalty corner in the final minute. Morgan O'Donnell showed off some nifty stickwork, then sent a backhand lift into the cage to put Squaw Valley up 1-0. Halfway through the second frame, another penalty corner goal, this time from Kendall Deluca, grew the lead to 2-0. Karys Craver made it three for Squaw Valley off a straight shot on a penalty corner in that same quarter, as they entered halftime with a 3-0 lead. Squaw Valley took home the gold with a dominant 4-0 victory, the final goal being a beautiful passing combination up the field in the third quarter that was finished by Ella Beach.
Barcelona took on Atlanta for the bronze medal that same day. Alexandra Curtis started it off for Barcelona in first half, putting the team up 1-0. Then 8 minutes into the second half, Curtis did it again with a shot from the righthand side that slipped in past the goalkeeper, giving Barcelona a 2-0 lead. Atlanta looked to counter in the fourth, as Genevieve Vallieres dribbled in a scored to make the score 2-1. Barcelona secured their lead just a few minutes later with a goal from Morgann Orobono, finishing with a 3-1 win and traveling home with the bronze medal.
USA Field Hockey would like to thank all the athletes, coaches, umpires, technical staff, umpire managers, staff and volunteers who continue to make the U-16 Girls NXC a success, and to extend its congratulations to the following teams on their tournament victories:
FIRST PLACE: SQUAW
VALLEY
Coach: Peter Taylor
In Alphabetical Order: Chloe Almeida, Ella Beach, Karys Craver, Kendall Deluca, Kendall Gilmore, Nadia Gross, Michaela Henyan, Allena Jaworski, Payton Martin, Annette Matsuyasu, Morgan O'Donnell, Ava Peters, Riley Redanz, Piper Reibsane, Maeve Rolston, Emma Scheckner, Georgia Schmitz
Coach: Will Bryne
In Alphabetical Order: Bianca Barletti, Anna Campion, Angelina Che, Charlotte Connally, Adriana Ensani, Romy Harari, Caroline Kimball, Kate Lahoti, Maeve McGinley, Lily Mitchell, Reese Roldan, Lily Rost, Juliana Serafin, Sanne Smits, Hannah Strawhecker, Callia Uviedo, Caroline Valenti
Coach: Jess Bergen
In Alphabetical Order: Elizabeth Ackerman, Rebecca Block, Alexandra Curtis, Montgomery Ferguson, Emma Foscarini, Martina Garofoli, Madison Geiger, Sofia Ghanbari, Caroline Kantz, Mia Khazin, Lilly Oliver, Morgann Orobono, Catherine Rosser, Ada Elizabeth Savage, Katherine St. Amand, Blair Strachan, Emmerson Swartz
Congratulations to U-16 Girls Nexus Championship Barbara Longstreth Sportsmanship award winner, Rome, coached by Kasey Tapman.
Congratulations and thank you to the winners for most sold raffle tickets in the U-16 Girls division. This year's team winner was St. Louis, and individual winner was Eloise Breen from team St. Louis. Each year during the Nexus Championship, USA Field Hockey hosts a fundraising raffle that benefits the future of the field hockey community. Winners received a gift from presenting sponsor Osaka Hockey.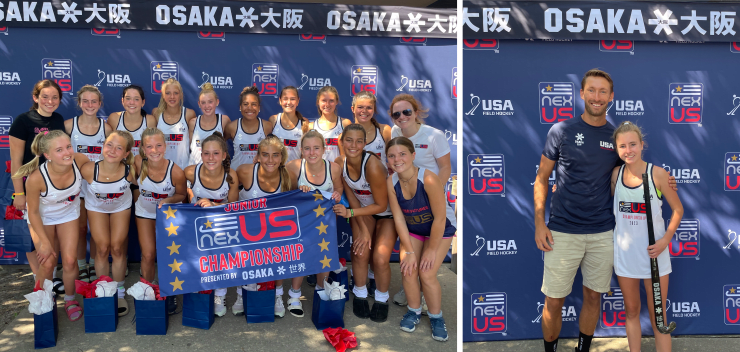 USA Field Hockey would like to thank NLV for providing live stream coverage during the U-16 Girls NXC.
For more information including rosters, schedule, results and more, check out the NXC Event Page.
#NXC2023
All photographs appearing on this site are property of USA Field Hockey/Dan Trevino. They are protected by U.S. Copyright Laws, and are not to be downloaded, reproduced or used in any way without the written permission of USA Field Hockey/Dan Trevino.
If you are college club coach, high school coach, sponsor or media outlet, email