3 Budget Friendly Meals for Growing Athletes
Cooking for hungry young athletes can get expensive fast. But there are a few simple ways to get smart about saving, even as food prices continue to stay high.
Here, TrueSport Expert Kristen Ziesmer, a registered dietitian and board-certified specialist in sports dietetics, shares a few tips for buying food on a budget, as well as recipes for a few meals that keep costs low.
Cost Saving Tips
1. Meal Prepping is Budget-Friendly
Meal prepping is not just a time-saver: it also saves you from expensive last-minute restaurant stops and hunger-filled trips to the grocery store. It also ensures that you actually use all of the food that you do buy, and it allows you to buy ingredients like chicken or oatmeal in bulk, which is cheaper than purchasing small single-serve packages.
2. Don't Waste Leftovers
Often, that single chicken breast left over after dinner ends up sitting in the refrigerator before getting tossed out. But while you may not have enough left over from dinner for a full meal for the family, you can repurpose those leftovers to feed hungry athletes. Don't be afraid to use leftovers creatively for lunch the next day. For example, extra chicken can easily be made into a sandwich, burrito, wrap, or rice bowl.
3. Get Creative
When you are at the grocery store, sticking to your list and buying the bulk options are great ways to save money. But also keep an eye out for deals, and don't be afraid to make some creative substitutions.
4. Have the Right Cooking Gear
Ziesmer often talks about slow-cookers and pressure cookers as great ways to speed up meal prep and make things like dried beans a more realistic option for busy people. If you don't have a slow-cooker yet, check your local thrift store if a new one is out of your budget. And of course, if you have the time and space, you can get creative with growing your own herbs and vegetables at home to save money.
5. Be Smart About Sport Snacks
There are hundreds of bars, gels, gummies, and drink mixes now marketed to athletes, but in most situations, young athletes don't need these powders and potions to perform at their best. There are plenty of easy options for homemade sports drinks and simple pre-game snacks that aren't ultra-processed and pricey. Most of the time, a bottle of water with a pinch of sea salt and a banana or a half of a peanut butter and jelly sandwich will be the perfect snack.
Here are some budget friendly meal ideas for breakfast, lunch, and dinner.
Breakfast: Nutrient-Packed Overnight Oats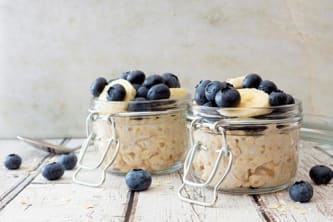 Compared to buying boxes of cereal or granola, buying bulk bags of oatmeal is a huge cost savings. On a per-serving basis, cereal often costs three or more times as much as oatmeal.
Oatmeal is also the more nutrient-dense, fiber-rich choice
. It's also less processed and can be topped with nutritious foods like fruit, nuts, and seeds.
Ingredients:
1/2 to 3/4 cup rolled oats (depending on how hungry your athlete tends to be)
Nuts and seeds: Crushed walnuts, chopped pecans, chia seeds, or peanut butter are all great options.
Fruit: Berries (fresh or frozen), raisins, dried cranberries, or seasonal fruit like apples or bananas
Sweetener: Honey or maple syrup, cinnamon
Prep: Combine all ingredients in a jar or bowl and add 1 to 1 1/2 cups of milk or water (double the amount of oatmeal used). Leave in the refrigerator overnight, then enjoy it cold or warm up in the microwave in the morning.
Lunch: Simple Vegetarian Rice Bowl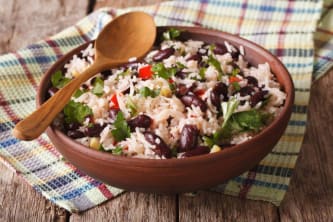 Vegetarians have long touted the benefits of rice and beans, since the combination of the two provides all of the essential amino acids and protein that a growing athlete needs. And they are incredibly budget-friendly! While dried beans require more prep time than canned, they do provide a major cost-savings. A secondhand slow cooker or pressure cooker can help reduce time in the kitchen prepping dried beans. And rather than buying single-serve or quick-cook rice, opt for the largest bag that you're able to fit in your kitchen cupboards. Bulk rice is one of the most inexpensive carbohydrates available, and it's also one of the most versatile and easy to use carbohydrates.
Ingredients:
1 cup rice
1/2 cup black beans
1 bell pepper (If not in season, check the frozen aisle: Often you can find bags of chopped peppers and onions combined!)
1/2 onion
1 cup spinach
Chili powder
Toppings: Tomato, avocado, shredded cheese, hot sauce, salsa
Prep: Use a rice cooker to cook your rice, or follow directions on the bag (ideally, meal prep several servings of rice at once, rather than single servings). Sauté peppers, onions, and spinach with sprinkle of chili powder until softened, then add pre-cooked black beans to the pan. Build your bowl by topping rice with vegetable mix, followed by toppings.
Dinner: Simple Chicken for Today + Beyond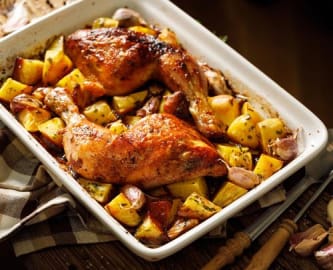 If you can't find good seasonal options—which can be hard in the winter months in many areas—
opt for frozen vegetables
, says Ziesmer. These are often less expensive than fresh vegetables, and because they're flash frozen immediately after harvesting, they actually retain more nutrients than some of the fresh options that have traveled a long distance to make it onto the shelves at your grocery store. And when it comes to deciding what's for dinner, keep it simple: Avoid recipes that force you to buy a dozen ingredients that you'll only use for one dish, or that feature pricier cuts of meat. For most young athletes, finding a few favorite meals that are easy and inexpensive to prepare beats attempting to create a new dish every night of the month.
Ingredients:
Chicken thighs (boneless, skinless) - often less pricey than chicken breasts. Buy in bulk for meal prepping
Seasonal roast-friendly vegetables that your athletes like, such as asparagus, cauliflower, broccoli, celery
Roast root vegetables: Beets, sweet potatoes, white or yellow potatoes, yellow onion
Olive oil
Spices: Pepper, garlic powder, salt (or an 'everyday seasoning' blend)
Prep:
Preheat oven to 350 degrees.
Chop vegetables and root vegetables into roughly 1x1 inch cubes
Line two pans with foil for easier cleanup, then drizzle olive oil on each
Put all vegetables and root vegetables in a big bowl and toss with 1-2 tablespoons of olive oil and your choice of seasoning. These vegetables also are great as leftovers for rice bowls, stews, salad toppers, and side dishes throughout the week, so, when possible, make extra.
Bake the vegetables in the oven for 1 hour (or until they're easily pierced with a fork)
On one pan, lay out chicken and sprinkle with your preferred seasoning. This is a great time to cook a big batch of chicken to be used in soups, wraps, sandwiches, salads, and rice bowls throughout the week.
Bake chicken for roughly 55 minutes
Takeaway
Feeding a young, hungry athlete can cost a fortune, but it doesn't have to. With some advance planning, meal prep, and smart bulk buying, you can slash your grocery budget while still ensuring that your athlete is getting all the nutrients that they need to stay in the game.
About TrueSport
TrueSport, a movement powered by the experience and values of the U.S. Anti-Doping Agency, champions the positive values and life lessons learned through youth sport. TrueSport inspires athletes, coaches, parents, and administrators to change the culture of youth sport through active engagement and thoughtful curriculum based on cornerstone lessons of sportsmanship, character-building, and clean and healthy performance, while also creating leaders across communities through sport.
For more expert-driven articles and materials, visit TrueSport's comprehensive collection of resources.
This content was reproduced in partnership with TrueSport. Any content copied or reproduced without TrueSport and the U.S. Anti-Doping Agency's express written permission would be in violation of our copyright, and subject to legal recourse. To learn more or request permission to reproduce content, click here.