Men's FIH Indoor Hockey World Cup Selection Camp Athletes Announced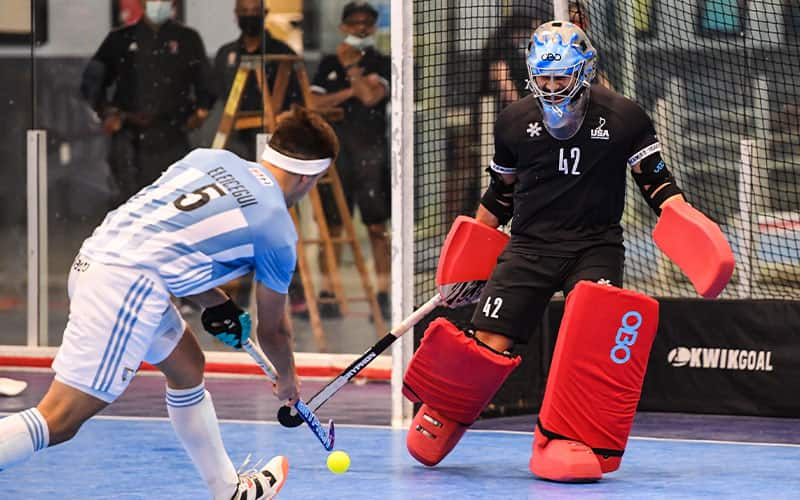 SPRING CITY, Pa. – The FIH Indoor Hockey World Cup (IHWC) is set to take place February 2 to 6 in Liège, Belgium, and with the 2021-22 roster being named last week, U.S. Men's National Indoor Team Head Coach Jason Mulder and coaching staff have identified the athletes invited to the selection camp.
"Congratulations to the athletes on their selection for the IHWC Selection Camp," commented Mulder. "This camp will be our opportunity to prepare and select the team that will represent Team USA at the 2022 FIH Indoor Hockey World Cup."
"The group we selected is well balanced in experience and youth. Each one of these players is passionate about representing the USA. This is important for me as we aren't looking to make up the numbers at the Indoor World Cup, we are looking to challenge every opponent we face."
Of the narrowed squad, nine athletes were on the 2021 Indoor Pan American Cup (IPAC) that finished second in June.
2022 IHWC Selection Camp
Athletes
Christian DeAngelis (Doylestown, Pa.), Ajai Dhadwal (Agoura Hills, Calif.), Mohan Gandhi (Ventura, Calif.), Alex Grassi (Brookeville, Md.), Pat Harris (Moorpark, Calif.), Jack Heldens (Hamburg, Germany), Vincent Heller (Stuttgart, Germany), Colin Hennessy (Marlborough, Mass.), Deegan Huisman (Amsterdam, Netherlands), Aki Kaeppeler (New York, N.Y.), Kei Kaeppeler (Stuttgart, Germany), JaJa Kentwell (Spring City, Pa.), Jonathan Klages (Berlin, Germany), Kai Kokolakis (Melbourne, Fla.), Izaak Pels (Spring City, Pa.), Moritz Ruenzi (Muechen, Germany), Robert Schilling (Hertford, United Kingdom), Kevin Segeren (The Hague, Netherlands)
USA's second place finish at IPAC put them in the best possible position should a team drop out. In September, both Hockey Australia and Hockey New Zealand announced they no longer would be able to participate due to COVID-related international travel restrictions, granting Namibia and USA the slots at the IHWC.
The IHWC Selection Camp will take place December 29, 2021 through January 2, 2022 at The Training Center in Spring City, Pa.
"We plan to have a domestic camp for those that missed out on being selected for this camp," added Mulder. "There is a full schedule to prepare for once we return along with an international series with Canada."
For more information on the 2022 FIH Indoor Hockey World Cup, visit the event page.