PHOTO GALLERY: Congratulations to the 2022 U-10 & U-12 Co-Ed National Indoor Tournament Medalists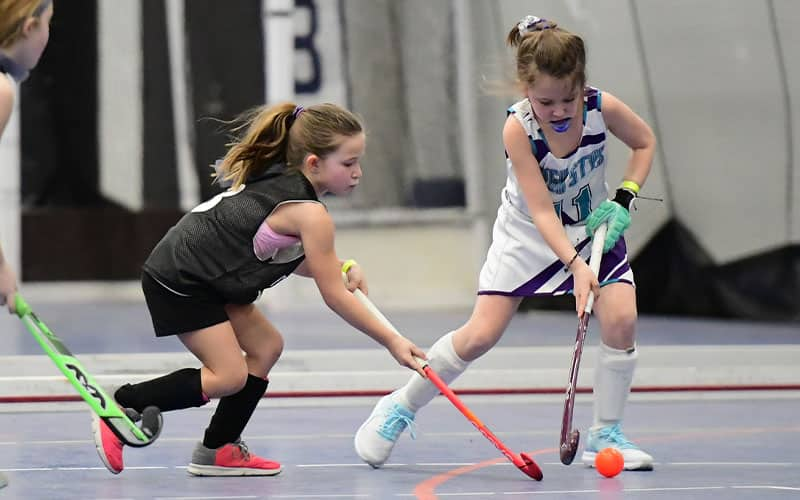 IMAGES COURTESY OF PATRICK
BLAIN
LANCASTER, Pa. – In a weekend that had two National Indoor Tournament (NIT), presented by YOLO Sportswear, events taking place, Spooky Nook Sports in Lancaster, Pa. welcomed the U-10 and U-12 Co-Ed divisions. After three days of court-to-court action, 23 teams earned the right to call themselves Pool Champions.
Many memorable moments were had by all, and USA Field Hockey's event photographer Patrick Blain was there to capture the action. Check out some of USA Field Hockey's favorites in the photo gallery above and click here to view the full gallery that features more than 500 images that are available for purchase.
USA Field Hockey would like to congratulate this year's U-10 and U-12 Co-Ed NIT Pool Champions!
A: WC Eagles Diamonds
B: Electric Surge Fire
C: Next Level Pa
D: PA Revolution Black
E: UPRISE Purple
F: Focus Pink
G: WC Eagles Blue
H: Spirit of USA Stars
I: Shore Byrds Swans
J: High Styx Herd
K: H2O
L: Alley Cats Orange
M: HUSEL Field Hockey
N: Spirit of USA Patriots
O: WC Eagles Gold
P: Aim Orange
Q: Mayhem Rise
R: South Jersey Edge Black
S: WC Eagles
T: H2O
U: FSC Falcons Black
V: Southern Maryland Eliminators
W: Spirit of USA
All photographs appearing on this site are property of USA Field Hockey. They are protected by U.S. Copyright Laws, and are not to be downloaded, reproduced or used in any way without the written permission of USA Field Hockey.
If you are club coach, high school coach or media outlet, email communications@usafieldhockey.com.
2022 U-10 & U-12 Co-ED NIT POOL
CHAMPIONS