2022 USA Field Hockey National Club of the Year Award Winner: Texas Pride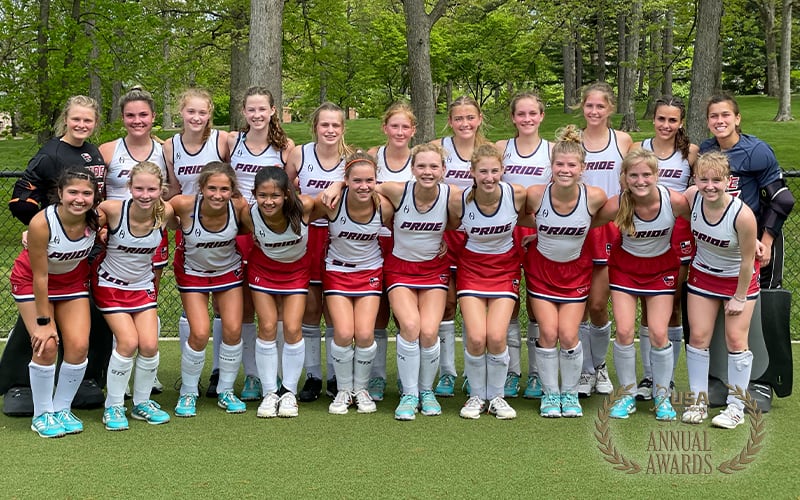 COLORADO SPRINGS, Colo. – Following the announcement of all winners, USA Field Hockey is individually highlighting each recipient of USA Field Hockey's 2022 Annual Awards. This week, USA Field Hockey is honored to feature the 2022 National Club of the Year Award winner, Texas Pride.
Texas Pride was founded in 2012 and a year later was taken over by Tina Edmonds. What started with 20 kids in the program and a few tournament registrations, grew into a dominant program on the USA Field Hockey club scene. The reason the club started was there wasn't any year-round organized field hockey training and Edmonds knew that needed to change that to compete with the already established east coast programs.
In the club's first year, Texas Pride reached a huge milestone by qualifying for the U-16 Girls National Club Championship. This was a great deal as the team previously lost every single game by a large margin. Texas Pride has qualified for each age division of the National Indoor Tournament throughout the years.
In 2016, through the support of the field hockey community, two local high schools put in high quality surfaces in Houston, Texas. The Kinkaid School put in the first AstroTurf field and St. John's School laid the first water-based AstroTurf. This not only elevated play at the high school level, but allowed Texas Pride the opportunity to train their athletes on a quality surface.
In 2019, Texas Pride opened their own indoor facility called Texas Pride Indoor Facility, where they run organized training and develop players with the potential and intention to play in college. They not only foster skill development for athletes as young as 4 years old, but they also teach tactics and strategy until they enter college.
Texas Pride had a great year in 2022 which started with all three competing teams at the Sunshine Showcase finishing in the Top-2, with the U-19 team taking home first overall. In the spring, all three of their teams qualified for the National Club Championship, a first for the club. At the National Hockey Festival, all three went on to win their pools to cap off an outstanding year.
Texas Pride has come a long way since the start and are consistently ranked in the Top-10 in the USA Field Hockey National Club Rankings. They represent a state where the sport is growing, largely in part to the club's success. Notable athletes that have come through the Texas Pride system are current U.S. Women's National Team athlete Mia Abello and goalkeeper Kelsey Bing and junior team members Annabel Skubisz, Hope Haynes, Abygail Deverka, and many more.
"We are honored to be named USA Field Hockey's 2022 National Club of the Year," commented Edmonds. "We are so proud of each and every one of our players, families, supporters and staff. This is an award recognizing all of your effort, dedication and sacrifice to help develop the game of field hockey in Texas and grow our organization into one of the top programs in the country. We couldn't do it without all of you."
Congratulations once again to Texas Pride for winning the 2022 National Club of the Year Award.