2022 USA Field Hockey Grow the Game Award Winner: Plunket Beirne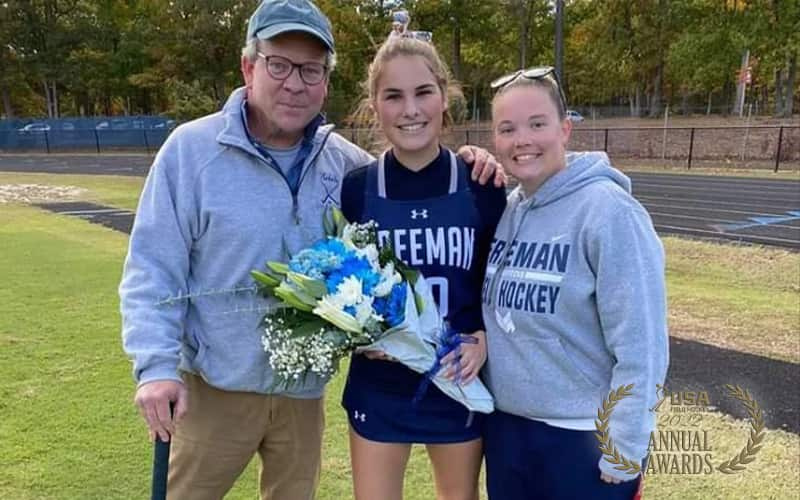 COLORADO SPRINGS, Colo. – Following the announcement of all winners, USA Field Hockey is individually highlighting each recipient of USA Field Hockey's 2022 Annual Awards. This week, USA Field Hockey is honored to feature the 2022 Grow the Game Award winner, Plunket Beirne, posthumously.
Beirne was born in Orange, Va. but spent most of his early childhood in Wethersfield, Conn. Always an athlete, he grew up playing soccer, lacrosse and tennis. He was also a member of his high school wrestling team, a frequent fox hunter and an avid sailor. His career as a coach began in college, where he volunteered with a women's youth lacrosse team.
After college, Beirne had a career in finance in New York City, and later Richmond, Va. He came to the game of field hockey when his eldest child started playing in 2007. Wanting to learn more about the sport, he joined an adult league called Tidewater Field Hockey Association and quickly fell in love with the game. As his children continued to play, he became more and more involved in the youth scene, and eventually started coaching for the Undertow Field Hockey Club, which was formed by a group of adults within the Tidewater Field Hockey Association.
Undertow's mission has always been to provide quality coaching to players of all skill levels and improve the game in the greater Richmond area. Beirne wholeheartedly embodied this philosophy. When given the choice, he chose to focus on less experienced athletes and was dedicated to improving their skills through principles of play. He took a chance on any athlete that crossed his path, providing them with a high level of coaching and competition. This is exemplified through the story of one Undertow alumna, Catherine Harney. She decided in the spring of her sophomore year of high school that she wanted to play field hockey for her high school team, so she tagged along with her friend to Undertow practice. Considering she was a sophomore who had never picked up a stick, many coaches would have written Harney off, but not Beirne. He welcomed her into the club, took time to work with her directly and built her skills up enough in one season for her to make her varsity high school team that summer. Then, after playing field hockey for less than a year, Harney asked Beirne if she could join Undertow's U-19 team at the Shooting Star Tournament in Richmond over Thanksgiving weekend - Beirne agreed. At the showcase, she was noticed by Transylvania University and with Beirne's help, Harney was recruited and is now one of the team's captains.
Beirne also expanded opportunities in Metro Richmond for players of all ages. Joining with the Weaver Athletic Association in Chesterfield County, he started coaching an elementary and middle school field hockey league that played during the fall high school season so younger children would have the opportunity to play year-round. He also opened Undertow's U-10 team to children as young as 7 years old. Additionally, this past fall he collaborated to develop an adult league through Undertow by which former high school and college athletes have regained access to the game.
In 2013, Beirne extended Undertow's outdoor season through the summer to allow athletes more practice before high school tryouts. He even invited new athletes who had never picked up a stick, providing them with exposure to the sport at little to no cost.
He also encouraged the growth of the sport in underrepresented areas of greater Richmond, particularly the City of Richmond and eastern Henrico County. The City of Richmond does not have any field hockey programs in their public schools. So, in spring 2017, Beirne began holding practices within the city limits and advertising in public schools, providing students the opportunity to play field hockey free of charge and loaning out equipment as needed. He also began coaching the junior varsity team for Freeman High School in Henrico County. Through his role as a high school coach, he leveraged his relationships across the county and invited in athletes who may not have considered playing club. Additionally, he developed a standing agreement with eastern Henrico Schools, schools with newer and less developed field hockey programs, inviting their players to join Undertow for free. In so doing, Beirne expanded Richmond's field hockey scene and grew the game by providing more opportunities for athletes of color, who are historically underrepresented in the sport, to play at the club level.
Most importantly, Plunket instilled in the field hockey community a pure love of the game. He believed that field hockey should be accessible to everyone and wanted to share his love for the game as widely as possible.
One day, in the middle of Undertow practice, he was approached by two young children, a boy and a girl. They were playing with their caretaker on a nearby playground, saw the group of athletes playing and were curious about this sport they'd never seen before. When they reached the group, they asked Beirne what the team was doing. Rather than answering their question and sending them on their way, he responded, "This is field hockey. Would you like to join us?" The children agreed, and he quickly produced two sticks and a ball. He showed them how to properly hold the stick and push the ball back and forth. They eventually joined in on the drills the team was running. At the end of practice, Beirne invited both of them to return the following week. When they showed up the next week, he had two balls and sticks just their size to take home and the promise that they could continue to practice with the team as long as they wanted, free of charge. This is what Beirne was all about - doing good, building up athletes and growing the game. He will be greatly missed, but his legacy will endure.
"Plunket would have been so proud and honored to receive this award," said Catherine Green. "It perfectly encapsulates his mission, legacy and who he was as a coach, father, athlete, mentor and so much more."
Congratulations once again to Plunket Beirne for winning the 2022 Grow the Game Award.