Atlanta Comes Away with Victory at the 2023 U-14 Girls Nexus Championship
Images Taken by Dan
Trevino
VIRGINIA BEACH, Va. – Kicking off the 2023 Junior Nexus Championship (NXC), presented by Osaka Hockey, this weekend was the U-14 Girls division. Sixteen teams of talented players selected from the Nexus program gathered at the Virginia Beach Regional Training Center in Virginia Beach, Va. to participate in practices and games, and to compete for the top spot in the U-14 Girls age division.
Implemented this year, the 2023 Nexus Championship now encompasses the entire junior and senior pathway. The Junior NXC runs from July 6-16, continuing this week with the U-16 Girls division, while the Senior NXC will take place from July 11-16.
This year's U-14 Girls athletes participated in three days of highly competitive matches, gaining insight from new teammates while being led by some of the top coaching talent. The young athletes from around the country showed off their skills in front of selectors, coaches and fans as they competed for evaluation to further opportunities. Congratulations to all the athletes for their hard work and dedication the last few days.
The gold medal match between Atlanta and Berlin was a tight one. Scoreless through the first half, it took until about seven minutes into the third quarter for a team to break through. Finding momentum off of a quick transition after clearing out a defensive penalty corner, Atlanta had a numbers up situation on goal. The initial shot from Mallory Jerlecki (Kirkwood, Mo.) was saved by Berlin's goalkeeper, but Junia Whang (Potomac, Md.) was there to put in the rebound. Atlanta sealed their victory in the final minute of play with a goal from Finley Davidson (Stevensville, Md.) off a penalty corner shot, as the match ended 2-0.
Unfortunately, due to weather, the remaining games of the day were not able to take place – including the bronze medal match. The two teams set to play, London and Vancouver, were both awarded the bronze medal. Both teams finished first in their pool and lost their respective semifinal by just one goal.
USA Field Hockey would like to thank all the athletes, coaches, umpires, technical staff, umpire managers, Nexus staff and volunteers who continue to make the U-14 Girls NXC a success, and to extend its congratulations to the following teams on their tournament victories:
Coach: Jen Clements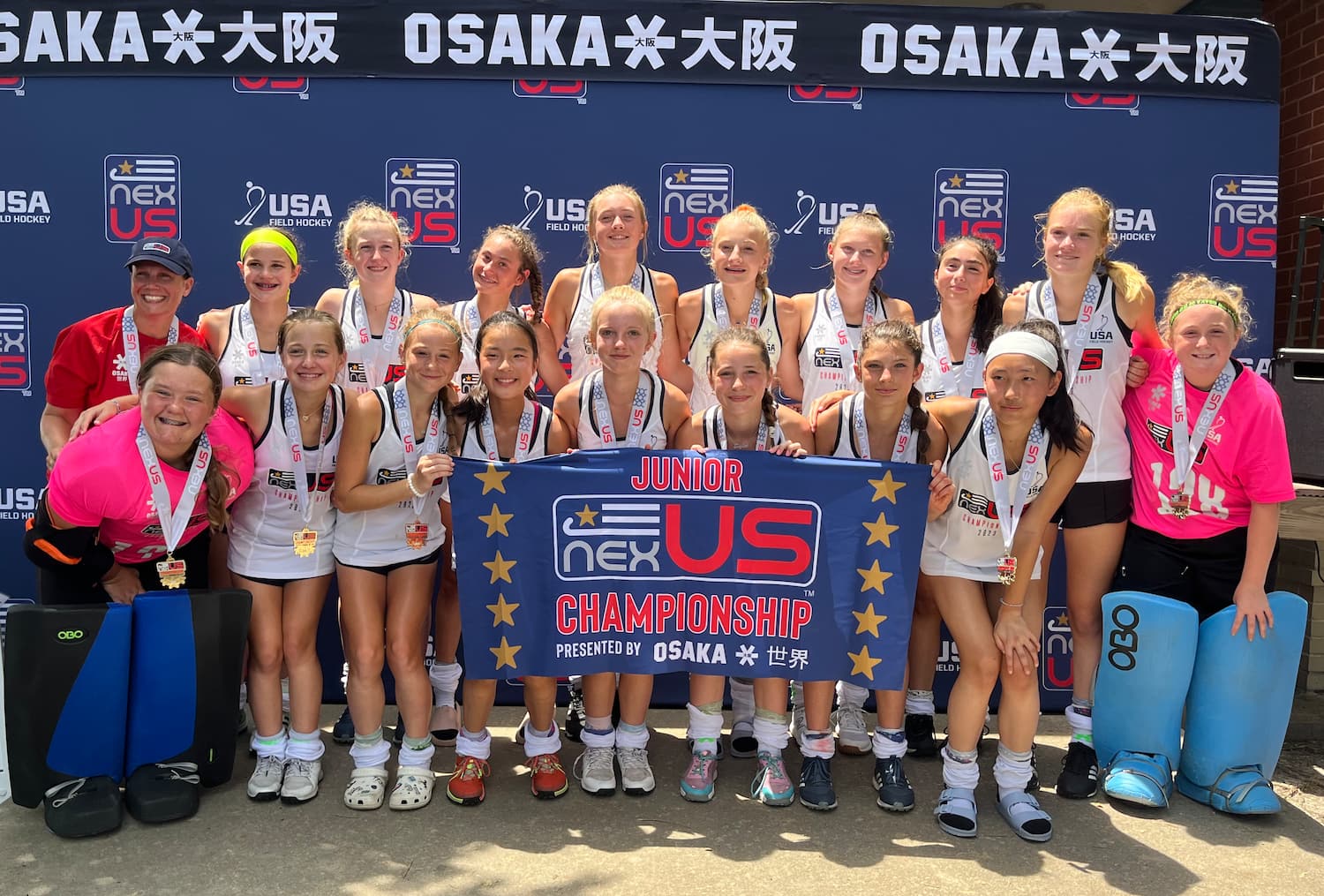 In Alphabetical Order: Madyson Bleile, Chloe Daniels, Finley Davidson, Sophia Demeo, Sunday Draper, Kelby Dings, Mallory Jerlecki, Maya Johnson, Leigha Kane, Mary Kate Kearin, Natalie Paul, Julia Riesser, Isabella Steckline, Jillian Vickery, Wendi Wei, Junia Whang, Taylor Zee
Coach: Margaret Maclean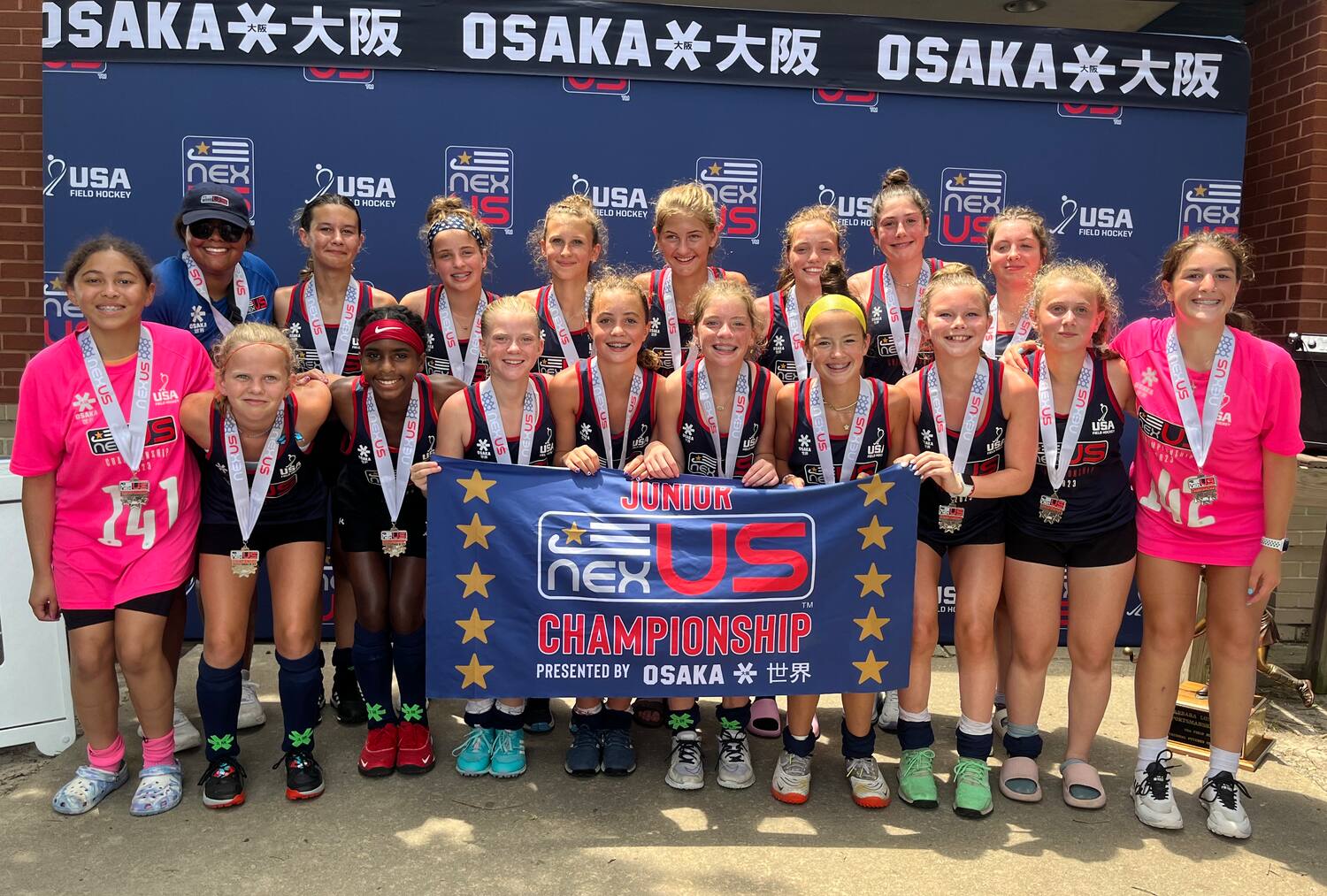 In Alphabetical Order: Lindsay Catchpole, Claire Clark, Lillian Chiaravalloti, Ann Hanson, Kaylee Hester, Catherine Imber, Lily McClay, Finley Rose McGowan, Lila Merlin, Taylor Moss, Nina Piazza, Mae Sauer, Kaylah Sewell, Adele Sharon, Lindsey Sloan, Kylan Smith, Emily Wells
Coach: Nick Conway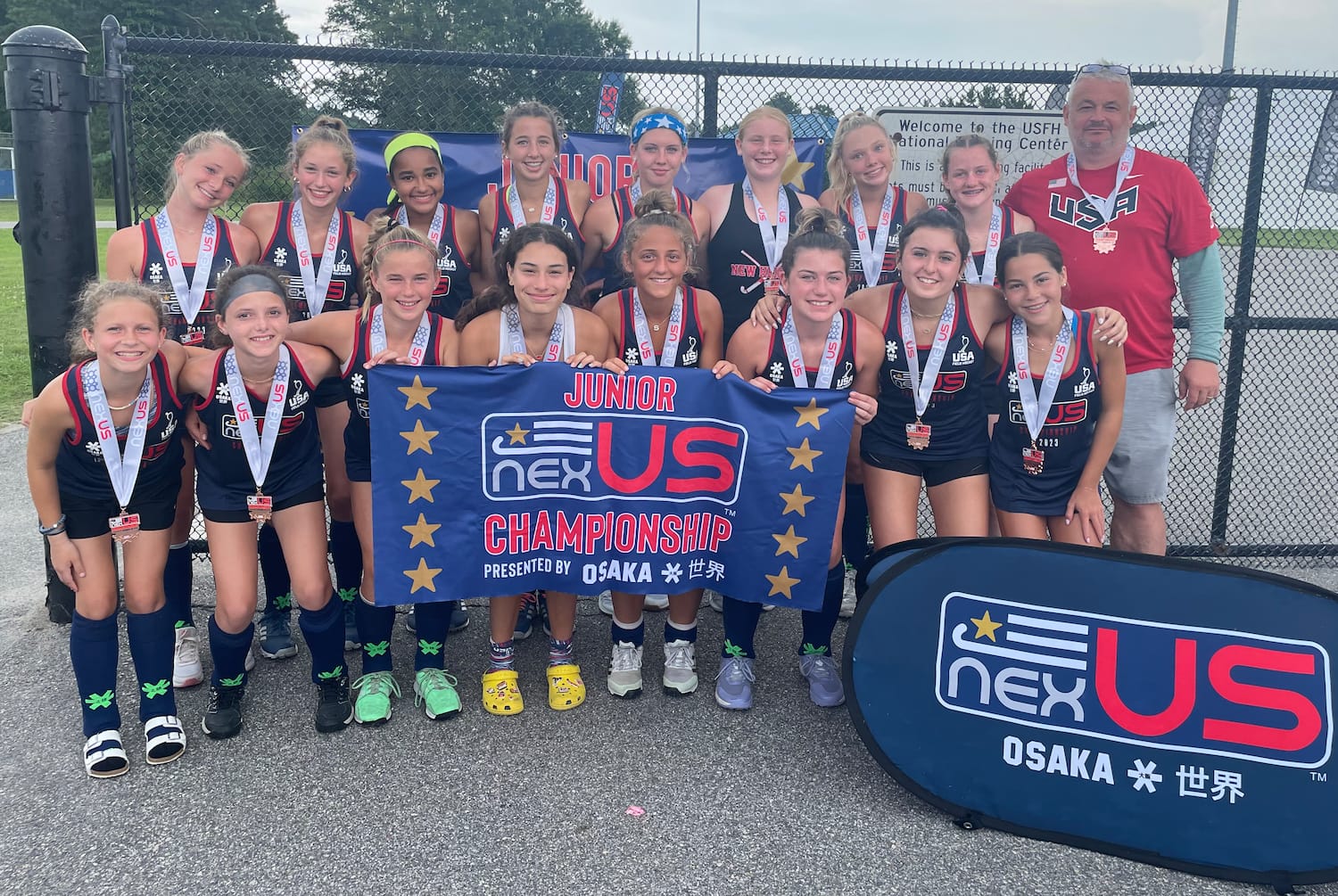 In Alphabetical Order: Ella Arvai, Sarah Beneke, Lola Conway, Abby Cullen, Camilla Fischer, Chloe Holland, Ella Horner, Elizabeth McCalla, Kaitlyn Moran, Victoria Noble, Katherine O'Rouke, Lauren Pelikan, Kamryn Plotts, Jocelyn Schwartz, Mirabelle Schwartz, Claire Turner, Holland Wilkins
Coach: Hannah Prince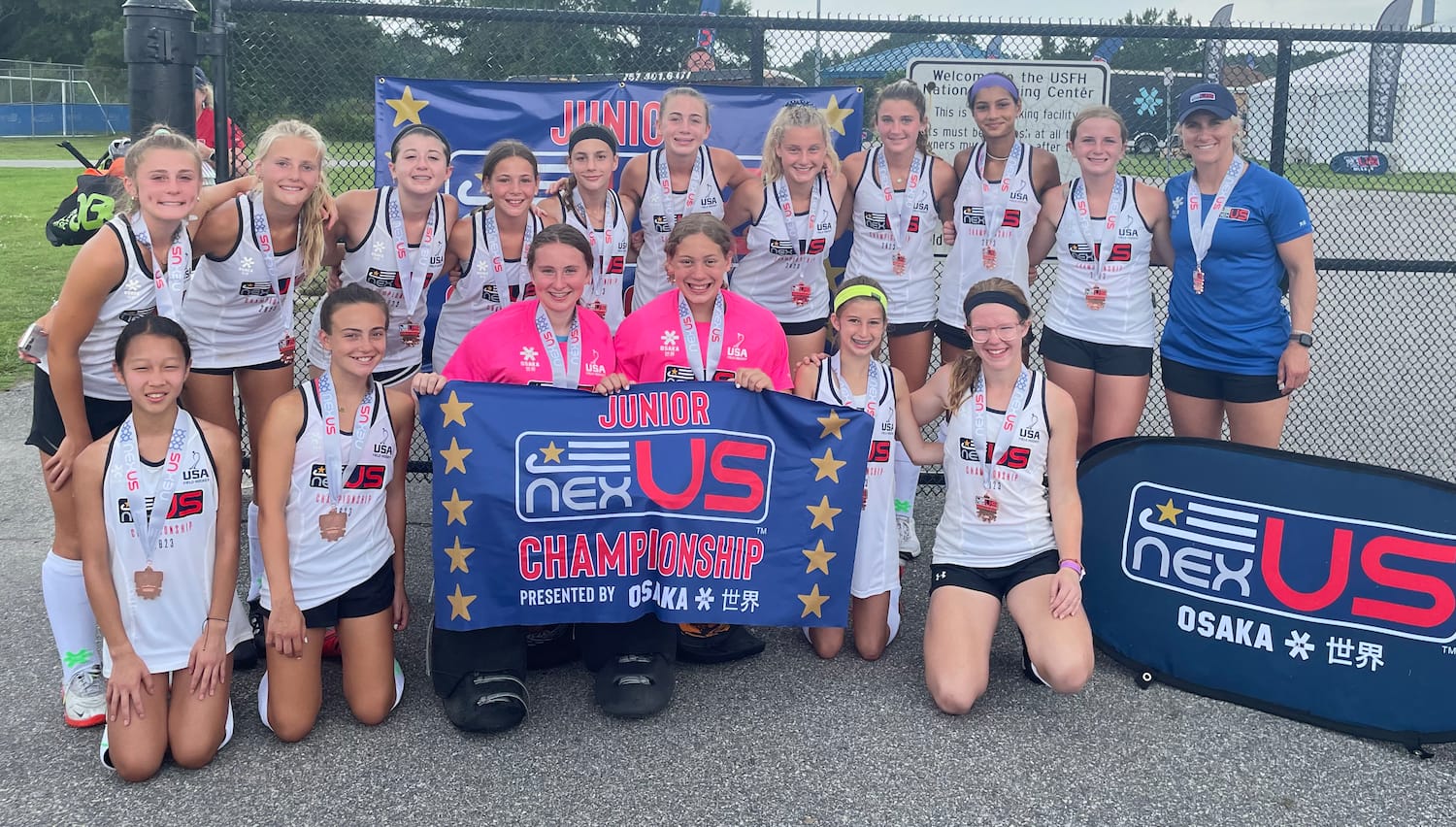 In Alphabetical Order: Alexandra Agostini, Caroline Almeida, Madison Bell, Ava Boland, Alessia Hall, Claire Hunter, Klara Jones, Anne Kennedy, Charlotte Kolodgie, McKenna Lacy, Katelyn Larit, Sasha Maizland, Madison Nam, Fiona Onken, Madeleine Rousseau, Sophia Stazi, Irie Weinstein
Congratulations to St. Louis, coached by Valerie Clark, for winning the Barbara Longstreth Sportsmanship Award.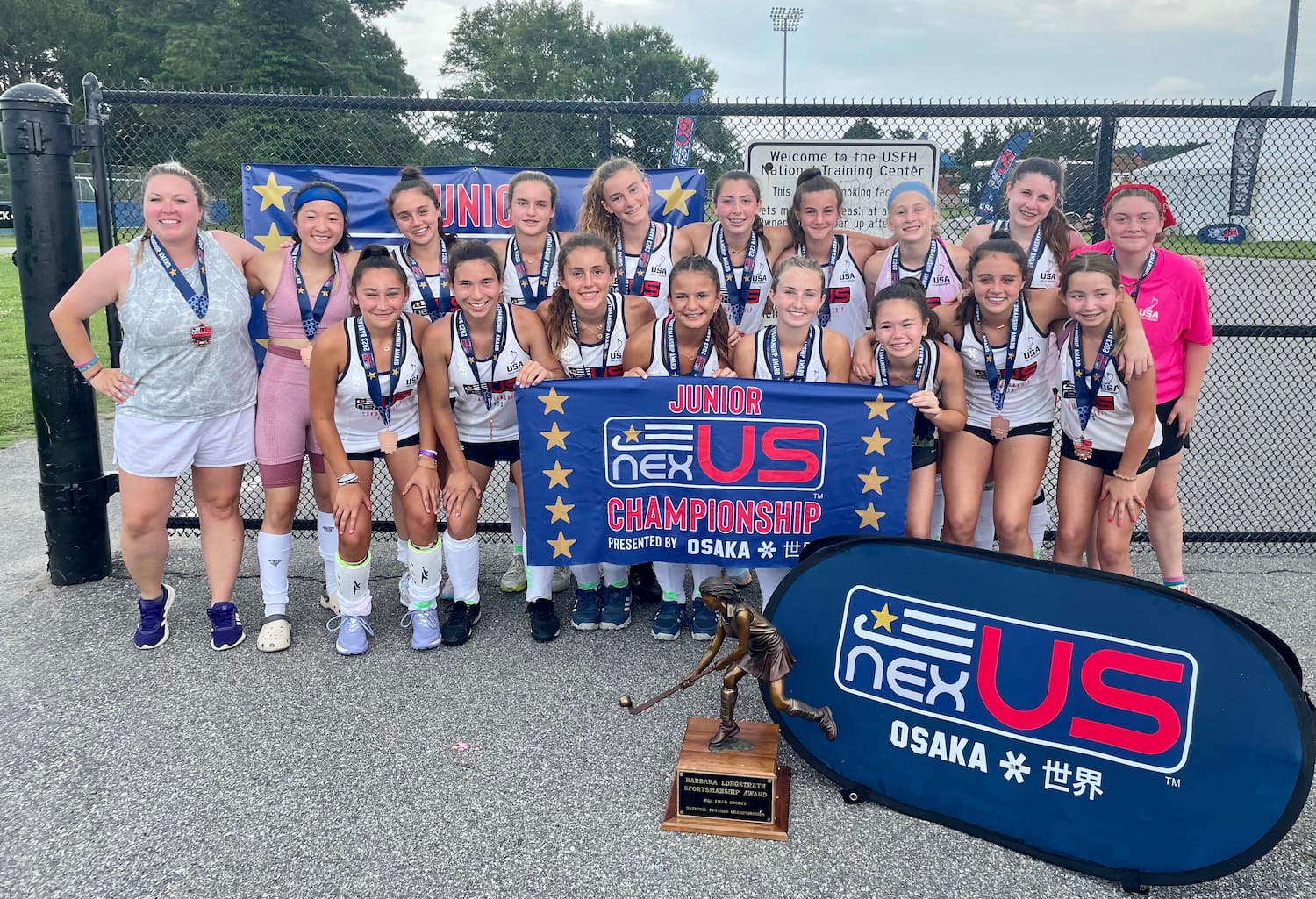 Congratulations and thank you to the winners for most sold raffle tickets in the U-14 Girls division. This year's team winner was Milan, and individual winner was Tessa Connor from team Rome. Each year during the Nexus Championship, USA Field Hockey hosts a fundraising raffle that benefits the future of the field hockey community. All funds raised in the raffle help make field hockey more accessible and inclusive to all aspiring athletes in the player pathway who would otherwise be unable to participate without financial assistance. Winners received a gift from presenting sponsor Osaka Hockey.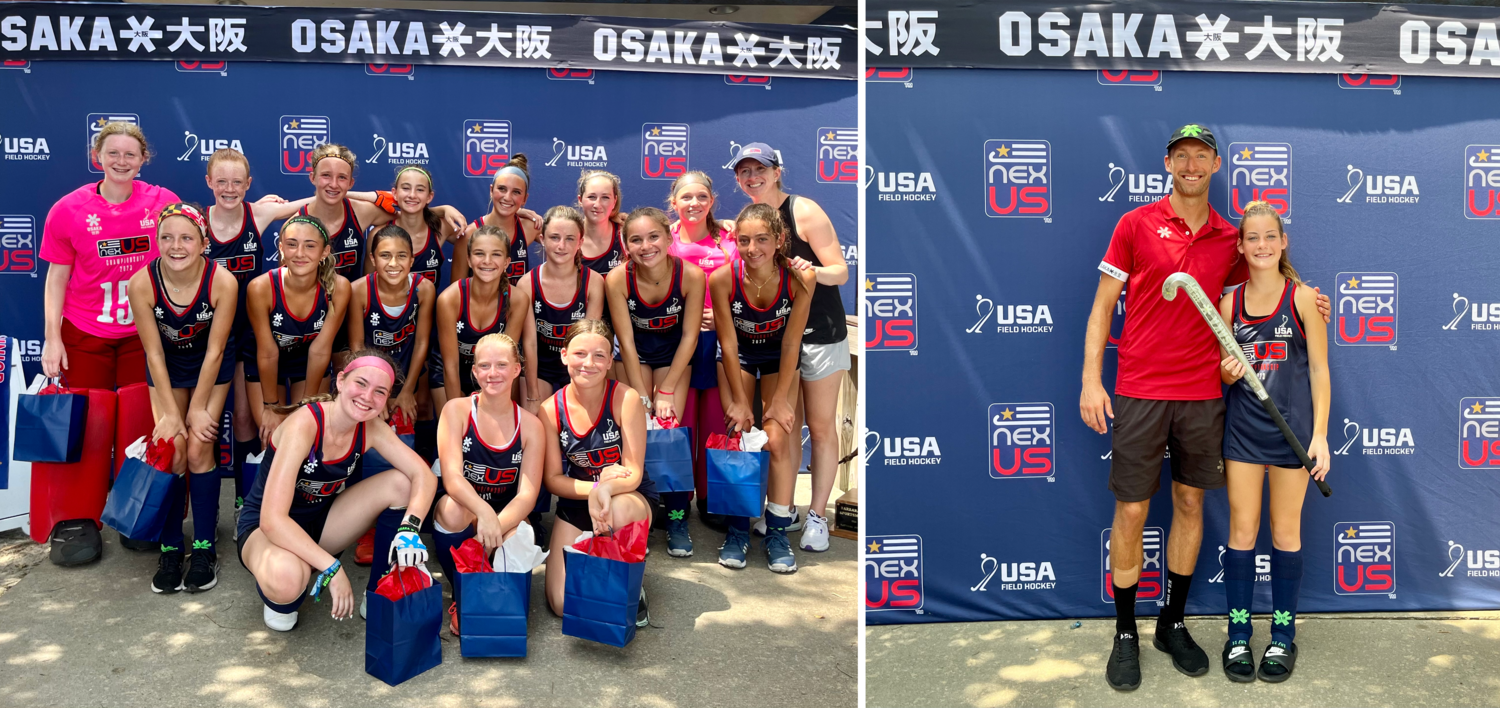 USA Field Hockey would like to thank NLV for providing live stream coverage during the U-14 Girls NXC.
For more information including rosters, schedule, results and more, check out the NXC Event Page.
#NXC2023
All photographs appearing on this site are property of USA Field Hockey/Dan Trevino. They are protected by U.S. Copyright Laws, and are not to be downloaded, reproduced or used in any way without the written permission of USA Field Hockey/Dan Trevino.
If you are college club coach, high school coach, sponsor or media outlet, email communications@usafieldhockey.com.