Celebrate 2021 National Field Hockey Day on September 14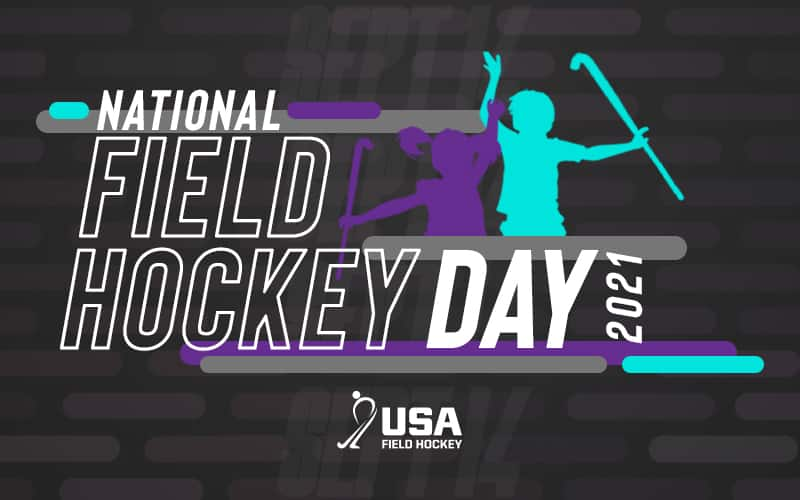 COLORADO SPRINGS, Colo. - In less than two weeks, USA Field Hockey will be celebrating the ninth annual National Field Hockey Day on Tuesday, September 14, 2021. A day of fun and field hockey, all fans are encouraged to share what they are doing to celebrate this day dedicated to this wonderful sport.
Here are a few creative ways to celebrate #NFHDay2021:

Grab our old field hockey friends and organize a pick-up game or join an existing tournament. If everyone's busy, just grab your stick and do some drills outside.


2. Support Your Local High School or College
Teams
Check your local high school or college team's schedules and see if they are playing a game on this day. Head out to the field and support them!


3. Coach/Mentor Younger
Athletes
Share your expertise with the next generation of field hockey players! Coaches play an important role in not only teaching the game, but building discipline, self-esteem, confidence, passion and a lifelong love for a sport. Coaches can be some of the most important and influential role models in kids' lives, fostering the values of fun, teamwork, inclusion, discipline, sacrifice and more. Click here to learn more.


Get back into the game and become an umpire! Umpiring field hockey is fun, and a great way to earn some extra money and support the game and growth of the sport. Umpires are needed for youth, middle school, high school, college and club games as well as for USA Field Hockey Regional, National and Sanctioned Events. Click here to learn more.
Show off your field hockey love by making signs. You can use window markers to draw on your (or your parents') car or hang signs around the school or stadium. The possibilities are endless!


6. Use the #NFHDay2021
Hashtag
Follow the fun and post your own field hockey pictures using the hashtag #NFHDay2021 on social media. USA Field Hockey will be sharing those pictures throughout the day on social media.
7. Fresh Gear & Donate
Old
Treat yourself to a new stick or a field hockey theme bracelet, hat, shirt or headband. Check out all of USA Field Hockey's sponsors and partners who have an array of items to purchase. Also, don't forget to donate old gear to the So Sports Foundation, as part of the Growing the Greatest Game campaign to measurable grow the sport with diversity and inclusion at its core.

Clubs, teams and more! Use these free downloadable, customizable #NFHDay2021 assets to help celebrate the day!
Click the banner above to access. There are three folders within: Basic, No PSD and PSD Customize.
Basic:

no editing ability.

No PSD:

customizable but with no access to Photoshop. Simply overlay your image over the pink square.

PSD Customize:

Open the Photoshop file. Update the yellow highlighted folder - Club Logo and Photo. For the Club Logo, make sure it is white and transparent. For the Photo, use the Clipping Mask feature to the pink square.
Whatever way you plan on celebrating ahead of or on September 14, be sure to share videos or pictures of your activity with us! Tag @USAFieldHockey, use the hashtag #NFHDay2021 or email communications@usafieldhockey.com.
#NFHDay2021